[press release]
Architecture highlighted on Multilaterale Hertogpost stamp sheetlet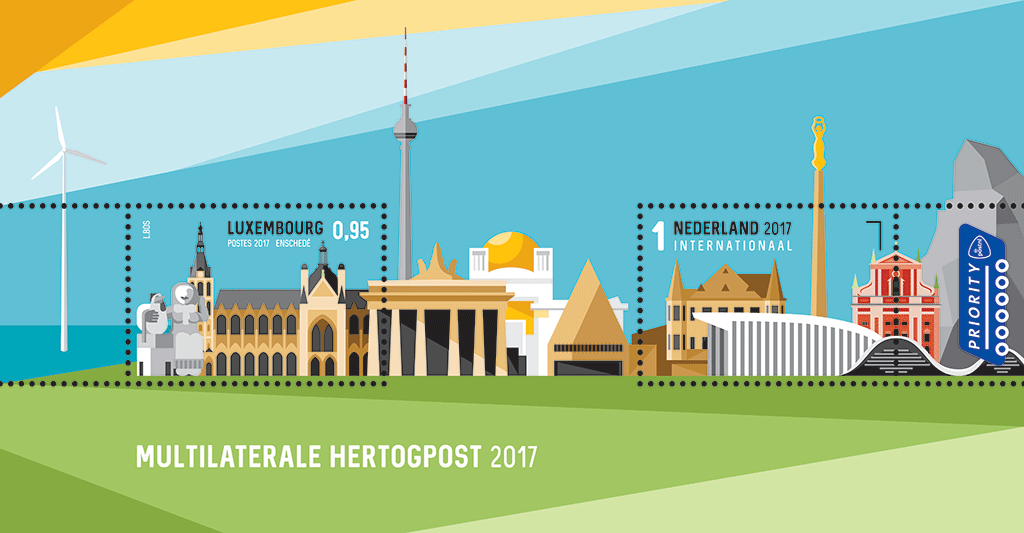 The Hague, 25 August 2017 – PostNL and Post Luxembourg are to issue the Multilaterale Hertogpost stamp sheetlet today. The stamp sheetlet features illustrations of iconic buildings and towers in Germany, Liechtenstein, Luxembourg, the Netherlands, Austria, Slovenia and Switzerland. These countries are taking part in the international Multilaterale Hertogpost stamp exhibition in 's-Hertogenbosch. Deputy Major of 's-Hertogenbosch Jan Hoskam, and King's Commissioner Wim van de Donk of North Brabant, today received the first stamp sheetlet during the official opening of the exhibition.
Designer Linda Bos received the commission from PostNL and Post Luxembourg to highlight the seven countries participating in the Multilaterale Hertogpost exhibition. "Architecture makes it eminently possible to establish a relationship between countries that at first glance don't appear to have a great deal in common with each other. The strength of this stamp sheetlet is that the whole composition is in balance, but the individual relationships between the buildings don't always correspond," says Bos.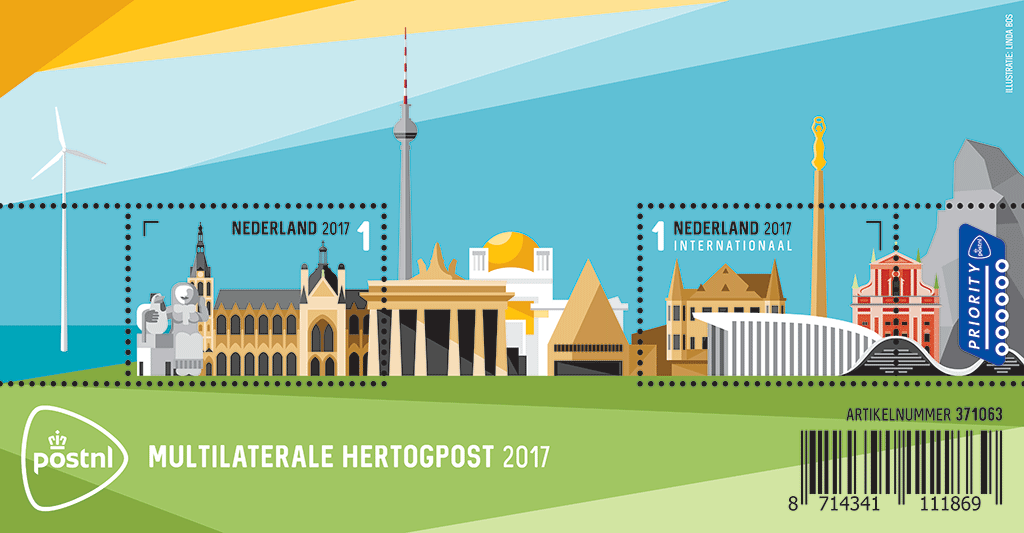 Special role for 's-Hertogenbosch
The municipality of 's-Hertogenbosch is responsible for a large part of the Dutch contribution to the iconic buildings depicted on the stamp sheetlet. Deputy Major Jan Hoskam is proud that his municipality is so visible among the illustrations from all of the participating countries. "Our Sint-Janskathedraal (St John's Cathedral) dating back to 1380, and the statue of Zoete Lieve Gerritje from 1958 will have a new appeal. They are depicted among icons such as the Berlin Brandenburger Tor and the Luxembourg monument, Gëlle, commemorating the 20th century victims of war."
Global attention
Multilaterale Hertogpost is an international exhibition for stamp dealers, auction houses and postal services. Interested parties from all over the world will meet in 's-Hertogenbosch from 25 to 27 August. The Multilaterale Hertogpost was organised for the first time in the Netherlands 12 years ago.
Availability
The Multilaterale Hertogpost stamp sheetlet has two stamps. One stamp is marked 'Nederland 1', the denomination for mail items up to 20g in weight destined for mail within the Netherlands. The other stamp is marked 'Internationaal 1', and is intended for mail items weighing up to 20g with worldwide destinations. These stamps will be available to purchase at all Bruna shops and via Collectclub.nl from 25 August. The stamps are valid until further notice.