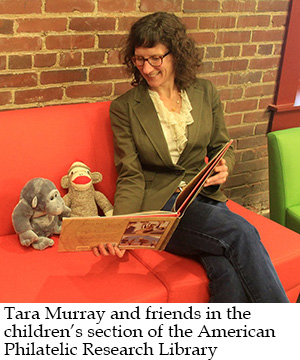 Tara Murray, the chief librarian at the American Philatelic Research Library for the past seven years, is leaving for another position outside philately, but it appears the nation's largest philatelic library will be in good hands.
Murray announced on October 24 that she had "accepted a position at Penn State as Germanic and Slavic Languages and Linguistics Librarian." The APRL is located, with the American Philatelic Society, in Bellefonte, Pa.; Pennsylvania State University's main campus is in nearby State College, Pa.
Murray employment before the APRL was also at Penn State, at its Population Research Institute.
"One of the best parts of the [APRL] job has been all the people in the hobby I've met and worked with," she wrote on Facebook.
APS executive director Scott English praised Murray on Facebook.
"Tara has been one of the finest people I've worked over the years," he posted. "I think her most amazing accomplishment will be overseeing the construction of our new library and still delivering great member service in the middle of the chaos."
She will be succeeded by Scott Tiffney, currently a volunteer research assistant at the APRL. He began there part-time in 2011, and then became full-time there. He has a Master of Library and Information Science degree. Before coming to the APRL, he worked for the National Park Service.
"I know I'm leaving the library in good hands," Murray said of Tiffney.