[press release]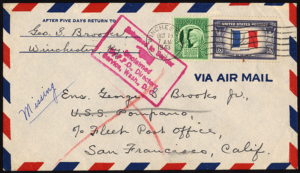 The National Postal Museum has accepted a donation of three volumes of postally used envelopes collected by the late Dr. George S. Brooks of Winchester, Kentucky. Dr. Brooks formed the collection in honor of his son LTJG George S. Brooks, Jr. USN, who was lost at sea aboard the submarine USS Pompano off the coast of Japan during World War II.
Pompano left Midway Island on patrol August 20, 1943 and never returned; its exact fate has never been conclusively determined. The elder Brooks channeled pride and grief for his son into collecting military mail that chronicled the hardships and sacrifices of wartime, especially the difficulties faced by military personnel and civilians in communicating from forward areas, secret locations and prisoner-of-war camps. Some of the last envelopes exchanged by Lieutenant Brooks and his parents – one marked simply "missing" – are an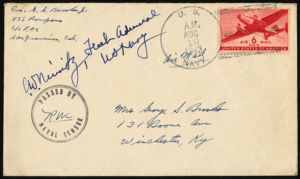 especially poignant part of the collection.
The donation was made by George S. Brooks II, accompanied by his wife, Kathy, and other members of his family. Mr. Brooks is the grandson of Dr. Brooks and the nephew of Lieutenant Brooks.
"Besides adding considerable depth to our military mail collections, the Brooks family's gift will make it possible for the National Postal Museum to share their grandfather's passion for collecting with others," said Daniel Piazza, chief curator of philately.
The National Postal Museum is devoted to presenting the colorful and engaging history of the nation's mail service and showcasing one of the largest and most comprehensive collections of stamps and philatelic material in the world. It is located at 2 Massachusetts Avenue N.E., Washington, D.C., across from Union Station. The museum is open daily from 10 a.m. to 5:30 p.m. (closed Dec. 25). For more information about the Smithsonian, please call (202) 633-1000 or visit the museum website at www.postalmuseum.si.edu.