Christmas 2015
Issue Date: 03.11.15
Reason & Inspiration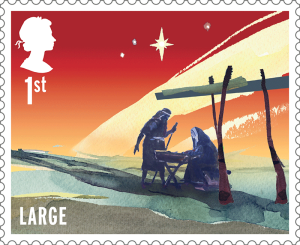 Royal Mail has issued Christmas stamps since 1966. From 2005 it introduced a policy of alternating secular with religious designs each year, and 2015 is a religious year. The stamps tell the traditional Nativity story in an impressionistic style, from the Annunciation, through to the Nativity and journey of the Magi.
As is usual, separate stamps at 1st and 2nd class rate of the Madonna and Child will also be available from Post Offices.
Experts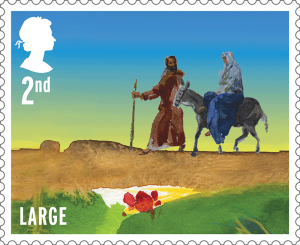 David Holmes (Illustrator)
David Cecil Holmes was born in Chelsea, London. He attended the Ealing College of Art and The Central School of Art, and he began his career in advertising. After working in several top London agencies, he became co-founder and Creative Director of the award-winning Holmes Knight Ritchie Ltd., later TBWA Holmes Knight Ritchie. He works as a painter and illustrator, but he is also well known as an art director and designer.
Studio David Hillman (Stamp designers)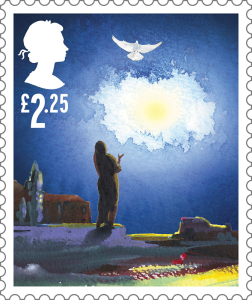 Educated at the London School of Printing, David Hillman started as a designer on The Sunday Times Magazine. In 1968, he joined Nova magazine as art director and in 1975 he set up his own design practice, with a commission to design a new French daily newspaper, Le Matin de Paris. After joining Pentagram in 1978, he continued his work in editorial design, identity, signage and packaging. In 2007, he left Pentagram to set up Studio David Hillman.
David has won numerous awards and his work has been exhibited worldwide. He is a Fellow of the Chartered Society of Designers and a member of the Alliance Graphique Internationale (AGI). In 1997, he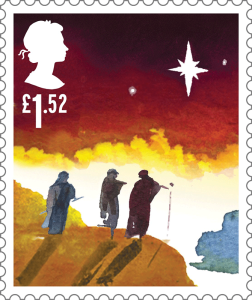 was made a Royal Designer for Industry, and between 2001 and 2003 he served as International President of the AGI. In 2004, he was made a Senior Fellow of the Royal College of Art.
The most recent job David Hillman has undertaken for Royal Mail prior to the Christmas 2015 stamp issue was the 30 stamps celebrating the sports of the Olympic and Paralympic Games form 2009 to 2011. He also worked on 2007's The Queen's Diamond Wedding stamps and products and on the Millennium stamps.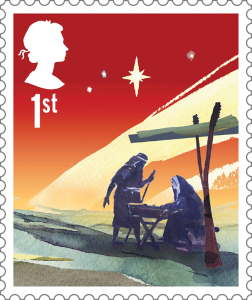 Mint Stamps In Detail
Stamp Set Price: £8.96
Stamp Set Code: AS46B
The Christmas 2015 stamps feature scenes from the Biblical story of the Nativity, painted by artist David Holmes, with art direction and design by Studio David Hillman.
The images are as follows:
2nd Class and 2nd Class Large: The journey to Bethlehem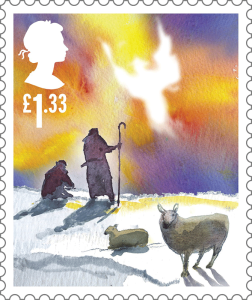 1st Class and 1st Class Large: The Nativity
£1.00: The animals of the Nativity
£1.33: The shepherds
£1.52: The three wise men
£2.25: The Annunciation
Miniature Sheet In Detail
Price: £8.96
Code: MZ112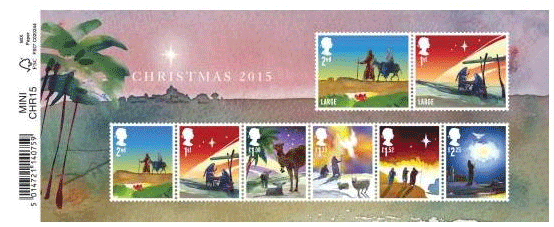 The Miniature Sheet has been designed by Studio David Hillman and illustrated by David Holmes.
Technical Details: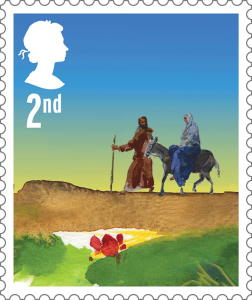 Number of stamps: Eight
Design: Studio David Hillman
Acknowledgements: Illustrations by David Holmes
Stamp Format (Standard): Portrait
Stamp Format (Large): Landscape
Stamp Size (Standard): 24mm x 28mm
Stamp Size (Large): 34mm x 28mm
Sheet size: Sheet Stamps: 165mm x 323mm
Miniature Sheet: 179mm x 74mm
Number per Sheet: Stamps: 50
Miniature Sheet: 8
Printer: Sheet Stamps: De La Rue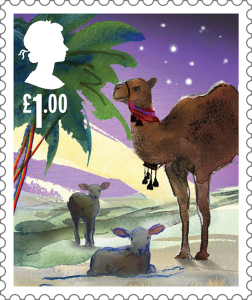 Miniature Sheet: De La Rue
Retail Books: International Security Printers
Print Process: Gravure
Perforations: 14.5 x 15
Phosphor: Bars as appropriate
Gum:Stamps: Self – adhesive
Miniature Sheet: PVA