Updated December 3rd: The following Scott catalogue numbers have been assigned:

5149-5152 (47¢) Wonder Woman
5149 (47¢) Modern Age Wonder Woman
5150 (47¢) Bronze Age Wonder Woman
5151 (47¢) Silver Age Wonder Woman
5152 (47¢) Golden Age Wonder Woman
5152a vertical strip of 4
Updated September 22nd: from the USPS
The U.S. Postal Service will dedicate the Wonder Woman Forever Stamps Fri., Oct. 7 at 9 a.m. in New York City's Jacob K. Javits Convention Center. The first-day-of-issue ceremony launch takes place prior to the opening of New York Comic Con.
Wonder Woman Forever Stamps
First Day of Issue Ceremony
Friday Oct. 7 at 9 a.m.
Javits Convention Center
655 West 34th Street
New York, NY 10001
There are a limited number of free tickets available for the ceremony. The tickets are available on a first-come, first-served basis. Please RSVP to:
https://uspsonlinesolutions.wufoo.com/forms/wonder-woman/
Ticket requests are limited to one per individual.
The tickets will provide you with access to the stamp dedication ceremony only and not include free admittance to Comic-Con.
Updated September 17th: Here are the postmarks for this issue: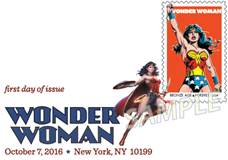 The DCP measures 2.72" x 1.47".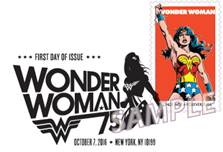 The pictorial measures 2.14 " x 1.33".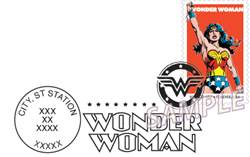 The "special" postmark for local post offices to use measures 2.88" x 1.37".
Updated September 15th, from the USPS: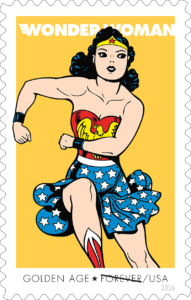 On October 7, 2016, in New York, NY, the U.S. Postal Service will issue the Wonder Woman stamps (Forever priced at 47 cents), in four designs, in a pressure-sensitive adhesive (PSA) pane of 20 stamps (Item 474100). The $9.40 Wonder Woman pane of 20 stamps may not be split, and the stamps may not be sold individually.
The stamps will go on sale nationwide October 7, 2016.
Showcasing four unique designs in a pane of 20 stamps, this new issuance from the U.S. Postal Service celebrates the 75th anniversary of Wonder Woman. This iconic DC Comics super hero — the world's best known and most enduring female super hero — is depicted from four eras of comic book history. The background is a comic book-style power burst superimposed with the current Wonder Woman logo. Art director Greg Breeding designed the stamp pane.
Stamp Fulfillment Services will make an automatic push distribution to Post Offices of a quantity to cover approximately 30 days of sales.
How to Order the First-Day-of-Issue Postmark: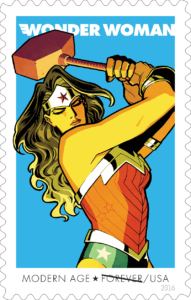 Customers have 60 days to obtain the first-day-of-issue postmark by mail. They may purchase new stamps at their local Post Office, at The Postal Store website at http:⁄⁄www.usps.com⁄shop, or by calling 800-782-6724. They should affix the stamps to envelopes of their choice, address the envelopes (to themselves or others), and place them in a larger envelope addressed to:
Wonder Woman Stamps
Cancellation Services
8300 NE Underground Drive, Pillar 210
Kansas City, MO 64144-9998
After applying the first-day-of-issue postmark, the Postal Service will return the envelopes through the mail. There is no charge for the postmark up to a quantity of 50. There is a 5-cent charge for each additional postmark over 50. All orders must be postmarked by December 7, 2016.
There are seven philatelic products for this stamp issue:
474106 Press Sheet with Die-cut, $84.60.
474110 Digital Color Postmark Keepsake
(set of 4), $15.95.
474116 First-Day Cover (set of 4), $3.64.
474121 Digital Color Postmark (set of 4), $6.48.
474124 Framed Art, $29.95.
474130 Ceremony Program (random single), $6.95.
474133 Panel, $10.95.
Technical Specifications:
Issue: Wonder Woman Stamps
Item Number: 474100
Denomination & Type of Issue: First-Class Mail Forever
Format: Pane of 20 (4 designs)
Series: N⁄A
Issue Date & City: October 7, 2016, New York, NY 10199
Art Director: Greg Breeding, Charlottesville, VA
Designer: Greg Breeding, Charlottesville, VA
Typographer: Greg Breeding, Charlottesville, VA
Modeler: Sandra Lane⁄Michelle Finn
Manufacturing Process: Offset, Microprint
Printer: Banknote Corporation of America
Printed at: Browns Summit, NC
Press Type: Alprinta 74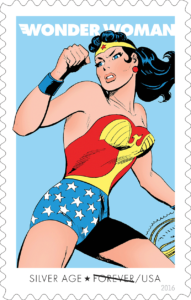 Stamps per Pane: 20
Print Quantity: 60 million stamps
Paper Type: Phosphor Tagged Paper, Block
Adhesive Type: Pressure-sensitive
Processed at: Banknote Corporation of America, Browns Summit SC
Colors: Cyan, Magenta, Yellow, Black
Stamp Orientation: Vertical
Image Area (w x h): 0.84 x 1.42 in.⁄21.34 x 36.07 mm
Overall Size (w x h): 0.98 x 1.56 in.⁄24.89 x 39.62 mm
Full Pane Size (w x h): 6.25 x 8.75 in.⁄158.75 x 222.25 mm
Press Sheets Size (w x h): 19.00 x 26.50 in.⁄ 482.60 x 673.10 mm
Plate Size: 180 stamps per revolution
Plate Numbers: "B" followed by four (4) single digits
Marginal Markings:
Front: Plate numbers in four corners of pane
Back: © 2016 USPS • USPS logo • Plate position diagram • Barcode (474100 in two places) • Promotional Text • Verso Text • DC Wonder Woman Logo • Legal Disclaimer
[USPS Press Release]
Wonder Woman's 75th Anniversary to be Celebrated on Forever Stamps


WASHINGTON — The U.S. Postal Service, in partnership with Warner Bros. Consumer Products and DC Entertainment, previewed four Forever stamps today that commemorate the 75th anniversary of one of the most iconic Super Heroes of all time — Wonder Woman. The stamp pane will be among other Wonder Woman related items revealed at 3 p.m., Sat., July 23 at Comic-Con International: San Diego. The first-day-of-issue dedication ceremony will take place Oct. 7 at New York Comic-Con, Fri., Oct. 7.
Fans are encouraged to share the news on social media using the hashtags #WonderWomanForever and #WonderWoman75.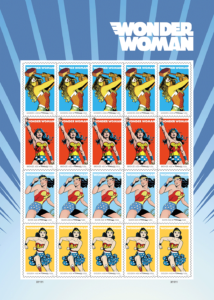 First seen in October 1941 in a back-up story for All Star Comics #8, meant to test her appeal at a time when female superheroes were rare, Wonder Woman quickly broke out and headlined her own title by the next year. Subsequent generations came to know the star-spangled heroine with metal bracelets on her wrists and a magic lasso by her waist via her hit 1975-79 television series and roles in animated shows and movies, as well as her historic appearance on the cover Ms. Magazine #1 in 1972. This past March, Wonder Woman was seen for the first time in a live action motion picture with her introduction in the movie "Batman v Superman: Dawn of Justice."
The U.S. Postal Service celebrates her diamond anniversary by chronicling her evolution on Forever stamps from her World War II origins to today. This new issuance showcases four different stamp designs on a sheet of 20 stamps depicting Wonder Woman during four eras of comic book history:  Golden Age (1941–55), Silver Age (1956–72), Bronze Age (1973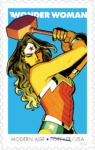 –86) and Modern Age (1987–present). The selvage, or text outside of the stamp images, features the current block-letter Wonder Woman logo in white against a comic book style power burst rendered in shades of blue.
On the first row of stamps Wonder Woman of the Modern Age wields a hammer with a power and determination befitting her roots in the heroic world of Greek mythology.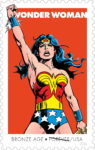 The Bronze Age Wonder Woman's bold stance empowers the second row of stamps. With her fist held high and bulletproof bracelets gleaming, the Amazon princess leads the charge against injustice.
The third row of stamps depicts Wonder Woman during the Silver Age. Although she possesses great strength and speed, the world's
favorite superheroine prefers compassion to the use of brute force. With her golden lasso of truth close at hand, she compels honesty from her foes.
In the last row of stamps, Wonder Woman from the Golden Age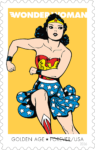 bursts onto the scene as originally envisioned by creator William Moulton Marston.
Art director Greg Breeding of Charlottesville, VA, designed the stamp pane. The Wonder Woman stamps will be issued as Forever stamps and always be equal in value to the current First-Class Mail one-ounce price.