[press release
PF Awards Neinken Medal to Cheryl Ganz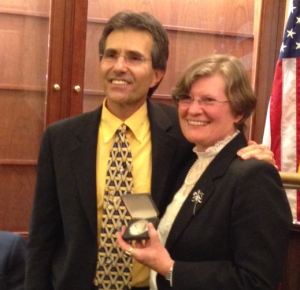 On October 23rd The Philatelic Foundation awarded its Neinken Medal to Cheryl Ganz for meritorious service to philately. PF Chair Robert Rose introduced Vice Chair Donald Sundman who made the presentation [shown at right with Ganz]. Don, who as Chair of the Council of Philatelists at the National Postal Museum, worked for many years with Cheryl in successfully funding and building the William H. Gross Stamp Gallery. Don outlined Cheryl's many achievements including her tenure as the Chief Curator of Philately for the NPM. Cheryl is currently a member of the CSAC [U.S. Postal Service's Citizens Stamp Advisory Committee], has authored seven books, and is expert on all things philatelic related to the Hindenburg.
Accepting the award, Cheryl thanked six philatelic mentors who are no longer with us, each of whom made a lasting impression on her. These were Thomas Fuerst, Arthur Salm, Bernard Hennig, Charles Peterson, her husband Felix Ganz and W. Wilson Hulme her predecessor at the NPM. In addition Cheryl thanked Professor Richard John, who was in attendance, and whose writing has combined the study of postal and communications history.
The more than 80 attendees of the event enjoyed a fine evening of food, drink, lively conversation and philatelic camaraderie. Past recipients of the Neinken Award can be viewed on The Philatelic Foundation website at www.philatelicfoundation.org. The Philatelic Foundation is the premier not-for-profit expertizing service in the United States with a 70 year history of devotion to the hobby.
[Ganz retired in early 2014 as Chief Philatelic Curator of the National Postal Museum. See the story here.]