[press release]
Sundman Sells "Inverted Jenny" Plate Block For U.S. Record Price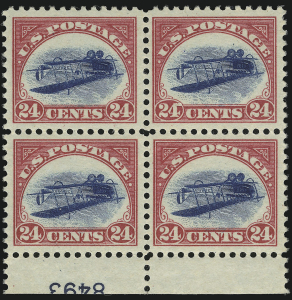 (Camden, New York) — The plate block of 1918 "Inverted Jenny" 24-cent airmail stamps (Scott #C3a), obtained in 2005 by Donald J. Sundman in a historic swap with Wall Street bond trader William Gross, now has been sold by Sundman for more than $4.8 million.
"At the request of the purchaser, the exact price is not being disclosed; only that it was north of $4.8 million. This Inverted Jenny plate block sale is a record price for any U.S. philatelic item and the second highest price in the world ever paid for any philatelic item," said Sundman, President of Mystic Stamp Company in Camden, New York.
Sundman had not been planning to sell the block, but instead intended to display it at World Stamp Show-NY2016 in New York City next May. He previously exhibited the Inverted Jenny plate block to long lines of viewers at the Washington (D.C.) 2006 World Philatelic Exhibition and at the 2007 American Philatelic Society convention in Portland, Oregon. However, he recently received an unsolicited offer he couldn't refuse.
"It was the oddest transaction I've seen in stamps.  Someone called me in late September and said he represents some people overseas who want to buy my Jenny block.  He told me they are not collectors, just wealthy people who want to buy things," said Sundman.
"He revealed they had purchased a copy of the Magna Carta, and had a list of other rare items they wanted to buy, including a copy of the Declaration of Independence. It's odd that non-collectors are spending millions on some of the greatest treasures. I've never seen anything like this in my 40 years in the hobby," Sundman added.
Sundman obtained the Inverted Jenny plate block in November 2005 in a trade with Gross who had purchased it only a few weeks earlier for a then-world record $2,970,000 at a public auction conducted by Robert A. Siegel Auction Galleries. In exchange for the block, Sundman traded his one-cent 1868 Z-Grill (Scott #85a) stamp that he acquired for $935,000 at a 1998 Siegel auction.
The historic swap was valued at the time at a combined total of $6 million and was arranged on behalf of Gross by Charles Shreve.
Sundman recently announced a reward on behalf of the American Philatelic Research Library of up to $100,000 to locate the two still-missing Inverted Jenny stamps from a block of four stolen nearly 60 years ago. The block was owned at the time of the 1955 theft by Ethel B. McCoy of New York City who later donated to the APRL two subsequently-recovered stamps and the legal rights to the other two.