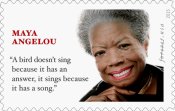 History, Love, Celebrations. New information is coming in almost daily. Check out our 2015 stamp program -- the best free 2015 stamp schedule listing online. And leave your comments, too.



Last Updated: March 24 - Missing Children, Special Olympics



Maya Angelou: Details here.
---
When is a Rate Hike Not a Rate Hike?
The U.S. is raising some postal rates, but still honoring its promise not to raise the cost of mailing a letter for three years. VSC managing editor Lloyd de Vries explains how the USPS is managing that.
---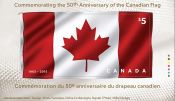 Canada Issues First Fabric Stamp
And long may it wave. Details here.

---


British Stamps Get Inventive
Royal Mail celebrates UK's ingenuity.

---


Inside Stamp Catalogs
Your stamp catalog can be very handy - if you know how to use it, says former catalog editor Dick Sine.

---


APS' Guyer To Head ASDA
Dana Guyer, who has been running shows for the American Philatelic Society, is now executive director of the American Stamp Dealers Association. ASDA runs some of the other major stamp shows in the USA. Details here.

---
Black History to Postal Museum
The philatelic and postal branch of the Smithsonian is celebrating Black History Month with a special exhibition. Take a peek here with photos of ten of the items from it.
---


Show The Fun In Philately
Yes, stamp collecting can be a serious hobby, but columnist John Hotchner says sometimes we forget the humor.

---
CBS Features Stamp Collecting
Correspondent Rita Braver looks at the "ageless allure" of stamp collecting for "CBS SundayMorning."


---
50 Years of Special-ness
It's been 50 years since Britain began issuing special, or commemorative, stamps, and Royal Mail is celebrating with some amazing statistics and an online exhibition showing more than 2,000 of them. Click here for the story.
---
Lloyd's Fun FDCs!
Volume 45 - ArtCraft
Its cachets are "not your father's Oldsmobile." The designs are bright, colorful and contemporary.

---
Durland 2014 Supplement
Now Available!
The supplement, plus the 2012 edition of this catalogue, are the definitive reference for plate number collectors. Order them individually or together here.
---
Looking for Delphi's Stamp Collecting Forum?
Click here to reach it.
And here's the reason for the change.
---

"Help! I just inherited this stamp collection!"


Just been given Aunt Matilda's old stamp collection and don't know what to do with it? We can help.

---
Unique Stamp Collecting Bookstore
We have philatelic books in our bookstore you won't find anywhere else on the Internet, including publications from the U.S. Stamp Society, and John Hotchner.

---
Quotable:
"This is exactly how I see myself and exactly how I wish to be remembered."


— Maya Angelou about her 2013 portrait to artist Ross Rossin, as recollected by Rossin. That portrait will be used on her stamp.
---
Last Updated March 27, 2015

---