Canada Commemorates Comedians
Five new stamps honor Jim Carrey, Olivier Guimond, Mike Myers, Catherine O'Hara and Martin Short. All but Guimond are still alive. Details here.
---


Writing = Sharing
That's the opinion of veteran stamp collecting writer Dick Sine, and he tells you why.

---

Philadelphia Show Canceled for 2015
And from the sounds of it, it may be gone forever, after a 77-year run. Details here.

---

Computers: Good Or Bad For Philately?
Columnist John Hotchner looks at the pros and cons of technology on our hobby, and decides... well, we'll let you read it for yourself.

---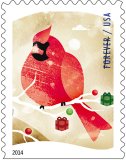 Major additions to the program! Wilt Chamberlain, Christmas Magi, Winter Fun and more. Our 2014 U.S. Stamp Program has just been updated.



Korean War Medal of Honor
Photos from the first day ceremony can be seen here.



Feel free to comment in our U.S. 2014 blog section, indexed through the stamp program page.

---
AFDCS Cachet Contest Results
A "March on Washington" FDC steals a march on other cachets. Results here.
---
Lloyd's Fun FDCs!
Volume 45 - ArtCraft
Its cachets are "not your father's Oldsmobile." The designs are bright, colorful and contemporary.

---
Bailar Blasts U.S. Stamp Selection
Linn's Stamp News reports the former Postmaster General, with solid business creds, quits the Citizens Stamp Advisory Committee, saying it's become nothing but a marketing group. Read a summary and analysis here.
---
What Others Should Do
It's easy to come up with great ideas, but that's only part of implementation, says VSC proprietor Lloyd de Vries in his latest LloydBlog entry.
---
Photos from First Day Ceremonies
See the Medal of Honor-Korean War and Petersburg Civil War events.
---
Piazza is Museum's New Stamps Chief
Daniel Piazza will head the philatelic portion of the Smithsonian's National Postal Museum in Washington. Details here.
---
Durland 2014 Supplement
Now Available!
The supplement, plus the 2012 edition of this catalogue, are the definitive reference for plate number collectors. Order them individually or together here.
---
Looking for Delphi's Stamp Collecting Forum?
Click here to reach it.
And here's the reason for the change.
---

"Help! I just inherited this stamp collection!"


Just been given Aunt Matilda's old stamp collection and don't know what to do with it? We can help.

---
Unique Stamp Collecting Bookstore
We have philatelic books in our bookstore you won't find anywhere else on the Internet, including publications from F.D.C. Publishing Co., the U.S. Stamp Society, and John Hotchner.

---
Quotable:
"We are concerned when the Postal Service produces something that just isn't readily available to most if not all collectors."


— Scott Catalogue editor Chad Snee, on the upcoming Vintage Circus Poster souvenir sheet that won't be available without buying a 2014 U.S. Stamp Yearbook.
---
Last Updated September 26, 2014

---