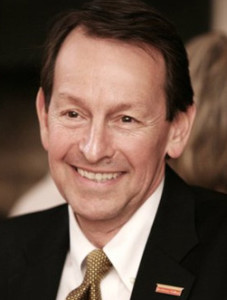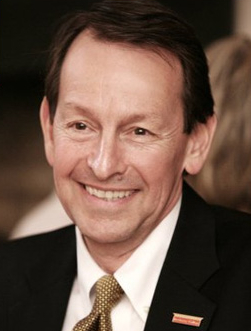 In one of the most contested American Philatelic Society elections in recent years — while maintaining an air of civility — Mick Zais of South Carolina (right) has been elected President for a three-year term that begins at APS StampShow 2016 in August. [Links go to the candidates' statements.]
Zais defeated Ken Nilsestuen of Ohio by a mere 3.5% of the vote.
For Board of Vice Presidents, the three-person ticket of Trish Kaufmann, Jeff Shapiro, and Bob Zeigler upset the slate that included incumbents Alex Haimann and Yamil Kouri, plus newcomer John Barwis. The "BVP" is the disciplinary body of the APS, hearing cases that cannot be resolved by an APS staffer.
For Secretary, a position that is rarely contested, Steve Schumann defeated Mark Butterline.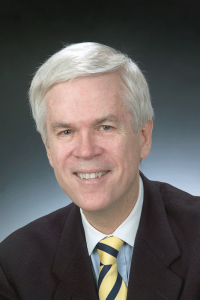 Former president Peter McCann (left) returns to the Board as a Director-at-Large, polling significantly more votes than any other candidate. He will be joined by Mark Schwartz, Rich Drews and Michael Bloom. The one candidate not elected was Gordon Eubanks, but less than 5 percent of the vote separated Eubanks from Schwartz.
Kristin Patterson and Steve Zwillinger, both coming off terms as Directors-at-Large, easily won election to the American Philatelic Research Library Board of Trustees. Hugh Lawrence was also elected to the APRL Board, in voting by Founders, Patrons and Fellows of the Library.
Here are the complete voting results released by the APS:
President
| | | | |
| --- | --- | --- | --- |
| *Mick Zais | Columbia, SC | 2,016 | 51.7% |
| Ken Nilsestuen | Akron, OH | 1,882 | 48.2% |
| Other |   | 3 | 0.1% |
Board of Vice President (run as a team of 3)
*Patricia (Trish) Kaufmann
Lincoln, DE
 
 
*Jeff Shapiro
Fayville, MA
2,220
56.9%
*Robert Zeigler
Indianapolis, IN
 
 

John Barwis

Holland, MI

 

 

Alex Haimann

St. Louis, MO

1,676

43%

Yamil Kouri

Lexington, MA

 

 

Other

 

4

0.1%
Secretary
| | | | |
| --- | --- | --- | --- |
| *Stephen Schumann | Hayward, CA | 2,151 | 55.9% |
| Mark Butterline | Maynard, MA | 1,698 | 44.1% |
Treasurer
| | | | |
| --- | --- | --- | --- |
| *Bruce Marsden | Short Hills, NJ | 2,306 | 59.8% |
| Edwin Andrews | Chapel Hill, NC | 1,549 | 40.2% |
Director-at-Large (Four Open Seats)
| | | | |
| --- | --- | --- | --- |
|   |   |   | Percentage of Total Ballots |
| *Peter McCann | University Park, FL | 3,049 | 77.2% |
| *Mark Schwartz | Philadelphia, PA | 2,748 | 70% |
| *Rich Drews | Palatine, IL | 2,724 | 68.9% |
| *Michael Bloom | Portland, OR | 2,627 | 66.5% |
| Gordon Eubanks | Pebble Beach, CA | 2,583 | 65.4% |
| Other |   | 8 |   |
APRL Board of Trustees
APS Member-elected (Two Open Seats)
| | | | |
| --- | --- | --- | --- |
|   |   |   | Percentage of Total Ballots |
| *Steven Zwillinger | Silver Spring, MD | 2,915 | 73.8% |
| *Kristin Patterson | San Jose, CA | 2,777 | 70.3% |
| Mark Banchik | Great Neck, NY | 1,322 | 33.5% |
| Other |   | 4 |   |
APRL Founder/Patron (Elected by Founders, Patrons, and Fellows of the APRL)
| | | |
| --- | --- | --- |
| *Hugh Lawrence | Encinitas, CA | 36 |