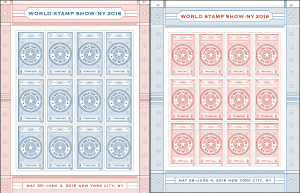 A February 28th press release from the U.S. international stamp show says, "Four of the seven USPS first day of issue releases scheduled to take place are depicted" in the newsletter of the same date: The previously announced Repeal of the Stamp Act, the two designs for World Stamp Show-NYC 2016, Planets and Pluto. That leaves three others that will be issued at the show, but no word on what those might be.
The newsletter goes on to say, "U.S. Postal Service first day ceremonies take place at 11 AM every day of the show (except Tuesday when a special stamp unveiling is planned)." The newsletter hints that one or more of the three unnamed issues may be postal stationery.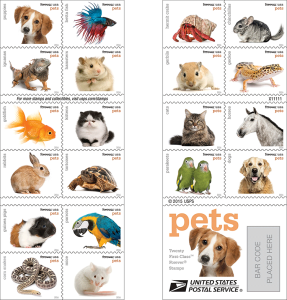 No postal stationery for 2016 has been announced (other than the Priority Mail envelope which, actually, was never announced but just issued). According to
The Virtual Stamp Club
's
2016 U.S. Stamp Program
, the 20-stamp
Pets booklet
is a possibility for a May issuance, because May is a National Pets Month.But the show doesn't begin until May 28th.
Another possibility is the
Shirley Temple
stamp, because, as an adult, Shirley Temple Black served as U.S. Ambassador to the United Nations,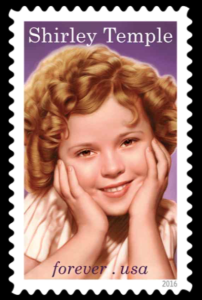 which is headquartered in New York City. However, this would be a stretch, because the stamp is part of the Legends of Hollywood series, all of which have been issued in Los Angeles.
Stay tuned. As soon as The Virtual Stamp Club finds out, we'll post the information.