by Lloyd A. de Vries
The Virtual Stamp Club
If you collect first day covers in the U.S., you owe Michael A. Mellone a debt of gratitude. Maybe two debts of gratitude: He helped establish independent shows for first day cover collecting, and wrote and published the catalogues that made it possible to identify and systematically collect cachets.
He passed away February 12, 2018, in West Palm Beach, Florida, at the age of 72.
For nearly two decades, Mike guided the annual shows and conventions of the American First Day Cover Society. He and his promoter partner Steve Ritzer produced two of the society's first standalone conventions in the "modern" era, in 1986 in Morristown, N.J., and in 1988 at the Disneyland Hotel in Anaheim, Calif.
In 1992, with Ritzer providing behind-the-scenes support, Mellone produced the AFDCS Cover Fest in Columbus, Ohio. Steve Ripley was the wacky chairman and programmer, but Mellone handled logistics: Finding and checking out hotels, selling and setting up the bourse, and all the myriad details necessary for a successful show.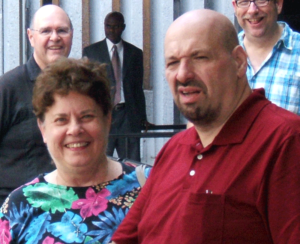 The following year, Mellone and Ripley called the AFDCS show "Americover."
On the right, Mike looks puzzled after the Stamford Marriott, where Americover 2007 had just begun, is evacuated because of a fire. His assistant, later his wife, Dottie Graf is with him.
The significance is that, until these shows, the AFDCS was a guest at someone else's party. Space for first day cover exhibits and dealer booths was limited. The hosts even controlled the events the AFDCS could hold.
Along the way, Mellone and friends invented the cachetmakers bourse, where the people who design first day covers could sell their products at a reduced-price for tables. It came about at the 1986 show, after cachetmakers and other small dealers took over the hospitality suites at earlier conventions to sell FDCs, pushing out collectors who simply wanted to sit around, eat, drink and talk.
Earl Planty, a business professor, was the first to catalogue different cachets for early first day covers, identifying them, assigning a catalogue number, and even assigning a value. Mellone, however, as they say in football, "took the ball and ran with it."
First, he added photographs of the different cachets to make identification easier. Instead of parsing a written description, collectors could compare what they had to the pictures. He also expanded Planty's listings, adding dozens of cachets for those issues.
Then Mellone went a step further: He added issues, first for the 1930s and eventually for nearly every issue through the 1960s.
The first Mellone Photo-Encyclopedia appeared in 1976. It was no coincidence that within a few years, first day covers were one of the hottest specialties in philately.
A collector of a specific issue now knew not only what he or she had, but what he or she didn't have. "You have a Crosby for that issue? There are five different Crosbys for it, and here is what you're missing." Many collectors then made an effort to buy the missing covers. That increased sales, which in turn increased dealers' interest in acquiring FDCs for sale. Prices rose. Interest increased.
Also helping increase the interest in FDCs was his pocket catalogue. It was first titled Discovering the Fun in First Day Covers, with a license from Scott Publishing Co. to use its catalogue numbers. After a few years, Discovering became the Scott Catalogue of U.S. First Day Covers, with introductory material on collecting, identifying and valuing FDCs that Mellone had written. (Scott discontinued publication of the catalogue after the 2009 edition.)
Mellone's F.D.C. Publishing Company also produced books and catalogues on other FDC-related subjects, encouraging research and scholarship in the specialty. It also printed 3″x5″ inventory cards for first day cover collections; I still have mine!
Mellone revised the 1930s catalogue, and extended it earlier, into the 1920s. He never got around to doing more with the other decades than reprinting them. Publishing the catalogues was expensive and time-consuming, and he told me he didn't make much money on them, if any.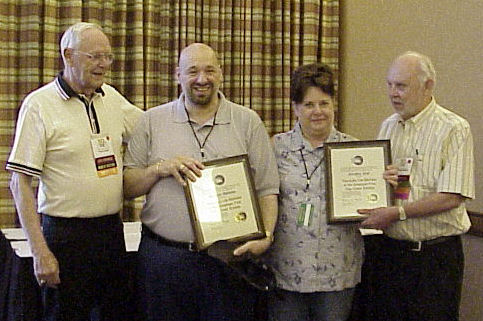 Above, Mike receives an Honorary Life Membership in 2005 from AFDCS president Tom Foust, while Dottie gets her HLM from board chairman Dick Monty.
Mike was shy and preferred to work in the background: Steve Ritzer and Steve Ripley were his "front men," glad-handing and interacting with the public. At some of the shows he produced alone, after splitting with Ritzer, he even asked me to make the public address announcements for him. Mike did the physical work.
This summer, at Americover 2018, as you walk through the cachetmakers and dealers bourses, checking your photo-encyclopedia, take a moment to think of Mike Mellone.