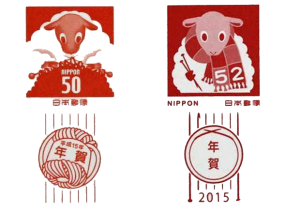 Tending to its knitting paid off for Japan Post.
Its lunar new year stamp (left) a dozen years ago showed a fluffy sheep knitting a scarf.
This year's lunar new year stamp (right) shows the same sheep wearing the scarf.
The Associated Press reports it's traditional in Japan to send New Year's greetings on postcards. Many Japanese send hundreds of them, to friends, colleagues and relatives. Although most stores and businesses are closed January 1st, Japan Post employees will be hard at work to get all the cards delivered.