by Richard L. Sine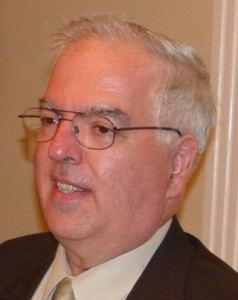 While I have a thing against name dropping, the recent release of the movie "Foxcatcher" prompted a couple of philatelic memories that just didn't appear to make the final cut of the film. During my time at the American Philatelic Society as editor of The American Philatelist, I twice accompanied the late Horace Harrison (founder of the APS Insurance Plan) to solicit a donation to the society from du Pont. We failed in our mission, but the experience was memorable.
John du Pont, within philately, is best known as a previous owner of the 1¢ British Guiana.
The visits were in about 1982-3, and I fully admit to a little lack of memory as to the date. The current film is involved with the situation where du Pont shot a U.S. Olympic wrestler. When that happened, du Pont was hosting Olympic wrestlers at his estate, named Foxcatcher. At the time Horace and I visited, he was sponsoring a national-level swimming team, aptly named the Foxcatchers.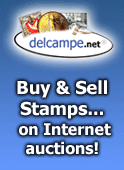 Soon after we arrived the first time, I mentioned that my three children were competitive swimmers. Our host then took us on a tour of the Olympic-sized swimming pool adjacent to the residence.
Inside the home, we were taken to his library, which actually was a safe, complete with what appeared to be a foot-thick door. The library was much longer than it was wide.
Aside: remember that the du Pont company was started following the founder's invention of dynamite. As you entered the library, you quickly "noticed" – in the far right corner – a gleaming gold Gatling gun. If that wouldn't quickly cause you to pause, you had no emotions at all.
Du Pont apologized on our first visit for not having the British Guiana for us to see, but noted something to the effect that it could only be removed from the safety deposit box with proper security. Instead, he gave us an autographed photo of the stamp. Yes, you read that correctly.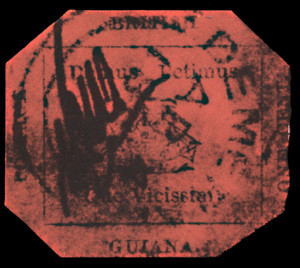 On our second visit, he again apologized for not having the British Guiana (left) for us to fondle … and, instead, let Horace and me inspect a U.S. 1869 24¢ invert on cover. Read the end of the previous sentence again before you go to your catalog for an idea of current value.
We tried both visits to engage our host in "philatelic" discussion, but to little avail. I was certain that he was not trying to deflect any sort of fundraising effort, but rather just not philatelic as such. Rather, his interest in the hobby was much more along the lines of an acquirer. He certainly knew what he had, but just didn't appear to exhibit the passion that I saw over the years in so many other collectors. Pity.
To me, the passion is critical. It is that passion that drives one collector to have as much enjoyment with an album of current and recent U.S. stamps as does another collector who has a world-class collection based on the printing varieties and usages of a single classic stamp.