From Israel Post. These stamps will be issued December 19, 2017:
Snakes, Submarines and Sport Arenas and are just a few of the popular topics that are included in the last stamp issues of 2017.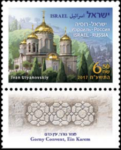 The magnificent gold –domed Russian church named the Gorny Convent in Jerusalem was chosen as the topic for the Joint Issue with Russia. The church represents Russia's deep religious bond to Jerusalem and the joint issue expresses Russia's friendship with Israel.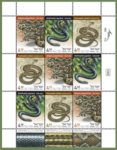 Some people scream and others have them as pets but Snakes are first and foremost an important component in the food chain of predators and prey. Although no one wants to get bitten by a snake, it is imperative that they are kept safe as part of ensuring healthy ecological systems.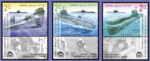 Submarines are an important part of any navy and this stamp set shows the history of the submarines acquired by Israel's Navy. Today, interestingly, some of the most innovative parts of the new sophisticated submarines are manufactured in Israel.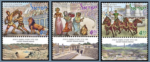 Today, when you visit one of the Ancient Roman Arenas represented on this stamp set you can close your eyes and imagine the noise, the atmosphere, the cheering on, bloody shows, gladiators and chariot races. All this is depicted on the stamps which represent three types of Roman arenas that are found in Israel: theater, amphitheater and hippodrome.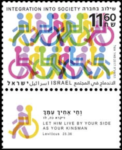 Israel recognizes the importance of Integrating People with Disabilities in Society and promoting their increased involvement in the life of the country, not only as those who receive but also as those that want to contribute and share their talents with society.
A delightful illustration is found on this year's Season's Greetings from the Holy Land ATM label. Perfect to send good wishes to friends around the world.