From Israel Post: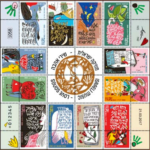 Love is in the air with our June issue…romantic songs and, as it has been known to happen, romantic meetings between Jewish athletes at the Maccabiah!
We have selected 12 romantic Israeli Love Songs, reminding us of those special moments, and presented in a beautiful special stamp sheet with the inner design in gold foil.  Excerpts from the lyrics appear on the stamps in Hebrew. (Translation can be found in our accompanying information leaflet).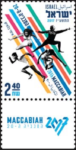 The 20th Maccabiah sports event is celebrated this month with a commemorative stamp. Jewish athletes will come from all over the world to compete in 40 different sports. This is not just a sporting event but a celebration of the never-ending relationship of the Jewish people and the State of Israel.
Our historical WW1 Centenary series continues with General Allenby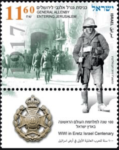 Entering Jerusalem 1917 and tells the story of how General Allenby entered the Old City of Jerusalem, after it was captured by the British, on foot out of respect for the city that is holy to Jews, Christians and Muslims. This moment ended 400 hundred years of Turkish rule in Jerusalem.
Cycling is a great way to get around busy cities, without the worry of parking. It's also a fun, trendy sport so the focus of this month's Road Safety ATM label is "Ride Safely".