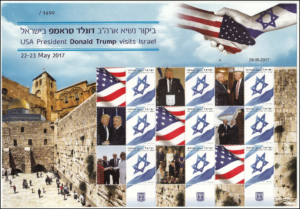 On Sunday, May 28th, Israel Post issued a My Own Stamp souvenir sheet commemorating U.S. President Donald Trump's visit to Israel. It consists of 9 Israeli flag postage stamps with the USA flag and official photos of the visit.
"This is a limited and numbered item and only 1499 sheets were produced. Supply is on a first-come first-serve basis," said a spokeswoman for Israel Post.
The sheet is priced at NIS 34 (34 shekels), which is approximately US$9.59. It can be ordered direct from Israel Post (click the link), from Israel Post's various agencies such as the Israel Philatelic Agency NA (172 Empire Blvd., Third Floor, Brooklyn, N Y 11225) or stamp dealers.