[press release]
Indigenous leaders honoured as Australia Post Australian Legends

[These stamps were issued May 29th]
Three of Australia's distinguished Indigenous leaders are being honoured as the 2017 Australia Post Australian Legends, with recipients appearing on commemorative stamps.T hree of Australia's distinguished Indigenous leaders are being honoured as the 2017 Australia Post Australian Legends, with recipients appearing on commemorative stamps.
Honouring the work of Prof. Thomas Edwin Calma, Dr Lowitja O'Donoghue and Dr Galarrwuy Yunupingu, the award recognises the lifelong advocacy and leadership the Legends have achieved for their communities.
Professor Thomas Edwin "Tom" Calma AO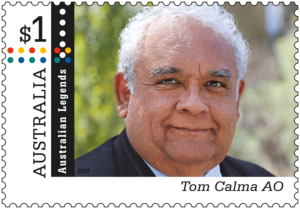 An Aboriginal elder of the Kungarakan people and member of the Iwaidja tribal group, Tom is the first Indigenous man to hold the position of Chancellor of any Australian university – a title he took in 2014 when appointed the sixth Chancellor at the University of Canberra. From 2004 to 2010, Tom was the Aboriginal and Torres Strait Islander Social Justice Commissioner at the Australian Human Rights Commission, and also served as Race Discrimination Commissioner for most of that time. Tom is co-chair of Reconciliation Australia and a director of the Australian Indigenous Leadership Centre. In 2013, he was named ACT Australian of the Year, and in 2012 made an Officer of the Order of Australia in recognition of his work as an inspirational advocate for human rights, social justice and distinguished service to the Indigenous community.
Dr Lowitja O'Donoghue AC CBE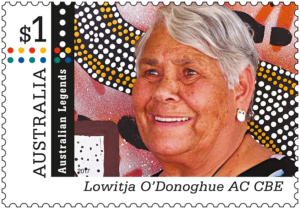 Of Irish and Yankunytjatjara descent, Lowitja is a member of the Stolen Generation. After years of petitioning, Lowitja became the first Aboriginal woman to be accepted into nursing training in South Australia, and finally graduated in 1954. Lowitja continued her active involvement with Indigenous issues by joining the Aboriginal Advancement League to agitate for the rights of Aboriginal people to enter professions and take up apprenticeships. She joined the federal Department of Aboriginal Affairs following the 1967 referendum and for seven years she was the most senior Aboriginal person in public office. Lowitja's contribution to her community has been recognised with an Order of Australia (1976), Commander of the Order of the British Empire (1983), Australian of the Year award (1985), and a Companion of the Order of Australia (1999). Lowitja is the first and only Aboriginal Australian to address the UN General Assembly.
Dr Galarrwuy Yunupingu AM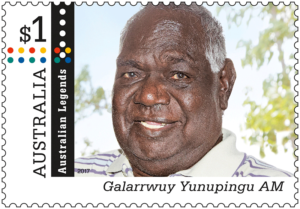 A leader and land rights activist, Galarrwuy first came to prominence in 1970 when he acted as an interpreter for the first litigation on traditional land rights in Australia. The case was instrumental to the passing of the Aboriginal Land Rights (NT) Act in 1976. Galarrwuy's work has focused on advocacy for traditional land owners to set terms for the mining of Aboriginal land in a way that allows the communities to achieve self-determination and economic independence. In 1978, Galarrwuy was named Australian of the Year, and in 1985 was made a Member of the Order of Australia. In 1997, the National Trust named Galarrwuy an "Australian Living National Treasure".
Since 1997, the Australia Post Australian Legends Awards has commemorated exceptional people who have made lifetime contributions to the nation's identity and character.
In years past, Australia Post has awarded Australians who have contributed significantly to their area of expertise, including cricketer Sir Donald Bradman; artist Arthur Boyd; haematologist Donald Metcalf; actress Cate Blanchett; chef Maggie Beer; Victoria Cross recipient Ben Roberts-Smith; and tennis player Patrick Rafter.
Ahmed Fahour, Managing Director & Group CEO, Australia Post, said this year's award recognises the leadership and advocacy the three recipients have demonstrated over the course of their lives to improve conditions for Indigenous Australians and to bring opportunities to their communities.
"We are pleased to recognise the hard work and unfailing effort our recipients have demonstrated for the betterment of their communities. Our recipients have overcome immense challenges as they have strived for equal representation and agency to ensure a better future for generations to come.
"Australia Post aligns itself as an equal opportunity employer, offering support and genuine pathways into meaningful employment through school-based and adult traineeships and internships for our Aboriginal and Torres Strait Islander community members.
"Australia Post also recognises that 2017 marks the 50th year since the 1967 referendum, when Australians voted overwhelmingly to amend the constitution and provide rights to our First Peoples, so it is fitting that we can honour this occasion with our Australian Legends philatelic issue," Mr Fahour said.
The Legends Award criteria honours inspirational living Australians who exemplify tenacity, imagination, perseverance, devotion, integrity and compassion.
The 2017 Legends will each feature on a $1 stamp. The products accompanying the stamp issue are a maxicard set, a stamp pack, a booklet of 20 x $1 stamps and a first day cover.
Prof. Thomas Edwin Calma said about receiving the award:
"Advocates like myself never seek the spotlight for the work we do, and while I am acknowledged in the stamp, many who have walked with me share this honour. I am proud, humbled and appreciate that my lifetime work and the achievements of Indigenous advocates and our colleagues are celebrated in such a meaningful way. I hope that occasions like this highlight what is achievable in a lifetime and will encourage greater advocacy for equality. Together we can affect change."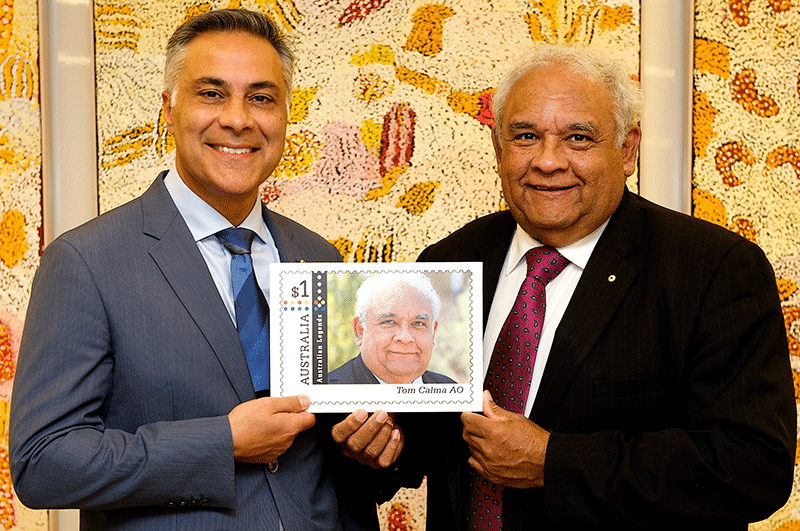 Australia Post's Ahmed Fahour and Prof. Calma, photo courtesy of Janusz Molinski.
Dr Lowitja O'Donoghue said about receiving the award: "Our work towards equality never stops, and I appreciate that our wider community recognises the changes we have instigated and continue to strive for even today, 50 years from the 1967 Australian Referendum."
Dr Galarrwuy Yunupingu said about receiving the award: "Advocacy has never been more important for our Indigenous communities, and I'm grateful that our work to address inequality is being recognised and celebrated across the country."
The stamps and associated products are available at participating Australia Post retail outlets, via mail order on 1800 331 794 and online at www.auspost.com.au/stamps from 29 May 2017 while stocks last.