[press release]
Australia Post launches anniversary of Australia's first satellite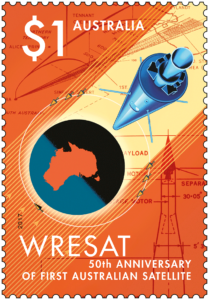 Australia Post is celebrating the 50th anniversary of Australia's first satellite with the release of a new stamp issue.
Launched on 29 November 1967 from the Woomera Rocket Range in South Australia, the Weapons Research Establishment Satellite (WRESAT) was designed to carry scientific instruments for upper-atmosphere research.
Designed, constructed and launched in just 11 months, WRESAT eventuated from the collaboration of scientists at the Weapons Research Establishment Salisbury (now the Defence Science and Technology Group) and the University of Adelaide.
Australia's launch of WRESAT made it the third country in the world – after USA and USSR – to design and launch a satellite from its own territory. Completing 642 orbits, WRESAT remained in orbit until 10 January 1968, before re-entering the atmosphere.
Australia Post Philatelic Manager, Michael Zsolt said, "The launch of Australia's first satellite WRESAT was a major scientific achievement. This stamp issue marks an important milestone in the history of Australia's space programs."
Australia's Chief Defence Scientist, Dr Alex Zelinsky said, "We are delighted Australia Post is celebrating the 50th anniversary of Australia's first satellite with a commemorative stamp issue. The WRESAT project was a significant demonstration of Australian ingenuity in building and launching a satellite. It is important for us to celebrate such remarkable advances in science which serve as an inspiration to our future challenges in science, technology and innovation".
The domestic base-rate ($1) stamp was designed by Australian designer Nigel Buchanan. The stamp design has been based on original drawings and diagrams relating to the WRESAT launch, and shows the launch rocket and the satellite orbiting Earth.
The products associated with this stamp issue are a first day cover, sheetlet pack, booklet of 20 x $1 self-adhesive stamps and a maxicard.
The 50th Anniversary of WRESAT stamp issue is available from participating Post Offices, via mail order on 1800 331 794 and online at auspost.com.au/stamps from 12 September 2017 while stocks last.