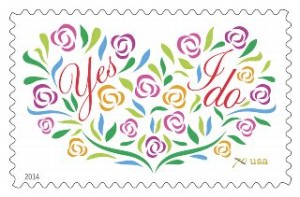 From the March 6th Postal Bulletin:
Stamp Announcement 14-16: Yes, I Do
©2014 USPS
On March 21, 2014, in Saint Louis Missouri, the U.S. Postal Service will issue the Yes, I Do 70-cent definitive stamp, in one design in a pressure-sensitive adhesive (PSA) pane of 20 stamps (Item 587600).
The stamp will go on sale nationwide March 21, 2014.
The U.S. Postal Service continues its celebration of weddings with its most recent addition to the popular Weddings series, the Yes, I Do stamp, first issued in 2013. Sold at the two-ounce stamp rate, Yes, I Do accommodates the heavier weight of an invitation, as well as other mailings such as oversized cards or small gifts that require extra postage. The stamp highlights the words ìYes, I Doî nestled in a bouquet of flowers in the shape of a heart on a white background. A similarly designed companion stamp, Where Dreams Blossom'a Forever stamp first issued in 2013'is available for response cards, save-the-date notices, thank-you notes, and other correspondence. The stamp artwork was designed by Michael Osborne under the direction of Ethel Kessler.
Distribution: Item 587600, 70-cent Yes, I Do PSA Pane of 20 Stamps
How to Order the First-Day-of-Issue Postmark:
Customers have 60 days to obtain the first-day-of-issue postmark by mail. They may purchase new stamps at their local Post Office, at The Postal Store website at www.usps.com/shop, or by calling 800-STAMP-24. They should affix the stamps to envelopes of their choice, address the envelopes (to themselves or others), and place them in a larger envelope addressed to:
Yes, I Do stamp
Retail Manager
Clayton Post Office
7750 Maryland Ave
Clayton, MO 63105
After applying the first-day-of-issue postmark, the Postal Service will return the envelopes through the mail. There is no charge for the postmark up to a quantity of 50. For more than 50, customers have to pay five cents each. All orders must be postmarked by May 21, 2014.
Philatelic Products:
There are eight philatelic products available for this stamp issue:
* 587610*, Keepsake (Pane of 20, 1 DCP), $15.95.
* 587616*, First-Day Cover, $1.14.
* 587621*, Digital Color Postmark, $1.85.
* 587631*, Stamp Deck Card, $0.95.
* 587632*, Stamp Deck Card with Digital Color Postmark, $2.20
Technical Specifications:
Issue: Yes, I Do Stamp
Item Number: 587600
Denomination & Type of Issue: First-Class Mail Forever
Format: Pane of 20 (1 design)
Series:
Issue Date & City: March 21, 2014, St Louis, MO 63155
Designer: Michael Osborne
Art Director: Ethel Kessler
Typographer: Michael Osborne
Artist: Michael Osborne
Engraver:
Modeler: Joseph Sheeran
Manufacturing Process: Offset Microprint
Printer: Ashton Potter
Printed at: Williamsville, NY
Press Type: Vari-size Security Press
Stamps per Pane: 20
Print Quantity: 20 million stamps
Paper Type: Nonphosphored Type III Blocked Tagged
Adhesive Type: Pressure-sensitive
Processed at: Williamsville, NY
Colors: Black, Cyan, Magenta, Yellow
Stamp Orientation: Horizontal
Image Area (w x h): 1.42 x 0.84 in./36.07 x 21.34 mm
Overall Size (w x h): 1.56 x 0.98 in./39.62 x 24.89 mm
Full Pane Size (w x h): 7.15 x 5.92 in./181.61 x 150.37 mm
Press Sheets (w x h): 21.45 x 17.76 in./ 544.83 x 451.10 mm
Plate Size: 180 stamps per revolution
Plate Numbers: ìPî followed by four (4) single digits
Marginal Markings:
Front: Plate numbers in four corners of pane
Back: © 2012 USPS ï USPS logo ï Plate position diagram * Barcode (587600) in upper right and lower left corners of pane * Promotional text ï Website information