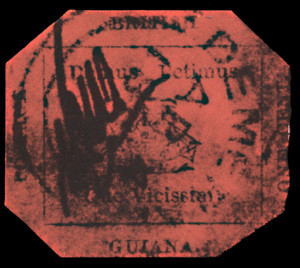 The 1856 British Guiana One-Cent Magenta will be offered at an auction in New York on June 17th. Sotheby's, which is handling the sale, predicts it will sell for $10-20 million dollars.
"This is the superstar of the stamp world," David Redden, Sotheby's worldwide chairman of books and manuscripts, told the Associated Press.
The stamp hasn't been on public display since 1986.
"It's a stamp the world of collectors has been dying to see for a long time," said U.S. National Postal Museum director Allen Kane.
It is now being sold by the estate of John du Pont, the eccentric heir to the chemical fortune who was convicted of the murder of a wrestling coach. Some of the proceeds to the Eurasian Pacific Wildlife Conservation Foundation that du Pont championed during his lifetime.