My local paper has been running a "Where were you on November 22, 1963" features this month. Like most of us, I know exactly where I was, and it has a philatelic connection, but I've always had misgivings about it. But, after reflecting on the significance of the date, and real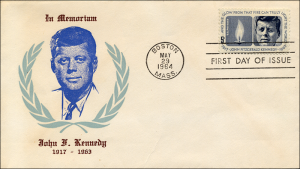 izing that we can't hold a 10-year-old boy to adult standards, I'll tell the story.
Every Friday, Mrs. Meade, our 5th grade teacher at Roosevelt School in Ossining, NY, let us have the afternoon as "hobby time." For myself and three or four of my friends, that meant stamp collecting.
In fact, I believe Mrs. Meade gave me my first first day cover; certainly, my first foreign FDC. I think I still have it somewhere.
Few fifth-graders, then or now, are into exhibiting, so it's not as if we were going to show each other great rarities and scholarly philatelic research,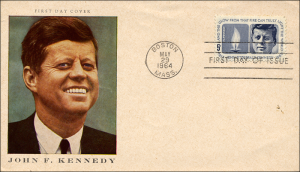 and, just like adults then and now, our weekly "hobby time" stamp sessions had become largely buy/sell/trade sessions. Mrs. Meade wasn't happy about that.
That afternoon, she came into the classroom and said hobby time had been canceled, because the president had been shot. I didn't believe her. After all, no one shoots presidents. In fact, I'm not sure up to that point I knew of anyone who had been shot, much less killed.
So I figured she'd concocted this unbelievable, ridiculous excuse just because she was upset about our stamp swaps. Remember, I was 10 years old.
We returned to our desks and sat there in silence for the rest of the afternoon. I think some of the other teachers came into the room and talked with Mrs. Meade in whispers.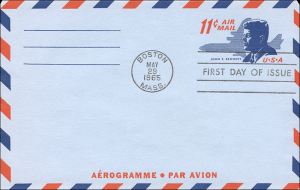 We never had hobby time again, reinforcing my suspicion.
We also didn't have school the following Monday, of course. I remember walking into our living room, and finding my mother weeping as she watched the funeral on television. "Why are you crying, Mommy? You're a Republican."
I was 10 years old.