by Lloyd A. de Vries, Virtual Stamp Club
Photos by Daniel Afzal, U.S. Postal Service (closeups); Mark Saunders, USPS (overhead shots); Lloyd de Vries
[The posting about the stamps themselves is here. This entry is about the first day ceremony.]
Late in the second quarter, fans at the Philadelphia 76ers/Oklahoma City Thunder were told by the announcer and saw a message on the scoreboard telling them to stick around at halftime for the stamp ceremony.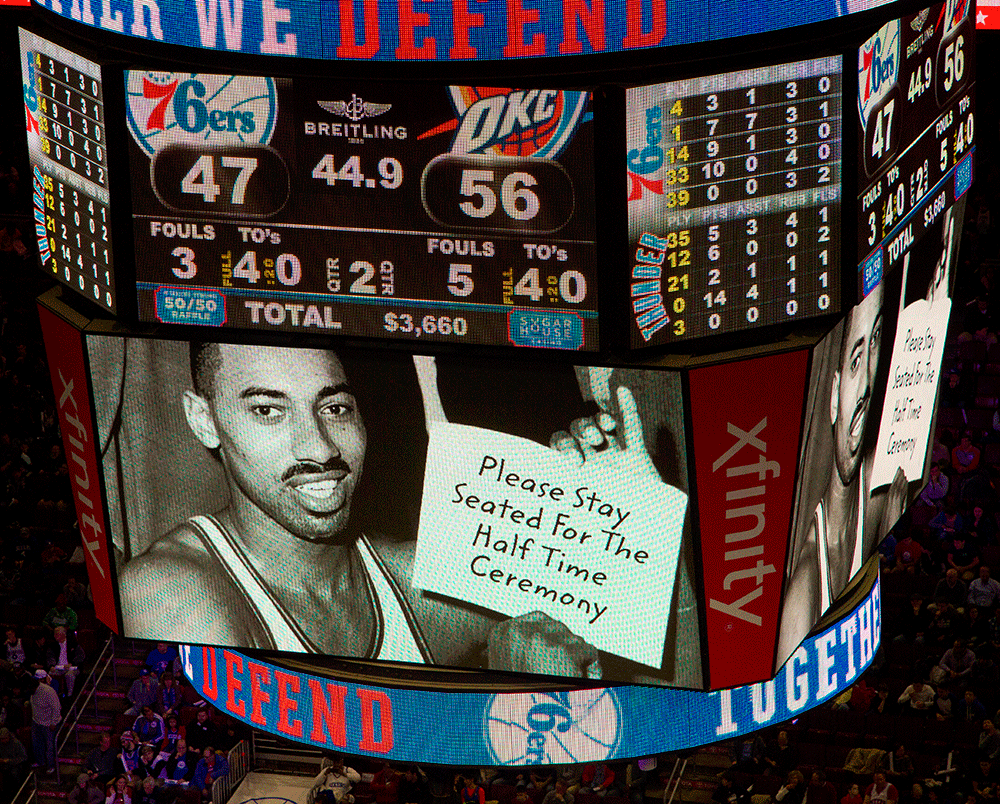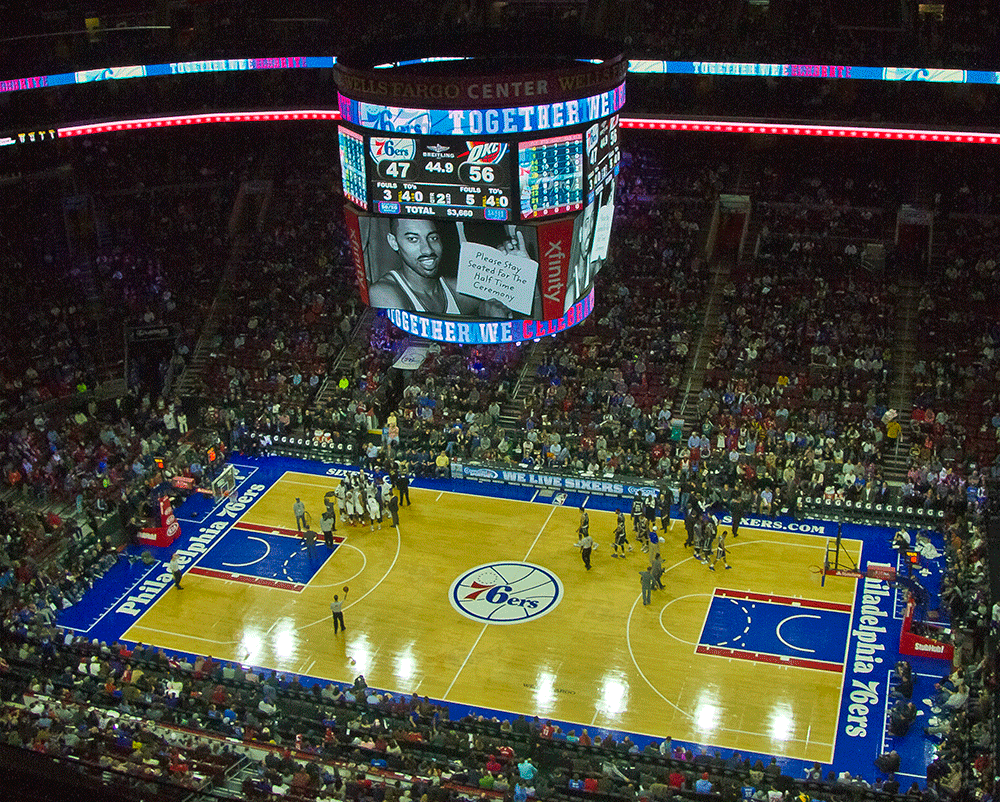 And surprising for a first day ceremony at an event like this, most of them did!
The first day ceremony had to be short, no more than half the halftime period, so that the Sixers and Thunder players could warm up for the second half. The only speech was pre-recorded, and delivered by U.S. Postal Service General Counsel Thomas J. Marshall on the scoreboard's video screen.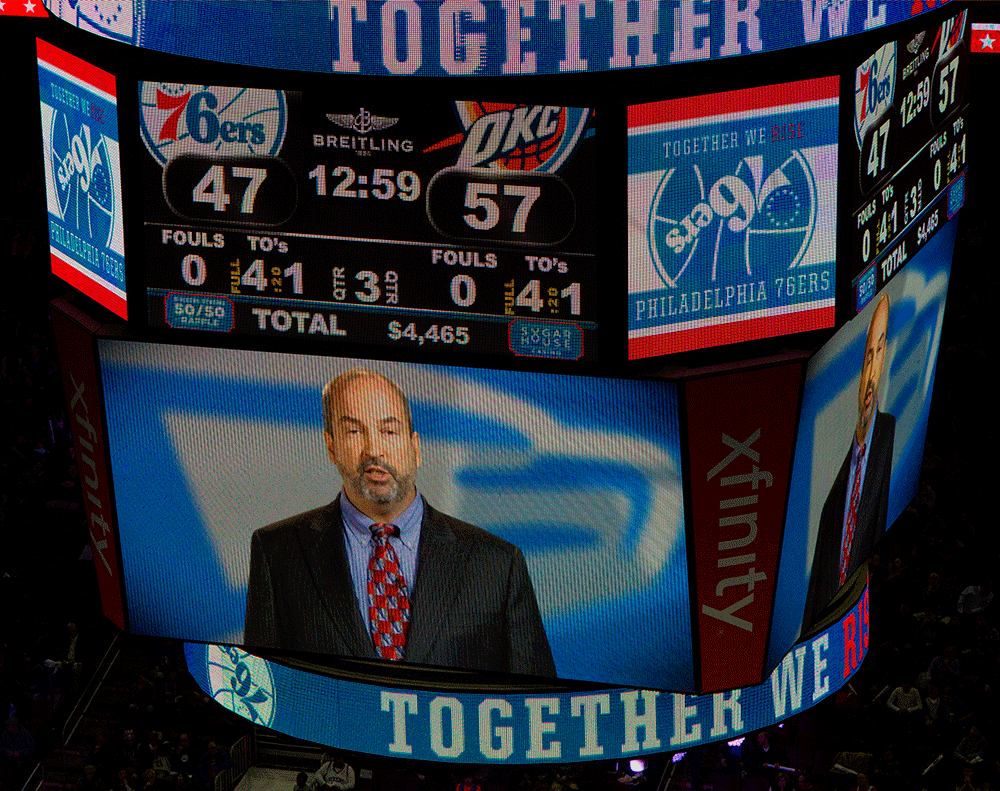 The lights remained off, and the audience was treated to a light show. For a change, those in the "cheap seats" had the best view.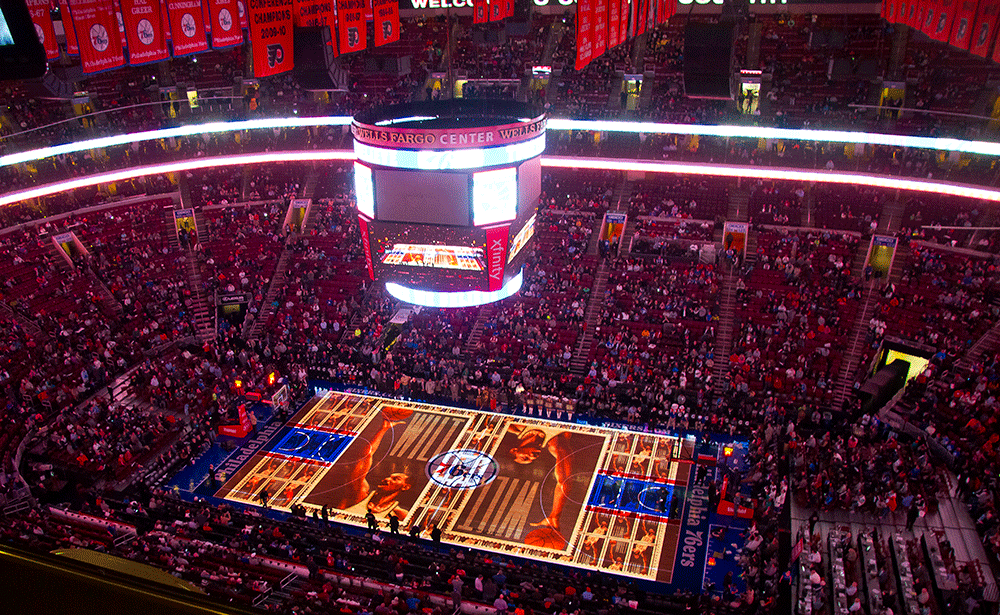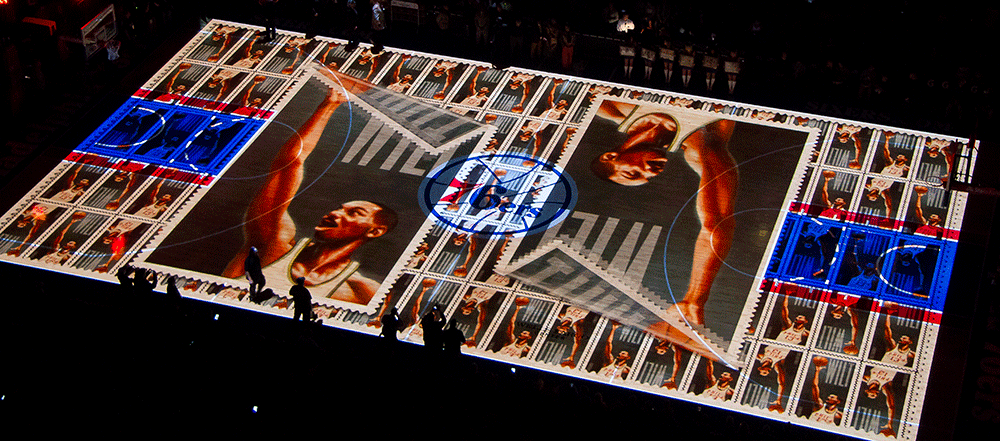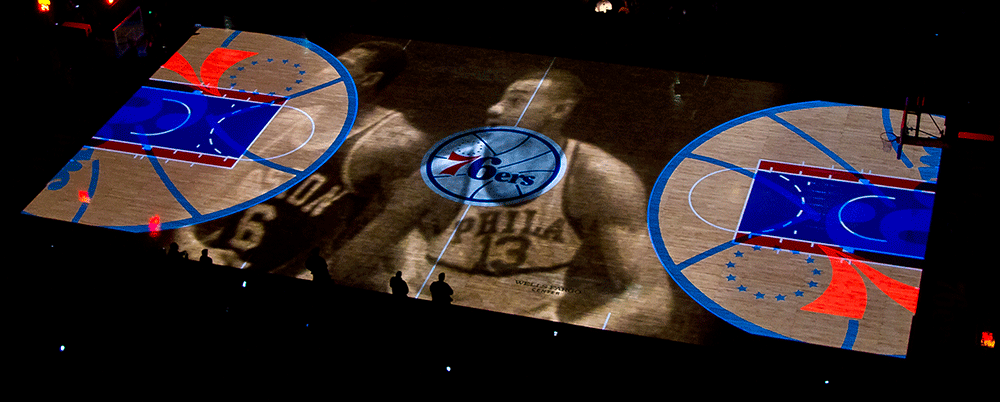 The images were repeated on the center-court scoreboard video screen.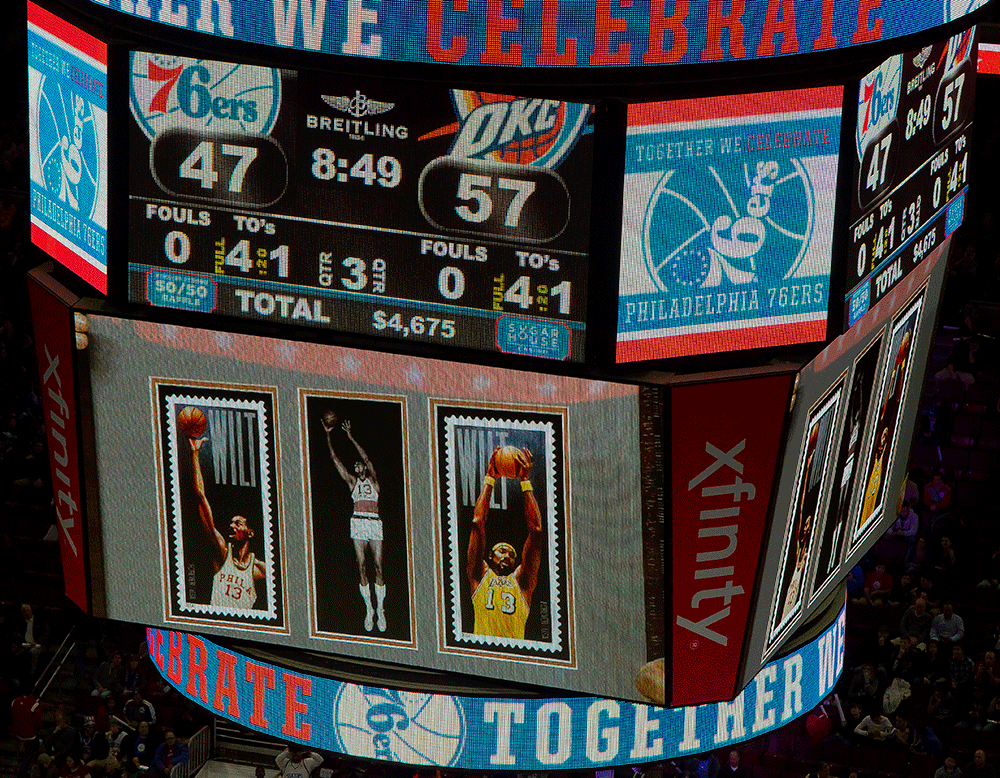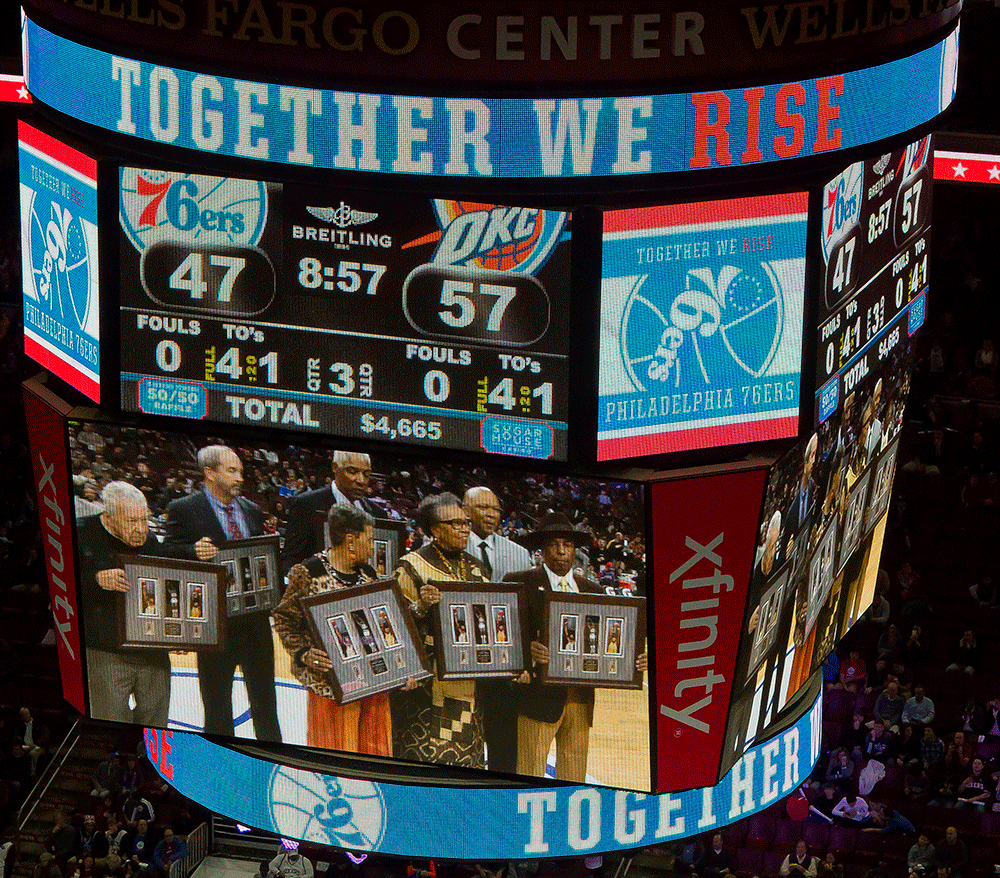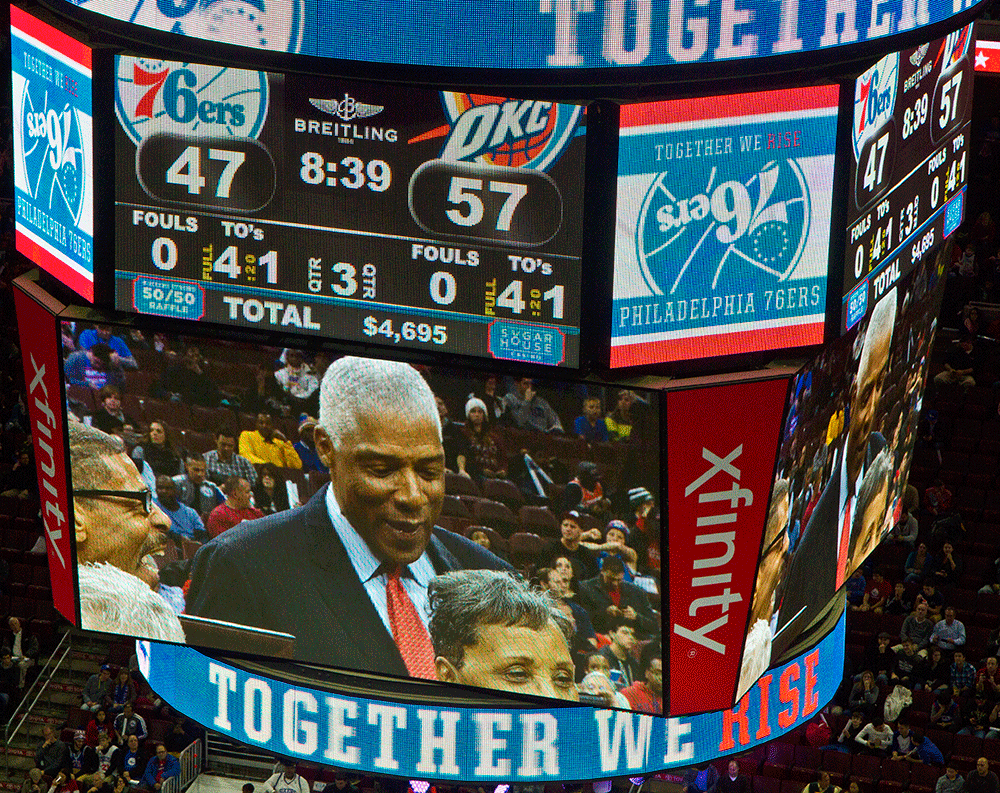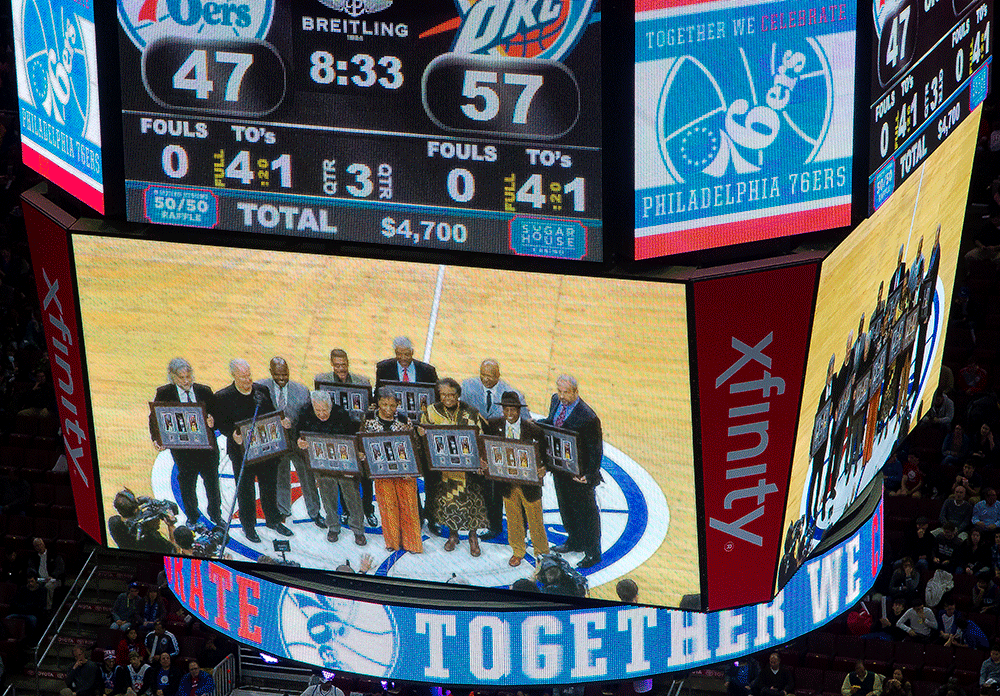 Marshall and the other guests were introduced by the arena announcer; the biggest cheers and applause were for former Sixers legend Julius "Dr. J" Erving. Those sitting or standing courtside didn't get as good a view.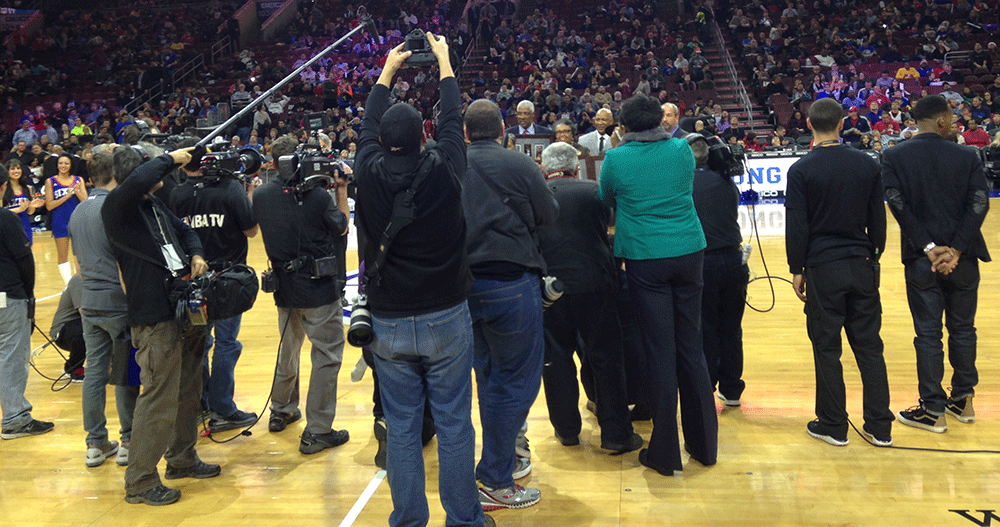 But as you can, there was a good turnout by the press.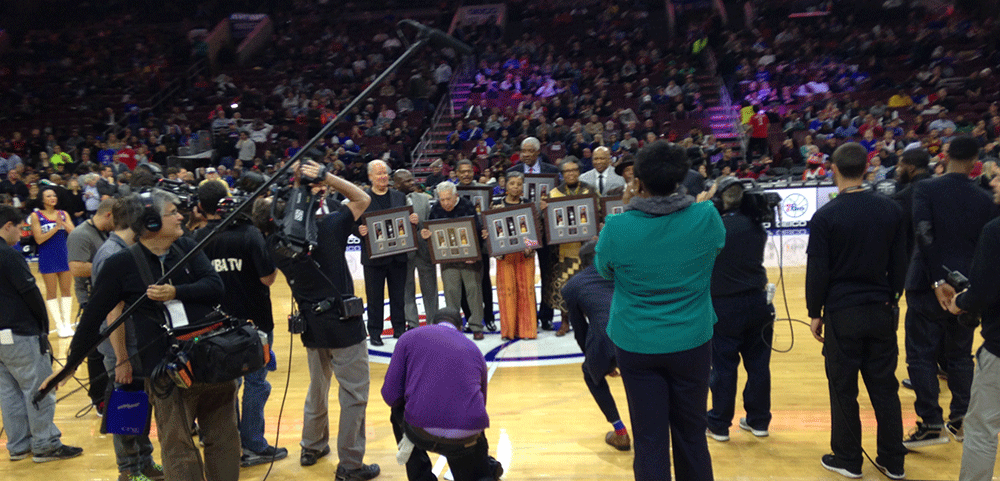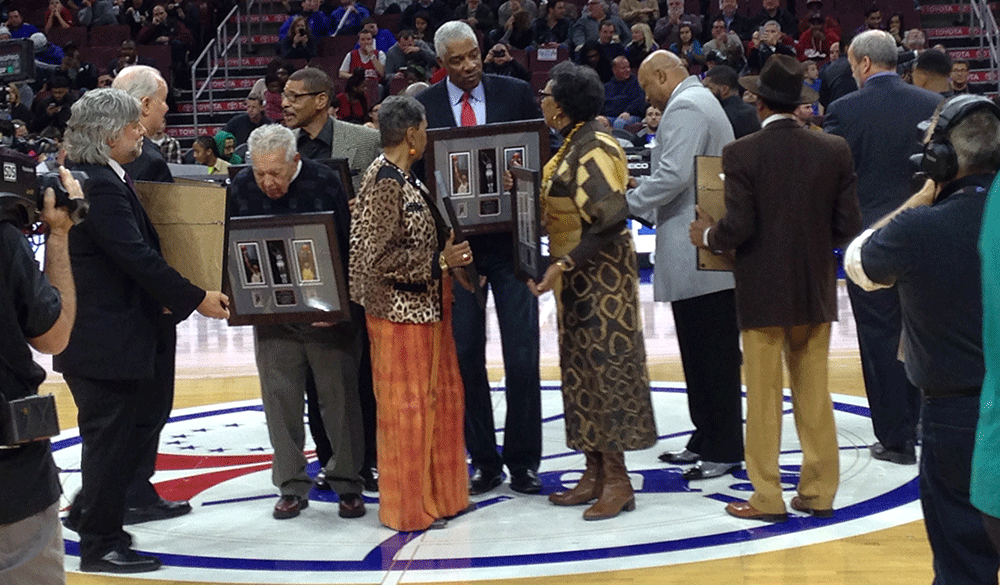 Here are the guests before the ceremony: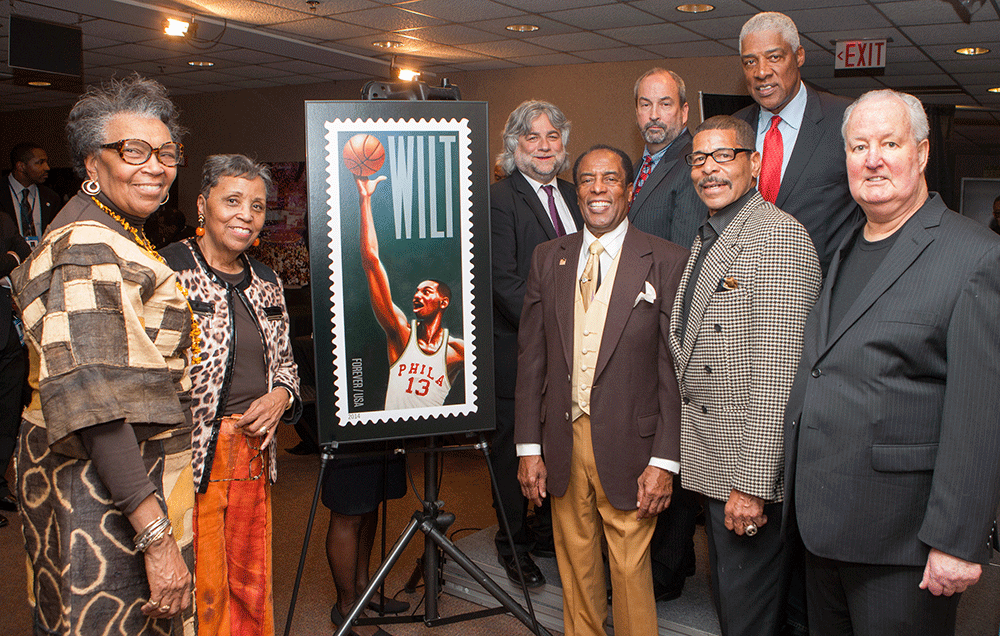 Wilt's sisters Selina Gross and Barbara Lewis; NBA legends Sonny Hill and Wali Jones; Pat Williams, Orlando Magic Senior VP.
Back row: NBA Executive Charles Rosenweig; Marshall and Erving.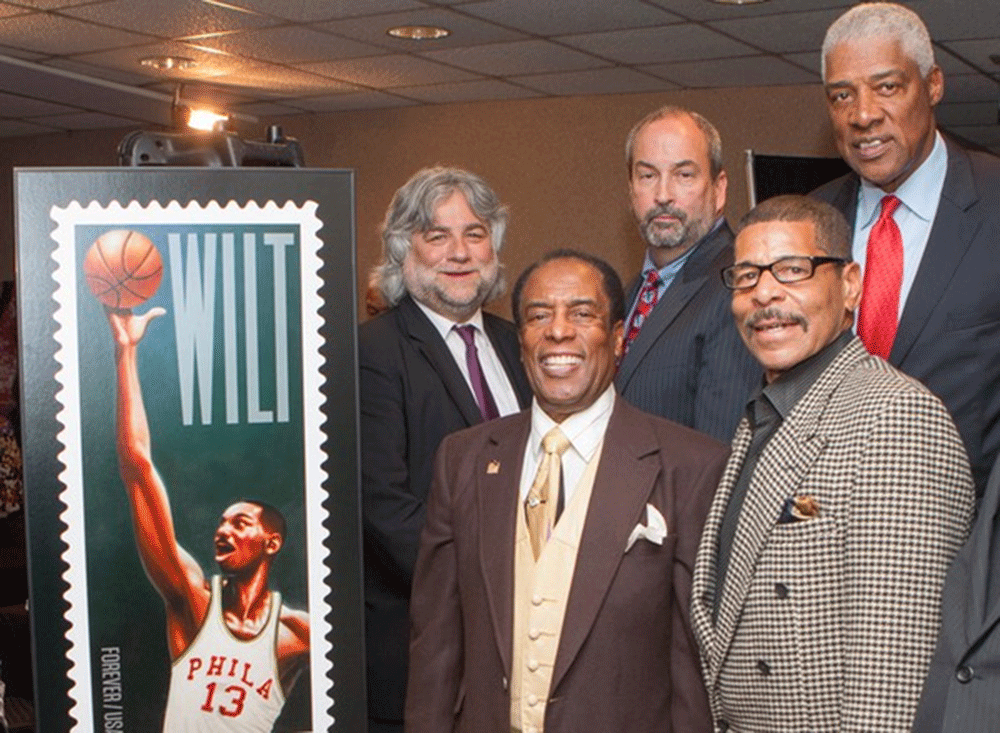 Not in the group photos before the ceremony, but on the court for the ceremony, was Harvey Pollack, a living link to Wilt Chamberlain: He was the public relations director for the Philadelphia Warriors when Chamberlain played and also the team's statistician. He is today still the chief stats man for the Philadelphia 76ers –  the only individual still working for the NBA since its inaugural 1946-47 season. Pollack kept score during Chamberlain's 100-point game, on March 2, 1962, and made the sign on which Pollack had hand-lettered "100," which Chamberlain holds in his famous post-game photo. Pollack is 92!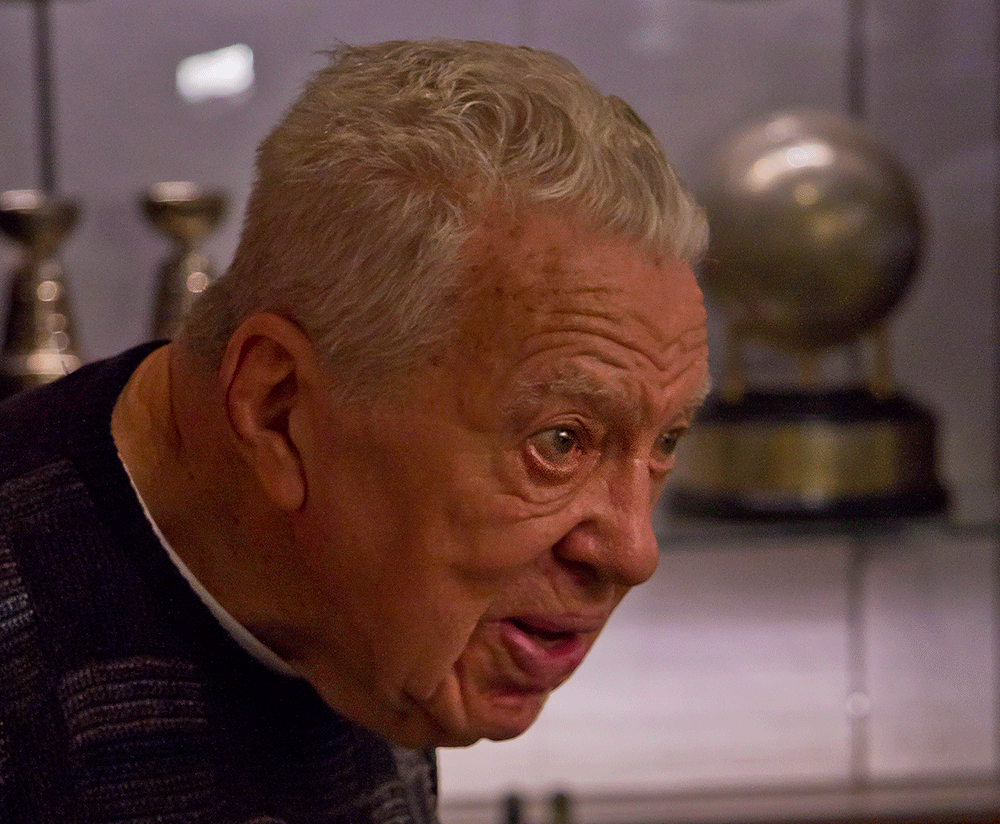 There were two USPS retail areas inside the main entrnaces to the Wells Fargo Center, and a retail truck outside the venue as well. In the top photo, American Philatelist editor Jay Bigalke services FDCs at one of the inside USPS booths. (He may no longer be producing his own cachets, but Jay still brings his own inkpad to first day ceremonies.) In the upper right are Chris Lazaroff and Foster Miller.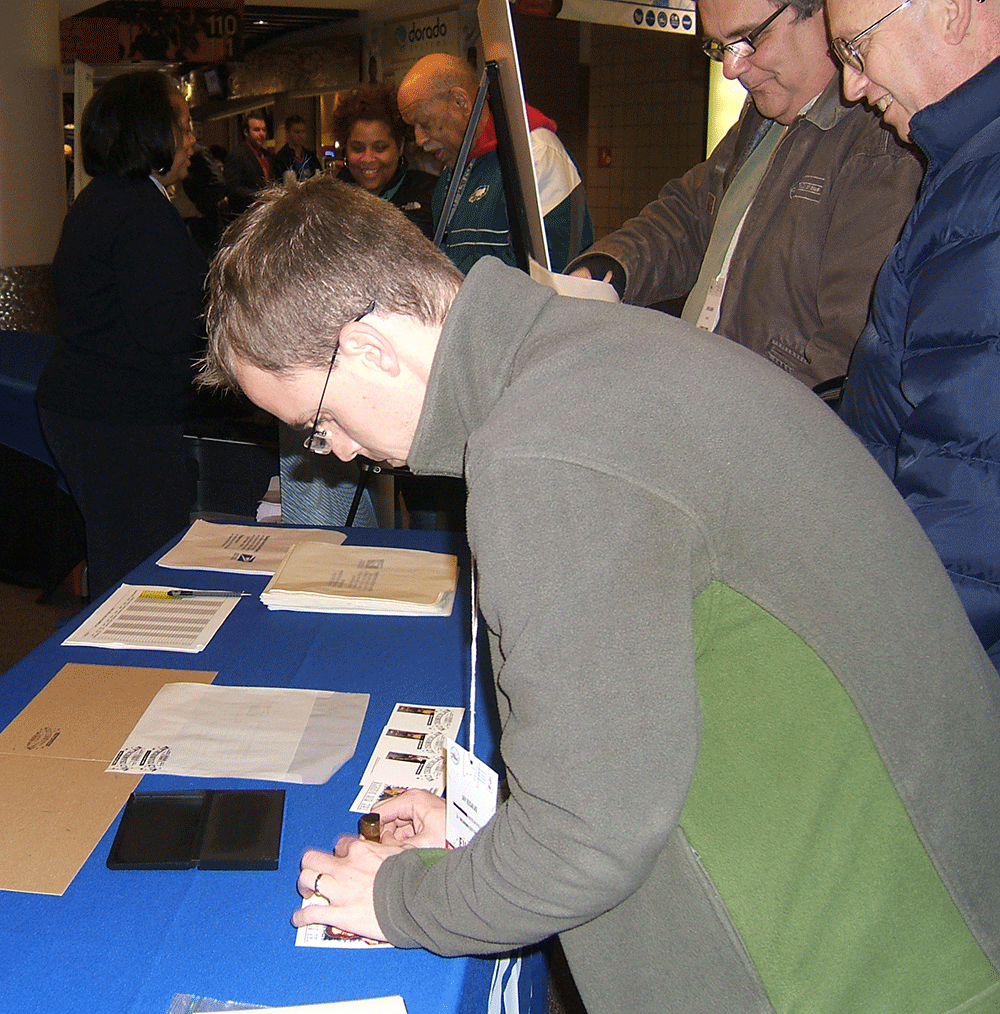 First day ceremony programs free to anyone making a purchase at one of the three retail units.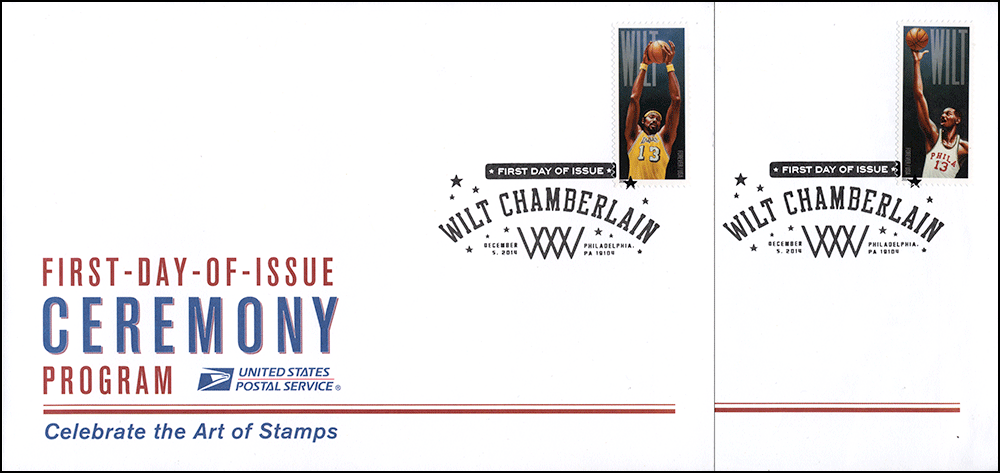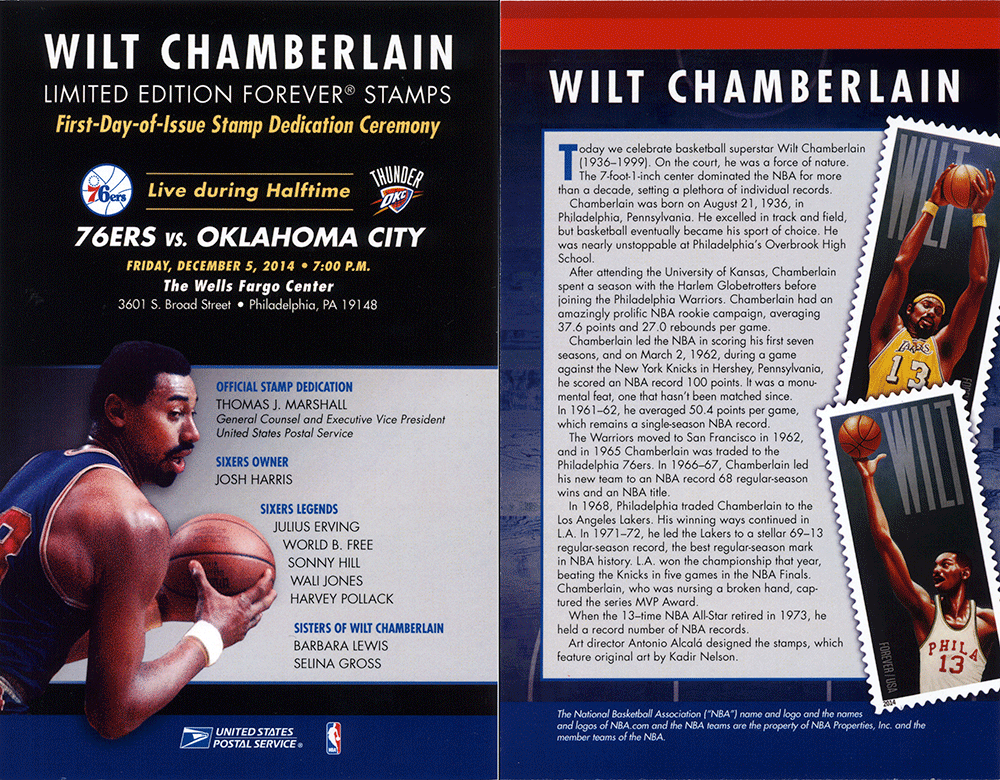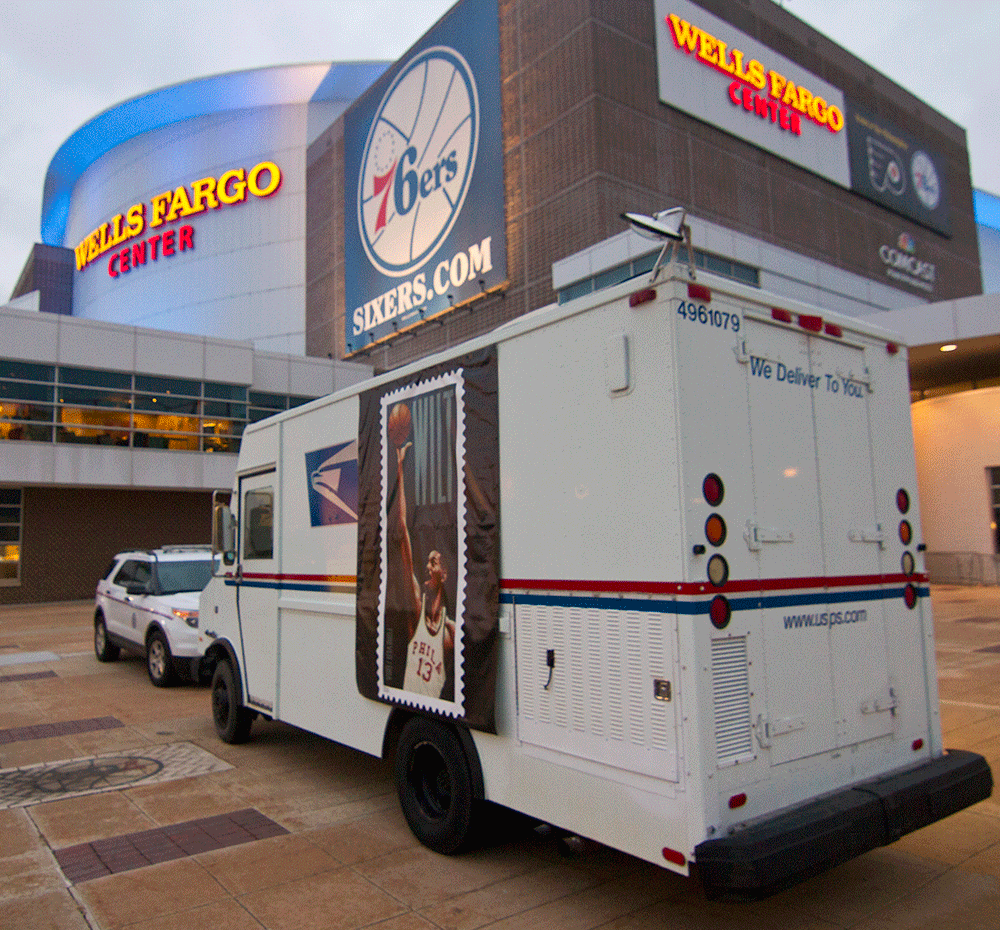 The outdoor truck (above and below).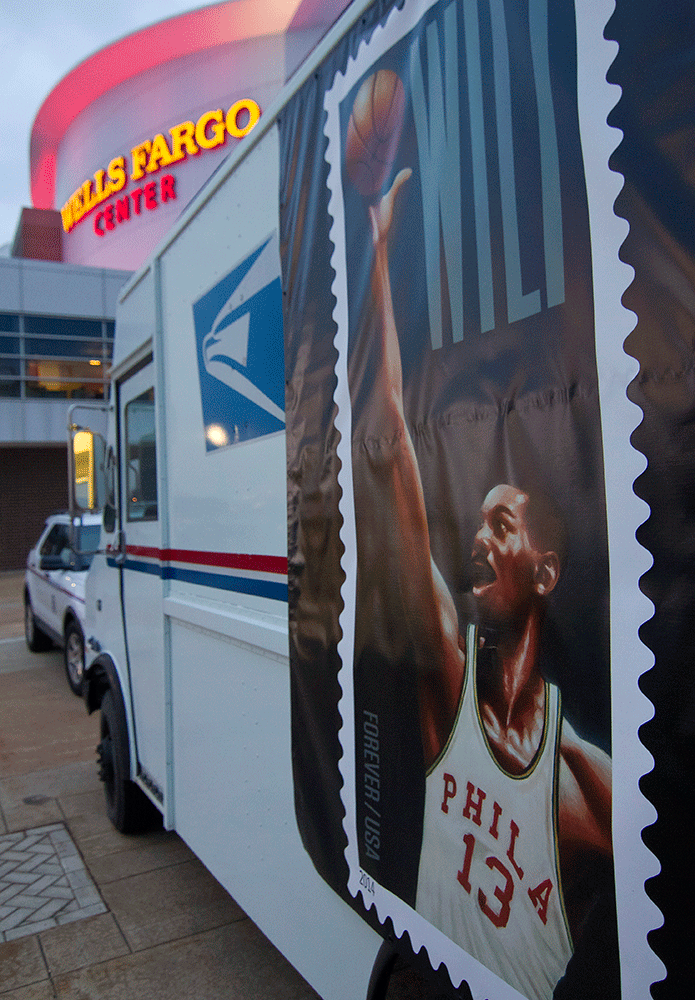 The truck was parked near the 18-foot-tall statue of Chamberlain, and, before the game, someone with a philatelic or postal bent got to the statue.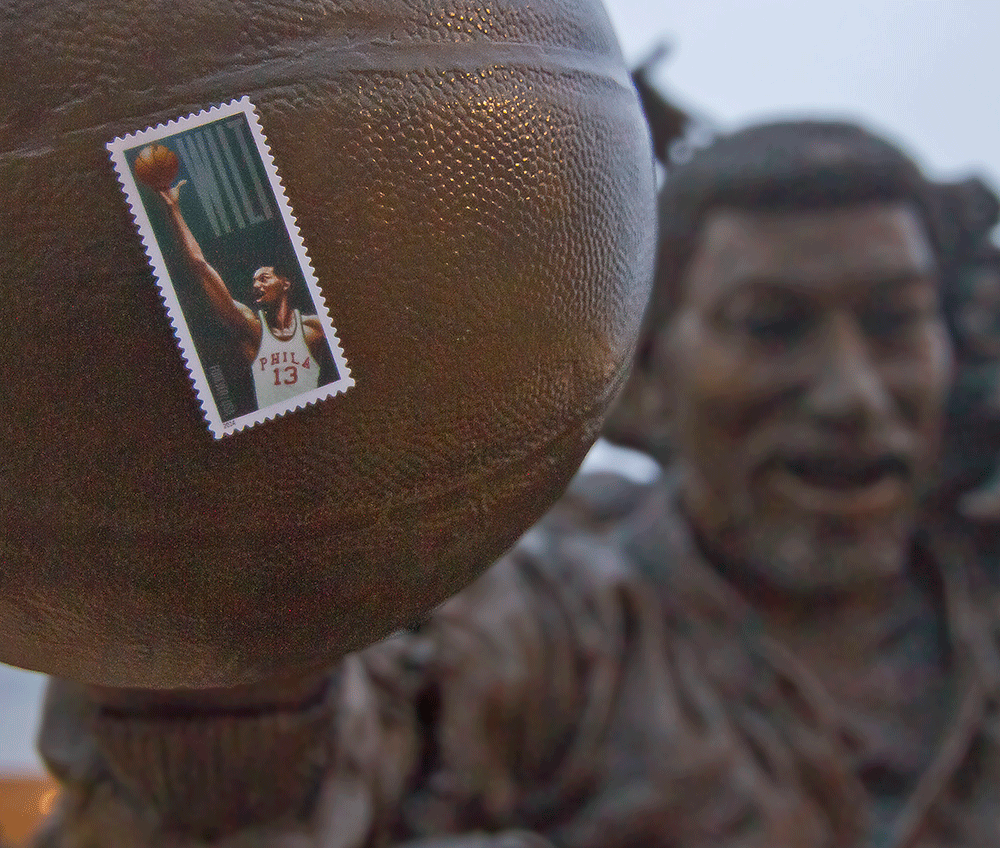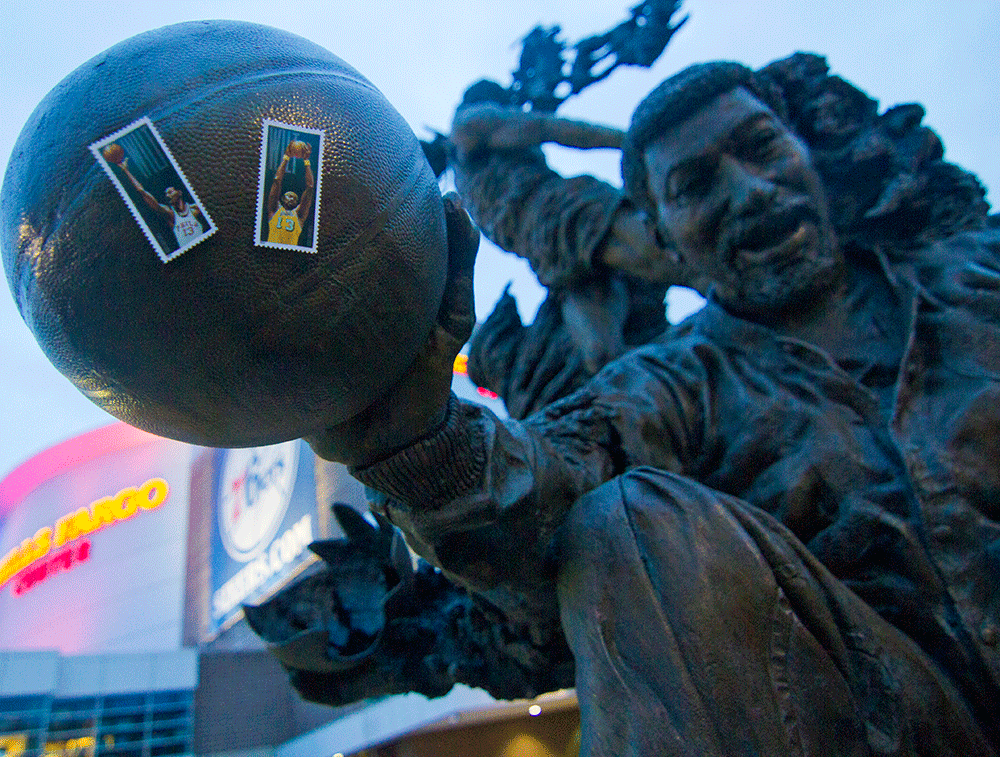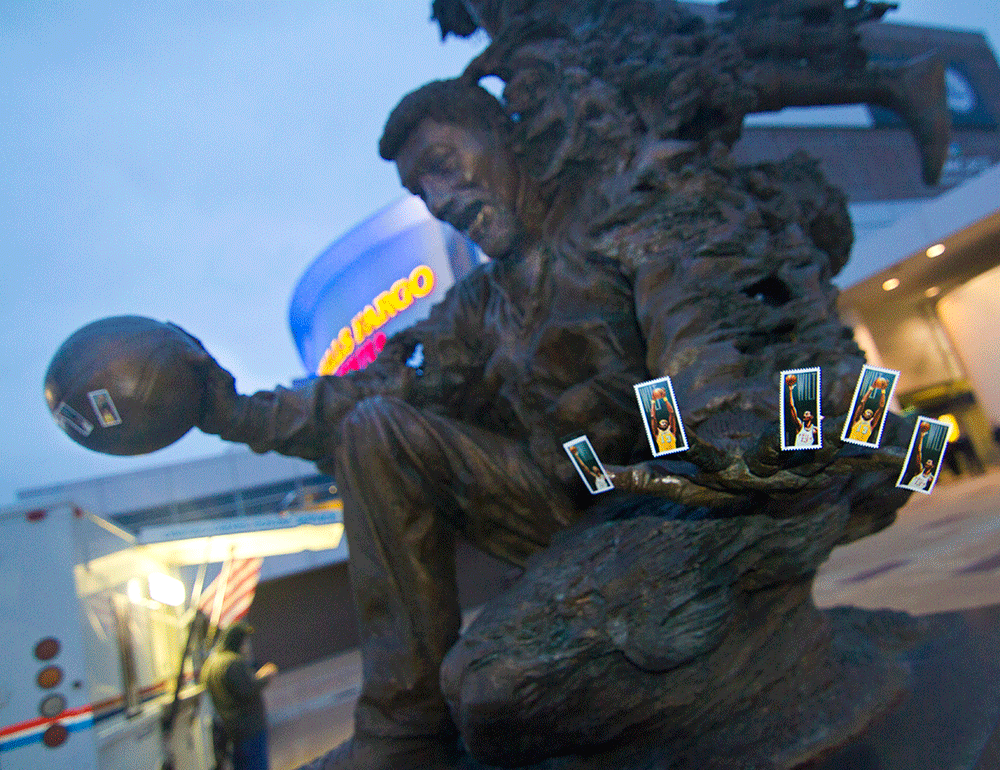 Well, Wilt is smiling, so he seems to have taken the "stamping" well.
Video from the USPS (edited by VSC):

An edited version of the ceremony.

Interviews with Julius Erving, Thomas Marshall of the USPS, and Selina Gross, one of Wilt Chamberlain's sisters.