[press release]
Dr. Cheryl R. Ganz to Retire
Granted Smithsonian Emerita Status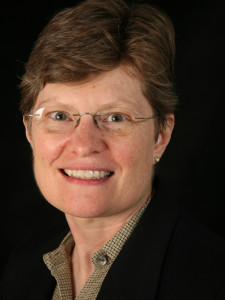 Dr. Cheryl R. Ganz, Chief Curator of Philately and lead curator of the William H. Gross Stamp Gallery, will retire at the end of February from the Smithsonian's National Postal Museum. Her retirement follows a decade (2005-2014) in which she transformed the vision for philately at the museum and set new international standards for museum postage stamp exhibits. "There will never, ever be another Cheryl," said Allen Kane, director of the museum.
The Smithsonian Institution grants emeritus status to exceptional employees, who have made significant and lasting contributions to the Smithsonian. Smithsonian Secretary Wayne Clough has recognized Ganz with the title Curator of Philately Emerita. She is the first National Postal Museum employee to receive this honor.
Ganz's exhibit strategy of selecting rare philatelic objects and framing them with strong narratives engages a variety of visitors. By organizing exhibits around the idea that "every stamp tells a story," her exhibits offer a fresh perspective of history and culture and make philately exciting, accessible and engaging for all visitors. Exhibitions, web stories and catalogs that she worked on include Rarity Revealed: The Benjamin K. Miller Collection; Delivering Hope: FDR & Stamps of the Great Depression; Fire & Ice: Hindenburg and Titanic; Favorite Finds and Pacific Exchange: China & U.S. Mail. As lead curator of the William H. Gross Stamp Gallery, Ganz developed the conceptual plan for the new gallery, incorporating input from over one hundred staff members and stakeholders. She led the museum curatorial, script and content teams in creating the world's largest postage stamp gallery. The gallery opened to rave reviews in September 2013.
Ganz received the Smithsonian Secretary's Research Award for the best research book of the year in 2011. Her scholarship previous to working at the museum, combined with museum outreach to various audiences via popular press, academic journals and philatelic publications, has positioned her as a preeminent philatelic researcher and author. Smithsonian Scholarly Press is currently preparing her latest book, Every Stamp Tells a Story: The National Philatelic Collection, for publication in 2014.
Kane has appointed Daniel A. Piazza, curator of philately, as the museum's interim chair of the department of philately.
The National Postal Museum is devoted to presenting the colorful and engaging history of the nation's mail service and showcasing one of the largest and most comprehensive collections of stamps and philatelic material in the world. It is located at 2 Massachusetts Avenue N.E., Washington, D.C., across from Union Station. The museum is open daily from 10 a.m. to 5:30 p.m. (closed Dec. 25). For more information about the Smithsonian, please call (202) 633-1000 or visit the museum website at www.postalmuseum.si.edu.