[press release]
Australia Post celebrates the Year of the Rooster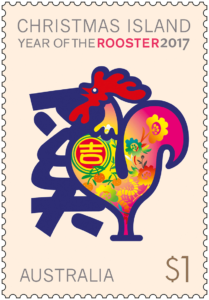 To celebrate the Year of the Rooster, 28 January 2017 to 15 February 2018, Australia Post is releasing two Lunar New Year stamps.
As the tenth sign in the Chinese Zodiac, the Rooster symbolises confidence, resourcefulness, courage and persistence.
Creating this year's Lunar New Year range in line with traditional Chinese design and customs, Australia Post Philatelic Manager Michael Zsolt said the products, including a postcard, give everyone an opportunity to send wishes of good fortune and health to family and friends, both here and overseas.
Completing her tenth stamp issue in the Lunar New Year series of twelve, Hong Kong-born Dani Poon said she used paper cut motifs, a popular form of Chinese art, to represent the Rooster in the $1 stamp. The Chinese calligraphic character for the Rooster is shown in the $3 stamp.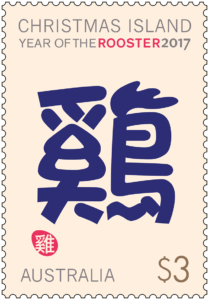 "The Chinese assign the Rooster as a proverbial mascot to the five virtues – civil responsibility, marital fidelity, courage, kindness and confidence. Those qualities are illustrated in the minisheet story – the Rooster coaxes the fearful hidden sun out from her hiding place. The puffed-up chest of the Rooster in the $1 stamp sums up the Rooster's positive personalities. The Rooster is also traditionally related to the chasing away of evil spirits, by calling the sun out and bringing the light to life," Dani said.
Famous people born in the Year of the Rooster include Britney Spears, Cate Blanchett and former Australian Prime Minister Kevin Rudd.
A highlight of this stamp issue is a special silk minisheet pack, finished with purple foil detailing and where one of the three sheets in the pack is printed on silk. A 24 carat gold Year of the Rooster minisheet in a presentation case is also a highly collectable part of the range.
Collectors and those celebrating the Chinese New Year will be interested in a limited edition (8,888) Chinese New Year Dragon postal and numismatic cover featuring a $1 Perth Mint coloured coin.
Other products associated with this stamp issue are a minisheet, zodiac sheetlet, first day cover, stamp pack, postcard, prestige booklet, customisable $1 stamp in the Personalised Stamps™ range, gutter strip of 10 x $1 stamps with design, domestic and international postage paid envelopes and a Lunar New Year of the Rooster postal and numismatic cover.
The Christmas Island Lunar New Year: Year of the Rooster 2017 stamp issue is available from 10 January 2017 at participating Post Offices, via mail order on 1800 331 794 and online at auspost.com.au/stamps while stocks last. Personalised Stamps™ can be ordered at auspost.com.au/pstamps. The Christmas Island Lunar New Year: Year of the Rooster 2017 stamps are valid for postage in Australia.
For an interview with designer Dani Poon, visit the Australia Post Collectables website auspostcollectables.com.au. The Australia Post Collectables website is a central resource for stamp collectors and philatelic enthusiasts across the globe.