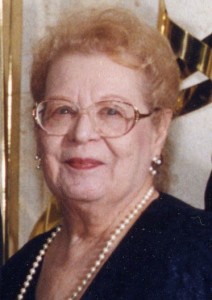 My mother, Sally de Vries, passed away on February 9, 2016, after a battle with cancer. She was two weeks short of her 89th birthday.
Both my parents were stamp collectors; my father was the more serious of the two. I never asked whether Mom collected before she met and married Dad. I do know her brother made a point of using the latest commemoratives on his law office mail, so there was at least some interesting in stamps elsewhere in the family.
Several years before she died, Mom gave me her stamp collection. It was nearly all mint U.S. plate blocks. Experienced collectors — whether their specialties include U.S. late 20th century or not — know that owners are lucky to get face value for such collections. A few issues are worth a premium, the rest, much, much less.
Mom told me to take care of her collection, because it was worth a lot of money. I said something noncommittal, and put away the collection. She also said that about a number of other collectibles she had. A few weeks before she died, she said my father's violin was a valuable instrument and I should have it insured.
I pointed out that I had it on display in my office, but one of the last times Dad tried to play it, in the 1970s, the bridge broke off. That's the piece that holds the strings away from the instrument's body. Instead of taking it to a repair shop, he glued it back in place himself. The next time he took it out, it broke off again. As far as I know, he never tried to play it again. Unless it says "Stradivarius" inside, the baggage labels on the case from his trip away from the Holocaust are probably worth more than the violin inside.
Everything Mother had, though, was "valuable" and a collectible. Some may actually be so.
(I don't think Dad's collection, mostly used stamps from the Low Countries mounted in albums, is worth much either. I said "more serious," not "serious." But I mean to check one of these days.)
However, a year or so after she gave me her collection, I bought a discount postage lot. Those are mint U.S. stamps that are still valid for postage (every U.S. stamp since 1861) that dealers have gleaned from collections, and sold to mailers at a discount off face value. For my Dragon Cards FDC sales, I use a fair amount of discount postage. My "flats" (large envelopes) require extra postage, and certainly anything going outside the U.S. does.
Not only does discount postage save me money, but my customers and other collectors receiving mail from me appreciate the older stamps.
As I went through that discount postage lot, I realized that nearly every issue in it was in my mother's collection, and vice versa. At some point, that was going to be the fate of Mom's stamps, whether I sold it or my heirs did: Discount postage.
So I cut out the middleman, and the next time I needed more postage, I used Mom's stamps. They made me happy, they made some of the people receiving my mail happy and, if the stamps were clipped off the mail for donation to stamp charities, they will make those collectors happy, too.
I never told Mom, though.
If she finds out now and gives me a tongue-lashing, it'll be worth it.