[press release]
ROYAL MAIL ISSUES SPECIAL STAMPS TO CELEBRATE STAR WARS

Royal Mail to issue a set of 18 Special Stamps next month to celebrate Star Wars and the upcoming release of the new movie, Star Wars: The Force Awakens
The stamps will feature classic characters such as Luke Skywalker, Han Solo, Princess Leia, Darth Vader, Yoda, Obi-Wan Kenobi, The Emperor, Boba Fett and a stormtrooper along with new characters from Star Wars: The Force Awakens , Rey, Finn and Kylo Ren
The stamps are illustrated by British artist Malcolm Tween and depict nine popular characters from the first six iconic saga films and three from the forthcoming film
Each stamp will feature a secondary character or scene created by Tween especially for the stamps
Six further stamps will explore the iconic vehicles and spaceships from the film series such as the Millennium Falcon, X-wing fighter and TIE fighter
The stamps celebrate the British expertise behind the Star Wars films as each episode was made with a largely British cast and crew. The new film Star Wars: The Force Awakens was predominately shot at Pinewood Studios, Buckinghamshire
The style of the '1st' value on each of the stamps will replicate the iconic font used for the films
Fans can pre-order the stamps in advance by visiting www.royalmail.com/starwars
The stamps will be on sale from 20 October 2015 at www.royalmail.com/starwars and from 8,000 Post Office branches across the UK and by calling 03457 641 641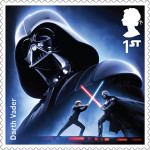 Royal Mail announces it will publish a set of 18 Special Stamps to celebrate the Star Wars series of films and mark the release of the forthcoming episode, Star Wars: The Force Awakens.

The stamps, illustrated by British artist Malcolm Tween, depict nine iconic characters from the first six  films and three from the forthcoming film: Rey, Finn and Kylo Ren.
Incorporated onto each stamp is a secondary scene or character including new droid BB-8, illustrated by Tween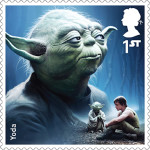 especially for the stamps.
In addition, the '1ST' font used in the '1ST' value of the stamps will replicate that of the iconic typeface used for the films. 

Also being issued on the 20th October will be a Miniature Sheet of six stamps featuring intricately detailed illustrations of six iconic Star Wars vehicles, brought together against a backdrop of the dreaded Death Star.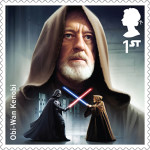 The Star Wars series began in 1977. So far, there have been two trilogies of movies that have included major British involvement at UK studios. 17 December 2015 will see the UK theatrical release of the latest instalment in the Star Wars saga, Star Wars: The Force Awakens, which has been filmed at Pinewood Studios, Buckinghamshire, using British expertise in cast and crew. The two further episodes in this trilogy will also be filmed in the UK.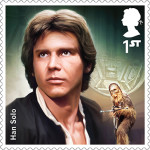 Star Wars: The Force Awakens will reunite the three principal actors from the original trilogy as well as the robots R2-D2 and C-3PO. New characters Rey and Finn will be played by British actors Daisy Ridley and John Boyega respectively, with additional British cast members including Gwendoline Christie and Andy Serkis.
Disney's decision to base production in the UK is a major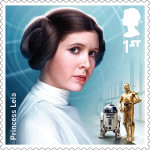 contributor to the British film industry. Not only is it providing employment and exposure for British acting talent, it also employs the British technical expertise in set design, cinematography, and costume design at Pinewood Studios. In the field of digital special effects, London is already a world centre, and the effects for the new Star Wars film have been created by the London office of Industrial Light & Magic (Lucasfilm's special effects company).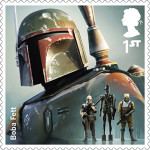 The UK is the third largest market in the world for the Star Wars films, and the new stamps will reflect the passion of the British public for the movies, and celebrate the major British contribution to the film series.
Fans can pre-order the stamps and view the product range at www.royalmail.com/starwars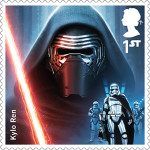 The stamps will be on sale from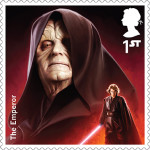 20 October 2015 at www.royalmail.com/starwars and from 8,000 Post Office branches across the UK, and by calling Royal Mail Tallents House on 03457 641 641