[press release]
The Battle of Britain
Issue Date: 16th July 2015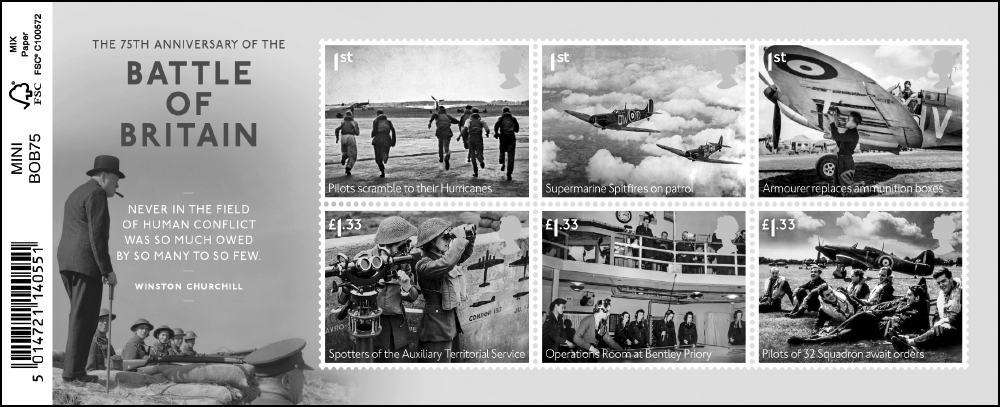 Reason and inspiration
This miniature sheet commemorates the 75th anniversary of the Battle of Britain, which was fought in the skies over southern England from July to late October 1940 and was a key turning point of the Second World War. The six stamps feature photographic imagery from this period, showing some of the many aspects of the battle and the people involved, including pilots, ground crew, observers and Operations Room staff. The miniature sheet border features an image of Prime Minister Winston Churchill at a coast defence position near Hartlepool on 31 July 1940, alongside his famous quotation about 'the few'. [
Additional historic information and photos here.
]
Stamp Details
RAF fighter pilots rush to their Hurricanes after receiving the 'scramble' call to engage enemy aircraft.
Supermarine Spitfires of 610 Squadron, based at Biggin Hill, patrol the skies in close formation.
Armourer Fred Roberts re-arms a Supermarine Spitfire while the pilot, Sergeant Bernard Jennings, talks to his mechanic.
Recruits of the Auxiliary Territorial Service receive their first lesson in identifying enemy aircraft.
The Operations Room at Bentley Priory, the headquarters of Fighter Command, was part of a complex air defence system.
Fighter pilots of 32 Squadron relax between flying missions at RAF Hawkinge in Kent.
The miniature sheet border features an image of Prime Minister Winston Churchill at a coast defence position near Hartlepool on 31 July 1940, alongside his famous quotation about 'the few'.
Miniature Sheet Price: £5.88 Code: MZ108
Miniature Sheet Technical Details
Number of stamps: six
Stamp Design: The Team
Miniature Sheet Design: Supple Studio
Acknowledgements: pilots and Hurricanes photo © William Vandivert/The LIFE Picture Collection/Getty Images; Supermarine Spitfires photo © IWM CH741; Armourer photo © IWM CH1458; Auxiliary Territorial Service photo © Associated Press/Daily Mail/Rex Features; Operations Room photo © IWM C0018701; Squadron 32 photo © Fox Photos/Getty Images; Winston Churchill photo © IWM H 2628; Winston Churchill quotation reproduced with permission of Curtis Brown Ltd, London, on behalf of The Estate of Winston Churchill, copyright © Winston S Churchill
Miniature sheet size: 179mm x 74mm
Stamp Format: landscape
Stamp Size: 41mm x 30mm
Printer: International Security Printers
Print Process: lithography
Perforations: 14.5 x 14
Phosphor: bars as appropriate
Gum: PVA
Miniature Sheet First Day Cover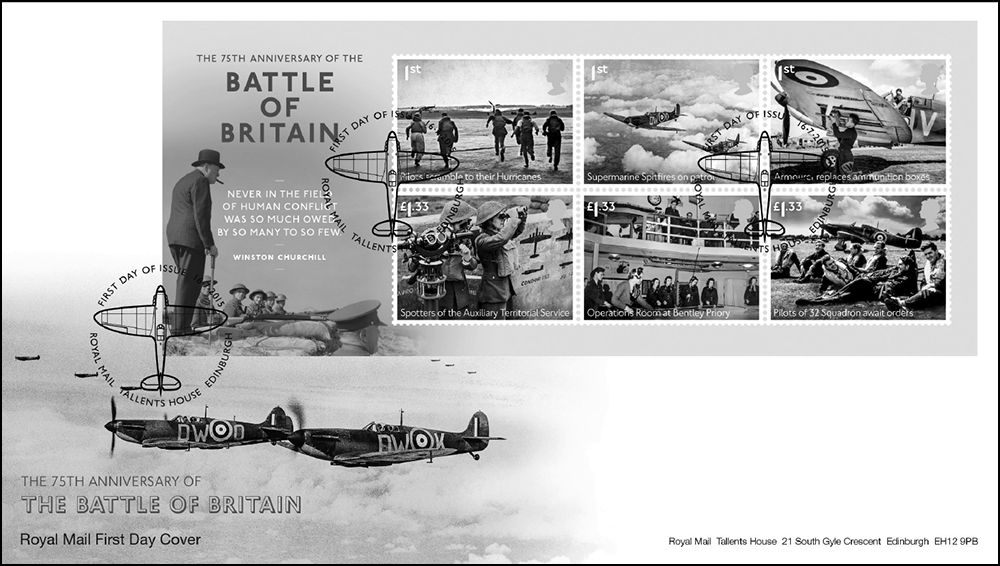 The First Day Envelope, designed by The Team, features a photograph of Supermarine Spitfires in formation during the Battle of Britain.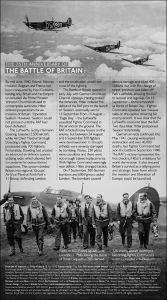 The filler card includes a brief overview of the Battle of Britain, written by Peter Devitt, Curator at the RAF Museum in London, alongside a photograph of pilots of 303 (Polish) Squadron, the Fighter Command's most successful individual unit during the battle.
With Tallents House Postmark
Filler Card
Price: £7.53 (Inland) £6.28 (Overseas) Code: MF107
First Day Envelope Price: 30p Code: ME106
Presentation Pack
In the presentation pack, designed by The Team to recall the posters and publications of the era, RAF Museum Curator Peter Devitt offers a look at how the Battle of Britain unfolded and what it meant. The main narrative is complemented by a detailed timeline and an overview of each of the key British and enemy aircraft involved in the battle, accompanied by silhouettes of each plane. In addition, the pack explores the contribution of 'the many', not just 'the few', with sections on ground crew, intelligence officers, the Women's Auxiliary Air Force and the Air Transport Auxiliary recruits.
Price: £6.40 Code: AP405
Stamp Cards
The six special stamps and the complete miniature sheet are reproduced at postcard-size in this collectable set of stamp cards.
Price: £3.15 Code: AQ224
Coin Cover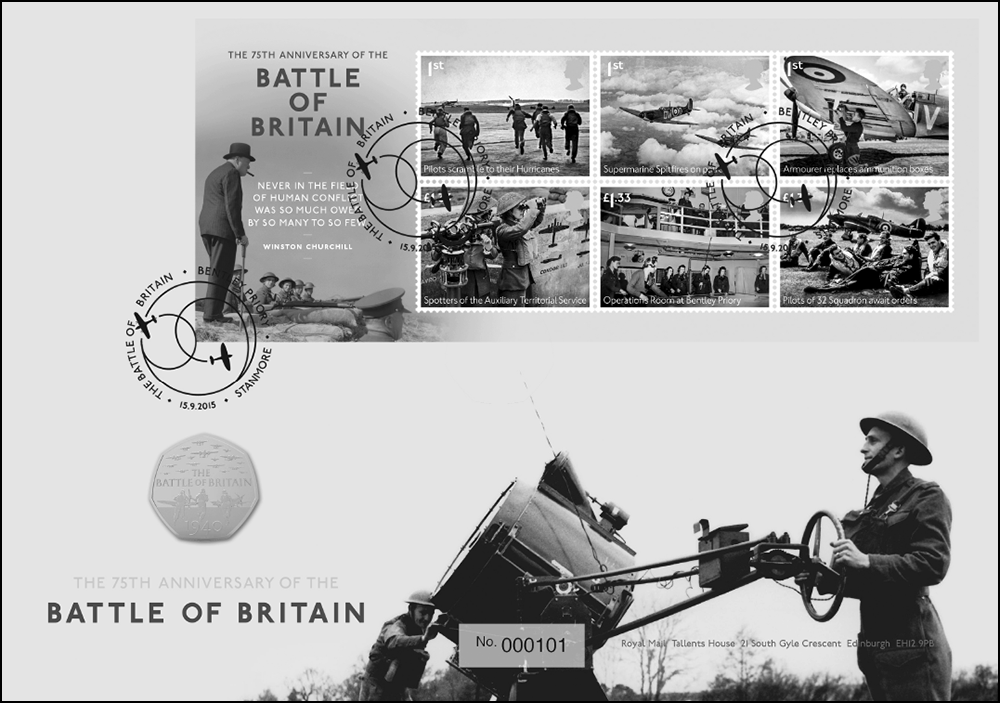 issue date 15th September 2015
The product code will be available on the system for pre-orders on 1st July 2015. Product can be ordered but will not be despatched until the issue date.
This coin cover, issued on Battle of Britain Day, includes a special 50p coin issued by the Royal Mint and a cancelled miniature sheet commemorating the 75th anniversary of the Battle of Britain. The insert focuses on the contribution of 'the many': among other topics, Historian James Holland describes the air defence system designed by Air Chief Marshal Sir Hugh Dowding, the role of the Bentley Priory (which served as headquarters of Fighter Command during the battle) and the key part that Royal Observer Corps played during the summer and autumn of 1940.
Designed by Supple Studio and richly illustrated with historic photographs as well as images from Bentley Priory Museum, the coin cover offers a fitting tribute to those who helped ensure that the Hitler's plans to invade Britain had to be cancelled.
Coin Specifications
Diameter: 27.30mm
Weight: 8.0g
Alloy: cupro-nickel
Quality: Brilliant Uncirculated
Obverse design: Ian Rank-Broadley FRBS
Reverse design: Gary Breeze
Limited edition of 10,000
Price: £17.50 Code: AN120
Postmarks

Tallents House Postmark
The Tallents House handstamp features a graphic image of the Supermarine Spitfire.
Alternative Postmark
The alternative location is London NW9, the home of the RAF Museum. The alternative handstamp includes a graphic image of the Hawker Hurricane. The design alludes to the story of Sergeant Raymond Holmes of 504 Squadron, who on 15 September 1940 took off from Hendon as part of an action to intercept a large formation of Dornier bombers over London. After seeing a Dornier that looked like it was about to bomb Buckingham Palace, Sergeant Holmes decided to ram it. He was forced to bale out of his damaged aircraft and landed by parachute in Hugh Street, where the colourful story continued. In 1994, shortly before Ray Holmes died, his Hurricane, which had crashed into the Ebury Bridge Road, was excavated on live television, and when that evening Holmes was handed the control column, he discovered it was still set to 'fire'.
TALLENTS HOUSE Pictorial FD- 1519- TH
Alternative Pictorial FD – 1519- PL
Non Pictorial Non-pictorial FD – 1519- NP
First Day Facilities
Unstamped Royal Mail First Day Cover envelopes (price 30p) are available from main Post Offices and philatelic outlets approximately one week before the stamps go on sale.
Serviced (i.e. stamped and postmarked) Royal Mail First Day Cover is available by Mail Order from Royal Mail, Tallents House priced £7.53 (overseas £6.28). Orders for serviced First Day Covers have to reach Royal Mail by 16th July 2015. Customers may also send stamped envelopes on the day of issue to Royal Mail, Tallents House for the Tallents House, Edinburgh postmark. The address for Royal Mail is as follows:
Royal Mail
Tallents House
21 South Gyle Crescent
EDINBURGH
EH12 9PB
Customers who hand in or post stamped Royal Mail First Day Cover envelopes at main Post Offices® on the day of issue will receive the pictorial Waterloo, Liverpool first day postmark.
Alternatively, customers may send stamped envelopes to any of the Special Handstamp Centres for the pictorial or plain Waterloo, Liverpool postmark quoting the reference number of the postmark required.
Special Handstamp Centres:
The Special Handstamp Centre
Royal Mail,
St Stephens Street,
BIRMINGHAM B6 4AA
The Special Handstamp Centre
Royal Mail,
220 Penarth Road,
CARDIFF,
CF11 8TA
The Special Handstamp Centre
Royal Mail
Tallents House
21 South Gyle Crescent
EDINBURGH
EH12 9PB
The Special Handstamp Centre
Royal Mail,
Mount Pleasant
Farringdon Road
LONDON
EC1A 1BB
The Special Handstamp Centre
Royal Mail,
South Shields DO,
Keppell Street,
SOUTH SHIELDS
NE33 1AA