Updated October 11th with information from the Postal Bulletin: However, there is still no design, no date and no first-day city.
The U.S. Postal Service® will issue the Alzheimer's semipostal stamp (Nondenominated, First-Class Mail® priced at 60 cents) in one design, in a pressure-sensitive adhesive (PSA) pane of 20 stamps (Item 564200). A November release date is anticipated for the stamp; more information will be announced as it becomes available. The Alzheimer's semipostal stamp will appear in a future edition of the Postal Bulletin and must not be sold before the official first-day-of-issue.
Availability to Post Offices: Item 564200, Alzheimer's Semipostal (Nondenominated, First-Class Mail priced at 60 cents) PSA Pane of 20 Stamps: Stamp Fulfillment Services (SFS) will  an automatic push distribution to Post Offices™ of a quantity to cover approximately 30 days of sales.
Sales Policy
As has been the case with current and previous semipostal stamp issues, all Post Offices must maintain a sufficient inventory level of this item until the stamp is officially withdrawn from sale. The stamp is well supported by a variety of organizations and individuals who expect that the stamp will be available at all Post Offices. If supplies run low, Post Offices must reorder additional quantities using normal ordering procedures.
Technical Specifications:
Issue: Alzheimer's Semipostal Stamp
Item Number: 564200
Denomination & Type of Issue: Nondenominated, First-Class Mail (60 cents)
Format: Pane of 20 (1 design)
Series: N/A
Issue Date & City: TBD
Designer: Ethel Kessler, Bethesda, MD
Art Director: Ethel Kessler, Bethesda, MD
Typographer: Ethel Kessler, Bethesda, MD
Artist: Matt Mahurin
Modeler: Sandra Lane/Michelle Finn
Manufacturing Process: Offset, Microprint
Printer: Banknote Corporation of America
Printed at: Browns Summit, NC
Press Type: Alprinta 74
Stamps per Pane: 20
Print Quantity: 500,000,000 stamps
Paper Type: Phosphor Tagged Paper. Overall
Adhesive Type: Pressure-sensitive
Processed at: Banknote Corporation of America, Browns Summit NC
Colors: Cyan, Magenta, Yellow, Black, PMS 614/Beige, PMS 451/Brown
Stamp Orientation: Vertical
Image Area (w x h): 1.085 x 1.42 in./27.56 x 36.07 mm
Overall Size (w x h): 1.225 x 1.56 in./31.12 x 39.62 mm
Full Pane Size (w x h): 7.12 x 7.24 in./180.85 x 183.90 mm
Press Sheets Size (w x h): N/A
Plate Size: 120 stamps per revolution
Plate Numbers: "B" followed by six (6) single digits
Marginal Markings:
Front: Plate numbers in four corners of pane
Back: © 2016 USPS • USPS logo • Plate position diagram • Barcode (564200) in upper right and lower left corners of pane • Promotional text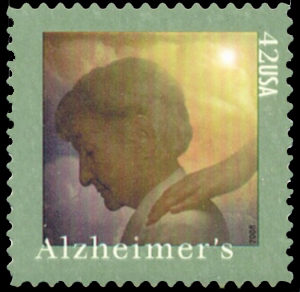 Initial Post on October 3rd:
The U.S. will issue a semi-postal (charity) stamp in November to help fund the fight against Alzheimer's disease. No date or location was given, nor was the stamp design revealed.
This will be the first of five semi-postal stamps to be issued over the next ten years, with each stamp to be on sale for no more than two years. However, it should be pointed out that the first U.S. semi-postal, for Breast Cancer Awareness (Sc. B1), was also supposed to be on sale for only a limited amount of time, but legislation in Congress has kept it on sale since it was first issued in 1998.
The Alzheimer's semi-postal will be the sixth issued by the United States, and the first since 2014, when a modified-design version of the first was released. U.S. semipostal stamps are good for first class mail, but currently sell for 60 cents. The additional 11 cents goes to a designated charity.
The U.S. issued an Alzheimer's Awareness stamp in 2008 as part of its social consciousness program. (Shown above.) However, it was not a semipostal.
Here is the USPS press release:
WASHINGTON — The Semipostal Authorization Act, Pub. L. 106–253, grants the U.S. Postal Service discretionary authority to issue and sell semipostal stamps to advance such causes as it considers to be ''in the national public interest and appropriate.'' The U.S. Postal Service announced today that in November it will issue the first of five semipostal stamps.
Under the semipostal discretionary program, the Postal Service will issue five stamps over a 10-year period, with each stamp to be sold for no more than two years.
The first stamp issued will be an Alzheimer's Semipostal Stamp, followed by a Post Traumatic Stress Disorder (PTSD) Semipostal Stamp in 2019. The next three discretionary semipostal stamps have not yet been determined.
The Alzheimer's Semipostal Stamp will be issued during National Alzheimer's Awareness Month. Net proceeds will be distributed to the U.S. Department of Health and Human Services. Details on issuance date and location will be provided at a later date.
President Ronald Reagan designated November as National Alzheimer's Disease Awareness Month in 1983. At the time, fewer than two million Americans were diagnosed with Alzheimer's; today, that number has soared to nearly 5.4 million.
Semipostal stamps, currently sold for 60-cents, are First-Class Mail (FCM) postage stamps that are issued and sold by the Postal Service at a price above the FCM single-piece one-ounce stamp rate (FCM rate) to raise funds for designated causes.
The difference between the FCM rate in effect at the time of purchase and the 60 cent purchase price, minus an amount to offset costs incurred by the Postal Service, if any, is contributed to the specific cause by law.
Under the Semipostal Authorization Act, the Postal Service will consider proposals for future semipostals until seven years after May 20, 2016. The Federal Register notice outlining this program can be found at the following url: https://www.gpo.gov/fdsys/pkg/FR-2016-04-20/pdf/2016-09081.pdf.
Proposals will only be considered if they meet all submission requirements and selection criteria. They may be submitted by mail to the following address:
Office of Stamp Services
Attn: Semipostal Discretionary Program
475 L'Enfant Plaza SW., Room 3300
Washington, DC 20260–3501
Suggestions may also be submitted in a single Adobe Acrobat (.pdf) file sent by email to semipostal@usps.gov. Indicate in the Subject Line: Semipostal Discretionary Program.
All postage stamps are available for purchase at Post Offices, online at usps.com, and by toll-free phone order at 1-800 STAMP-24.
The Postal Service receives no tax dollars for operating expenses and relies on the sale of postage, products and services to fund its operations.