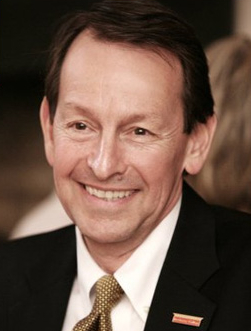 Mitchell "Mick" Zais is warning that he may have to resign as president of the American Philatelic Society: He has been nominated by President Trump to be Deputy Secretary of Education.
"If confirmed, I will have to resign from all boards and organizations with which I have a leadership position," he said in an e-mail that included the White House press release announcing his nomination.
That press release, by the way, did not mention the APS.
Confirmation for such sub-cabinet positions usually happens.
According to the APS Bylaws, in the event of the resignation of the President, the Board of Directors will choose a replacement from among the current members of the Board.The Board must call a meeting within 10 days of the vacancy to fill the position.
Zais served as the elected State Superintendent of Education in South Carolina. "During his term in office, the department's budget was reduced while on-time high school graduation rates increased every year to an all-time high," the White House said. The West Point graduate also served 10 years as president of Newbury College in South Carolina.
The retired general was elected to the APS presidency for a three-year term in the spring of 2016, and took office in August 2016.

We will update this story as we learn of new developments.
The Virtual Stamp Club interviewed Zais about his first six months as president last January. The VSC radio feature is here (script and audio file).
Update: Zais' nomination was approved December 13th by the Senate Health, Education, Labor and Pensions Committee and sent to the full Senate for action. No date for that vote has been set.
The Washington Post reports Zais had some trouble during the HELP Committee hearing on his nomination, which was attended only by the Republican chairman and Democratic members.
Update: Zais' nomination was returned to President Trump January 3, 2018, without action, along with other nominations that were not acted upon, because the Senate recessed for more than 30 days over the Christmas and New Year's holidays. It is expected that his nomination will be resubmitted for consideration.