[press release]
Museum Voorlinden artworks collected on stamp sheetlet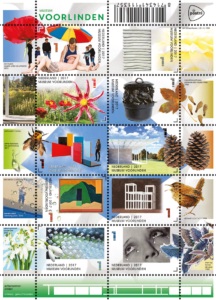 The Hague, 17 July 2017 – A new stamp sheetlet about Museum Voorlinden features eight works of art from the museum's collection as well as two nature photos. On the stamp sheetlet, designer Gerard Hadders shows the role that daylight has in the relationship between the indoor and outdoor world of Museum Voorlinden.
First of all, the special roof filters the light, allowing visitors to always view the museum's artworks under optimal conditions. Hadders also used this aspect of light on the stamp sheetlet. "The relationship between inside and outside is highlighted on several stamps, including Tuinen by landscape architect Piet Oudolf and the building by Kraaijvanger Architects. On those, you see how beautifully the light from outside falls inside," Hadders explains.
Collage of different angles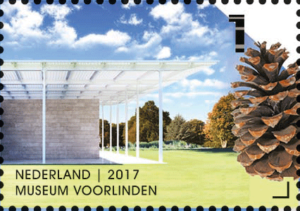 Hadders, PostNL and Museum Voorlinden worked together to make a selection from the thousands of artworks. "We have a set of permanent works in our collection that deserved a spot on the stamp sheetlet. One of those is Ron Mueck's Couple under an Umbrella, partly due to the important role the changing seasons play in our museum. You also see the seasons changing clockwise on the stamp sheetlet: starting at the top left with the summer beach image, going via autumn with the autumn leaves, winter with the snowflakes and spring with the bumblebee," says Director of Voorlinden Suzanne Swarts.
Availability
The 'Museum Voorlinden' stamp sheetlet consists of ten stamps marked with 'Nederland 1', which can be used for items weighing up to 20g destined for mail in the Netherlands. These stamps will be available from 17 July at all Bruna shops and via Collectclub.nl. The stamps are valid until further notice.