[press release]
Silver stamp for football icon Johan Cruijff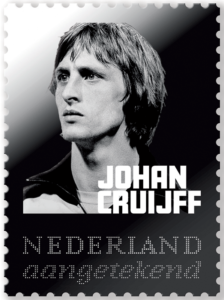 PostNL honours Johan Cruijff by issuing a pure silver stamp. This special stamp comes exactly one year after the death of the Dutch football legend, and marks the fifth time that PostNL has issued a silver postage stamp.
Support the Johan Cruyff Foundation
PostNL marketing director Ludo Voorn reflects on the death of Johan Cruijff a year ago. "Everyone loved Johan Cruijff. Besides his widely respected great skill on the football field, he was always committed to bringing children together through sports. The Cruyff Foundation has built on this notion for years. We are proud to support their work by donating part of the proceeds from sales of this silver stamp."
Niels Meijer, director of the Cruyff Foundation, feels it's very special that PostNL is issuing such a valuable stamp in honour of the footballer. "Johan always filled a social role. We continue to do that. We will certainly be investing the proceeds from the stamp sales in a project such as Schoolyard 14. This will challenge students both during and after school to play and exercise together."
Availability
PostNL has commissioned the Royal Dutch Mint to manufacture the postage stamp, which is made from pure silver. The stamp, in a deluxe storage box, is available for €25 via www.postnl.nl/cruijff. The stamp has a limited run of 1,400 copies. The postage stamp has the 'Registered Mail' designation, and may be therefore be used to send letters as registered mail. The stamps are valid for an unlimited period.
[Cruijff was a world-renowned and -beloved player and coached who died March 24, 2016, at the age of 68 from complications resulting from lung cancer. For more, see Wikipedia. —Virtual Stamp Club]