[press release]
Orange Lionesses' championship victory eternalised on silver postage stamp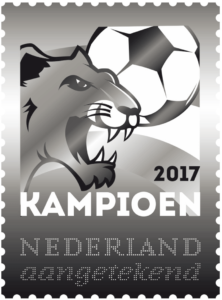 The Hague, 7 August 2017 – PostNL is celebrating the Orange Lionesses' championship victory with a pure silver postage stamp. This special issue portrays the amazing success of our untamed football ladies. PostNL has only issued silver postage stamps to commemorate a very select number of special events.
Women's football victory on postage stamp
Stephan van den Eijnden, Mail Netherlands Commercial Director, on the new stamp: "Over the past few weeks, the Netherlands' love for our untameable lionesses has grown ever stronger. That is due in part to their amazing success, of course, but also to the drive and enthusiasm that the Dutch European Championships women's team has constantly displayed. We have enjoyed watching them play, and this pure silver postage stamp is a symbol of our pride in their achievement."
Availability
PostNL has commissioned the Royal Dutch Mint to manufacture the postage stamp, which is made from pure silver. The stamp, in a deluxe storage box, is available for €25 via www.postnl.nl/Kampioen. The stamp will be produced in a limited run of 2,300 copies. The postage stamp has the 'Registered Mail' designation, and may be therefore be used to send letters as registered mail. The stamps are valid for an unlimited period.