[press release]
New stamps tell the story of the De Stijl art movement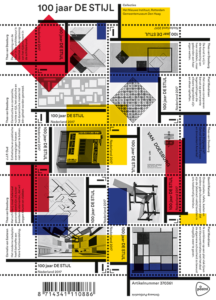 On Monday 27 March, PostNL issues the De Stijl ("The Style") Centennial stamp sheetlet, celebrating this influential 20th century Dutch art movement. The stamps feature iconic works by Theo van Doesburg, Piet Mondriaan, Cornelis van Eesteren, Gerrit Rietveld and J.J.P. Oud. As artist, designer or architect, all are important representatives of De Stijl. At the Gemeentemuseum Den Haag, mayor Pauline Krikke received [in advance] the first issue of the De Stijl Centennial stamps from Herna Verhagen, CEO of PostNL [photo below].
The PostNL head office is currently also decorated in the De Stijl Centennial style, inspired by Piet Mondriaan's Victory Boogie Woogie. [see video] In this way, PostNL supports the celebration of the national theme year 'Mondriaan to Dutch Design' in The Hague. [text continues after video]
Special introduction to De Stijl
Mayor Pauline Krikke is honoured that the first stamp sheetlet was issued in The Hague. "It's extraordinary that, with these stamps and the decoration of the head office, PostNL is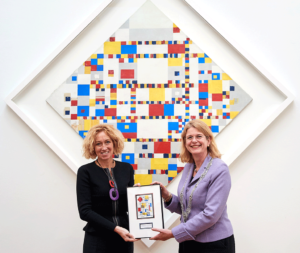 connecting itself with Mondriaan and his De Stijl contemporaries. Our city is also closely linked via the Gemeentemuseum Den Haag. Only this museum has organised three large exhibitions, including The Discovery of Mondriaan featuring 300 art works by the internationally renowned artist. This stamp sheetlet will enable the Netherlands to become acquainted with the founders of this art movement in a whole new way."
Contemporary character
CEO Herna Verhagen, about the new stamps: "It's impressive to see how De Stijl artworks, each with its own individual surface distribution of horizontal and vertical black lines, also maintain a contemporary look in stamp format. The designers René Put and Brigitte Gootink have deliberately used black and white images in their design. With the addition of the distinctive red, yellow and blue colours in transparent areas, they give a unique twist to the illustrious collections in the Gemeentemuseum Den Haag and Het Nieuwe Instituut in Rotterdam."
New inspiration
2017 marks one hundred years since the founding of the Dutch art movement De Stijl. Throughout the year, numerous events and exhibitions will be organised in the Netherlands. Artists who joined De Stijl at the time were looking for a totally 'new art' that also had to modernise society. Along with Rembrandt, Vermeer, Van Gogh and Escher, Piet Mondriaan is now globally recognised as one of the most celebrated Dutch artists.
Availability
Each 'De Stijl Centennial' stamp sheetlet consists of ten stamps marked with 'Nederland 1', which can be used for items weighing up to 20g destined for mail in the Netherlands. These stamps will be available from 27 March at all Bruna shops and via Collectclub.nl. The stamps are valid until further notice.