[press release]
The Philatelic Foundation Authenticates Stolen Jenny Invert Stamp
[Click here for the story about the recovery of the stamp.]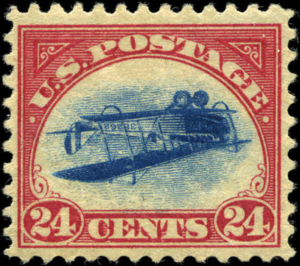 (New York, NY) On Monday, April 4, 2016, a representative of Spink USA, a leading rare stamp auctioneer, brought a Jenny Invert to The Philatelic Foundation's New York offices for authentication on behalf of a potential consignor. The PF is widely regarded in the hobby of stamp collecting for its expertise in authenticating this iconic United States airmail rarity. Over the last 70 years, the PF has issued Certificates of Authenticity for 84 of the 100 stamps from the original error sheet of the "upside down airplane stamp," including all six of the existing blocks of four.
The PF's staff immediately began the expertization process led by Executi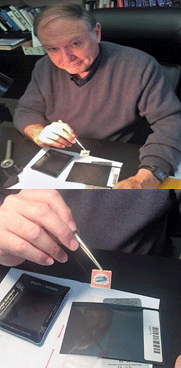 ve Director Larry Lyons and Curator Lewis Kaufman (shown at right). Matched against the PF's detailed records, photos and electronic scans of the Jenny Inverts, the evidence quickly pointed to the possibility that the stamp was one of the two missing from a famous block of four Jenny Inverts. The block, which was previously owned by Ethel McCoy, was stolen from its exhibition frame in 1955 during an American Philatelic Society convention in Norfolk, Virginia.
The PF staff determined the stamp to be position 76 from the error sheet of 100. (The actual stamp is shown above, photo courtesy the PF.) At some time following the block's theft, it was broken into four singles, and then altered in an attempt to disguise identification as stamps from the stolen block. Upon close examination, position 76 was found to have been reperforated at its left side to remove traces of a vertical red guide line that had originally appeared on the tips of its perforations. The American Philatelic Society and law enforcement were immediately notified of the identification of this long-lost Jenny Invert.