Australia Post announced February 23rd that Fahour has resigned, as of July 2017. Although there is no mention of why or where Fahour is going, the press release sings his praises.
Who makes more? The head of the postal service or the head of state?
In Australia, the answer is "postal service."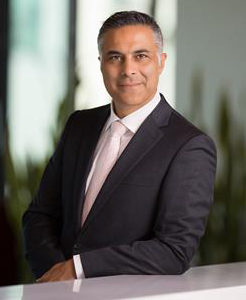 According to the Associated Press, Ahmed Fahour (right), managing director of Australia Post, was paid AU$4.4 million in salary and a AU$1.2 million bonus in the last fiscal year.
Prime Minister Malcolm Turnbull should deliver mail: He wasn't paid a tenth as much — just AU$507,000.
The AP points out that U.S. Postmaster General Megan Brennan only made $286,137 last year, but in fairness, we should point out that the Australian dollar is only worth 76% of the U.S. dollar. So Brennan made AU$374,780.72, while Fahour "only" made US$4.3 million (US$4,275,090.99, to be exact). That's at today's exchange rate; it wasn't that much different last year.
Just as an aside, the President of the United States receives an annual salary of US$400,000, or AU$524,179.20.
Australia Post didn't want the senate committee to disclose how much Fahour made, saying it and its top executives "would become targets of unwarranted media attention." Such as showing up in The Virtual Stamp Club's LloydBlog.
Turnbull was a banker before entering politics and has a personal fortunate estimated at AU$200 million, but he says he told Australian Post's chairman "that remuneration is too high."
"As someone who spent most of his life in the business world before I came into politics, I think that is a very big salary for that job," Turnbull told reporters.
(By the way, the Associated Press referred to the postal agency throughout its story as "Australian Post."