These stamps will be issued January 15th, when additional information will be provided.
From Canada Post's Details magazine: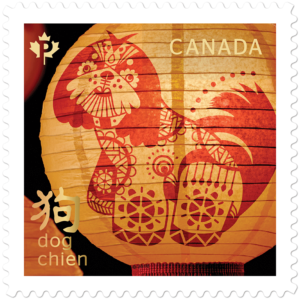 They say "every dog has its day," but from February 16, 2018, to February 4, 2019, those born in the Year of the Dog will have plenty of days to call their own. They certainly deserve it.
Those lucky enough to be born in the Year of the Dog are some of the most loyal and likeable people around. Possessing many of the same positive attributes as our favourite canines, they are known to be trustworthy, protective, courageous and driven by a sense of duty and justice. If you're lucky enough to befriend a Dog, your happiness means the world to him or her. And while they can be stubborn and snappy at times, Dogs get along with just about everyone – and are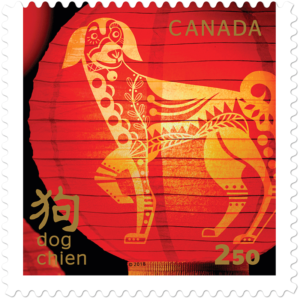 particularly compatible with Rabbits, Tigers and Horses. Famous Canadians born in the Year of the Dog include Justin Bieber, Leonard Cohen and Lucy Maud Montgomery.
This year's lunar New Year stamp issue was designed by Roy White and Liz Wurzinger at Subplot Design Inc. in Vancouver. When asked about their influences and inspiration, the two highlight the importance of the lantern as a quintessential symbol of the lunar New Year celebrations: "We wanted it to play a pivotal role in the design of these stamps, so we came up with the idea of translating Meimei Mao's intricate dog illustrations onto these beautiful, illuminated lanterns. Raeff Mile's photographs of them capture the warmth, richness and depth we were striving for."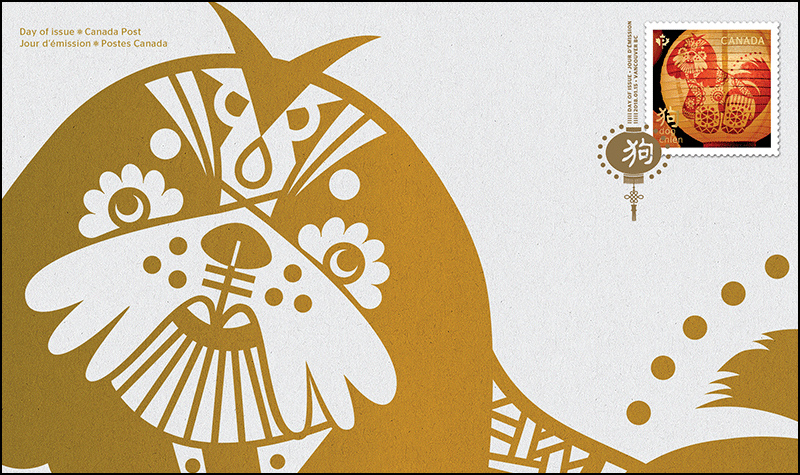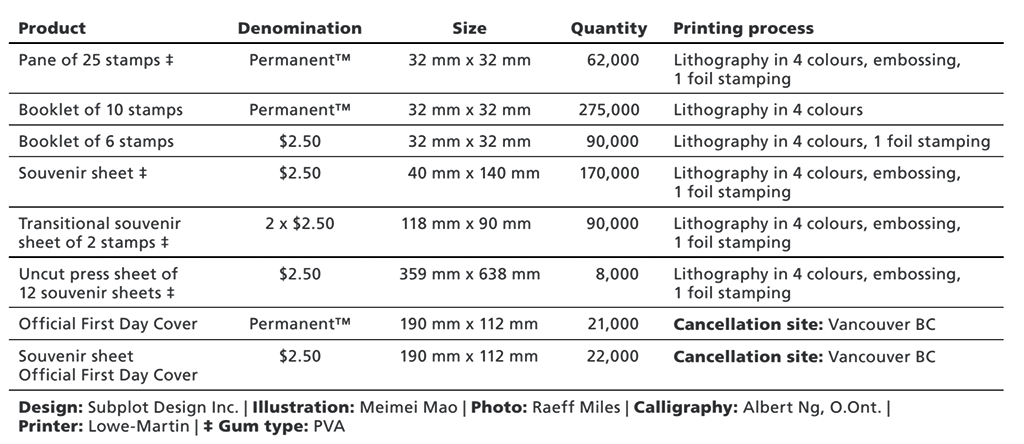 [press release]
Canada Post welcomes Year of the Dog – Lunar New Year stamps adorned in red and gold
VANCOUVER, Jan. 15, 2018 /CNW/ – Canada Post has released its annual two-stamp issue to mark the Lunar New Year, the 10th in this most recent lunar series. True to the traditional aspects of the celebration, the Year of the Dog stamps incorporate Chinese lanterns as a central design element. A Permanent™ domestic-rate stamp features an endearing small dog that looks ready to rush headlong into the year ahead, while the international-rate stamp shows a larger, dignified canine, one foot raised in anticipation. The customary red and gold dominate the design.
"Canada Post is proud to once again mark the vibrant and festive occasion that is the Lunar New Year, celebrated by Canadians of Chinese, Korean, Vietnamese and other East Asian heritage," says Canada Post President and CEO Deepak Chopra. "The annual unveiling of this stamp issue has become a much-anticipated event."
Designed by Vancouver's Subplot Design Inc., with illustration by Meimei Mao and photography by Raeff Miles, the Year of the Dog stamp issue includes:
A traditional gummed pane of 25 domestic-rate stamps, which includes four Chinese blessings, presented in calligraphy by Albert Ng, member of the Order of Ontario, plus both Permanent™ domestic- and international-rate stamp booklets and a broad selection of philatelic collectibles.
The international-rate official first day cover (OFDC), which also features a traditional Chinese blessing, is unsealed to facilitate the Chinese New Year tradition of giving money in a red envelope.
The Year of the Dog begins on February 16, 2018, and runs to February 4, 2019. Loyal, trustworthy and courageous, the easy-going individuals born under the sign of the Dog are believed to willingly put others' well-being above their own. Famous Canadians born under this sign include Justin Bieber, Leonard Cohen and Lucy Maud Montgomery.