[press release]
Australia Post celebrates the Year of the Dog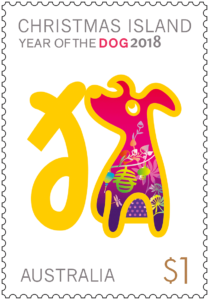 Australia Post will celebrate the Year of the Dog with the release of two Lunar New Year stamps.
Australia Post stamp designer Dani Poon said the stamp issue features traditional Chinese designs and customs, in the hope of giving everyone an opportunity to send wishes of good fortune and health to family and friends, both here and overseas
Ms Poon said she used paper cut motifs, a popular form of Chinese art, to represent the Dog in the $1 stamp. The Chinese calligraphic character for the Dog is shown in the $3 stamp.
"People born under the Dog zodiac sign possess the best traits of human nature. They are intelligent, honest, loving, loyal and quick learners, who hold much of their thought process deep inside," Ms Poon said.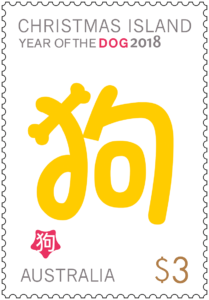 "The dog minisheet is one of my favourites because it illustrates the dog's personality traits in such a dynamic, quirky and fun way – rice seeds in the shape of a dog gliding in the sky. While the $1 stamp portraits a loyal dog with the traditional Chinese motifs, the $3 stamp uses a more modern approach."
The Dog is the 11th sign in the Chinese Zodiac and is a symbol of independence, sincerity, courage and intelligence, as well as loyalty and friendship. Famous people born in the Year of the Dog include Prince William, Dame Judi Dench, Glenn McGrath, Adam Hills and Billy Thorpe.
A highlight of this stamp issue is a special silk minisheet pack, finished with gold foil detailing and where one of the three sheets in the pack is printed on silk. A 999.9 pure gold replica Year of the Dog minisheet in a presentation case is also a highly collectable part of the range.
This year sees the introduction of a new product into the range that will appeal to the young and the young at heart, The Peanuts Year of the Dog stamp pack, which includes a sheetlet of 10 x $1 Year of the Dog 2018 stamps without foiling. Snoopy, the much-loved dog from the Peanuts comic strip, originally created by Charles M Schulz (1922-2000), is featured in the tabs of the stamps.
Other products associated with this stamp issue are a minisheet, zodiac sheetlet, first day cover, stamp pack, postcard, prestige booklet, customisable $1 stamp in the Personalised Stamps™ range, gutter strip of 10 x $1 stamps with design, domestic and international postage paid envelopes, medallion cover, Chinese New Year Dragon postal numismatic cover and a Lunar New Year of the Dog postal numismatic cover.