From Canada Post, posted September 23rd:
[press release]
Canada Post and India Post mark Diwali, Festival of Lights
Joint stamp issue is a historic first for these two postal services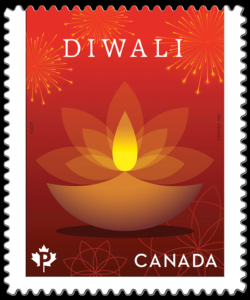 TORONTO – Canada Post and India Post are joining hands to issue stamps that celebrate Diwali, the Festival of Lights, an important annual observance for many Hindus, Sikhs, Buddhists and Jains in Canada and around the world. The joint stamp issue is a historic first between these postal services and reflects our country's diversity in the year of Canada 150.
The stamps were unveiled September 21st at Toronto City Hall by Canada Post President and CEO Deepak Chopra; His Excellency, Mr. Vikas Swarup, the High Commissioner of India to Canada; and His Worship John Tory, Mayor of Toronto.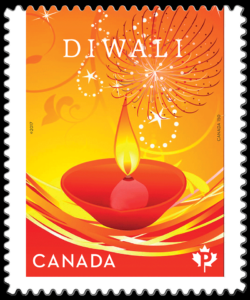 "The Diwali stamps express our pride in Canada being a land of diverse faiths, customs and celebrations," says Mr. Deepak Chopra. "It is fitting that this historic first joint issue celebrates the strong relationship between Canada and India."
About a month ahead of Diwali celebrations, which will be held from October 19 to 23, two domestic-rate stamps are available in Canada. A stamp with a red background is the Canadian design, while one with a gold background was designed by India Post. The souvenir sheet has a Canadian international rate stamp and an Indian stamp.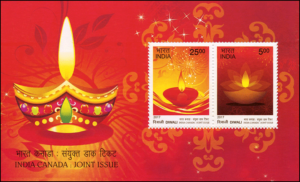 Diwali, a five-day celebration, begins on the 15th day of Kartika in the Hindu calendar. Its main theme is the triumph of light over darkness. The celebration traditionally includes fireworks. In Canada, people often light candles in their homes, while in India, they light small clay lamps filled with oil; illumination is believed to ward off evil and attract happiness and good fortune. Believers also display colourful geometric rangoli patterns to decorate entrances. Families and friends also share sweets and gifts with one another and with those in need.
About the stamp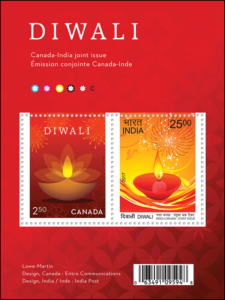 Designed by Doreen Colonello of Entro Communications and India Post, and printed by Lowe-Martin, the Permanent domestic-rate stamps measure 30 mm by 35 mm. They are printed in five colours plus a varnish, and are available in booklets of 10. The Official First Day Cover is cancelled in Toronto, ON.
Background: Stamps for other major religious celebrations
The Diwali stamps are among several that reflect Canada's religious diversity 150 years after Confederation. They include our annual Christmas stamps with a Christian image and another with a secular holiday theme. In May, our Eid stamp recognized Eid al-Fitr and Eid al-Adha, two important festivals for Canada's more than one million Muslims and those worldwide. A Hanukkah stamp will recognize the Jewish faith's eight-day celebration in December.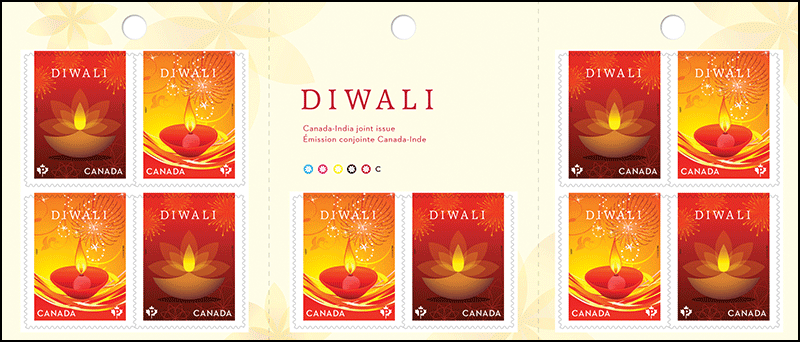 •
LE 21 SEPTEMBRE 2017 – COMMUNIQUÉ – POSTES CANADA
Postes Canada et India Post soulignent Diwali, la fête des Lumières
C'est la première émission conjointe des deux services postaux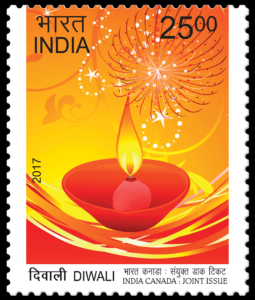 TORONTO – Postes Canada et India Post s'unissent pour émettre des timbres en l'honneur de Diwali, la fête des Lumières, événement annuel important pour de nombreux hindous, sikhs, bouddhistes et jaïns partout dans le monde. L'émission conjointe est la première de l'histoire de ces administrations postales et témoigne de la diversité de notre pays en cette année de Canada 150.
Les vignettes ont été dévoilées aujourd'hui à l'hôtel de ville de Toronto par Deepak Chopra, président-directeur général de Postes Canada, Son Excellence Vikas Swarup, Haut-Commissaire de l'Inde au Canada, et Monsieur le Maire de Toronto, John Tory.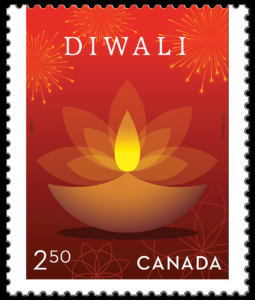 « Les timbres consacrés à Diwali évoquent notre fierté de vivre dans un pays aux diverses religions, cultures et traditions, souligne M. Deepak Chopra. Le lancement de cette première émission conjointe est de circonstance, puisqu'elle met en valeur les excellentes relations qui existent entre le Canada et l'Inde. »
À peu près un mois avant les célébrations, qui auront lieu du 19 au 23 octobre, deux figurines au tarif du régime intérieur sont offertes au Canada. Le motif de l'une, conçu au Canada, est présenté sur fond rouge, alors que l'autre, sur fond doré, a été élaboré par India Post. Le bloc-feuillet est orné d'un timbre canadien du régime international et d'un timbre indien.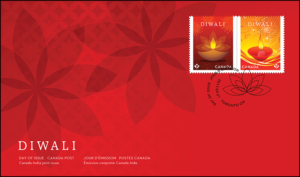 Diwali, festival d'une durée de cinq jours, commence le 15e jour de Kartika, dans le calendrier hindou. Il a pour principal thème le triomphe de la lumière sur l'obscurité. Des feux d'artifice font traditionnellement partie des festivités. Au Canada, les gens allument souvent des bougies dans leur maison alors qu'en Inde, ils allument de petites lampes en terre cuite remplies d'huile; on dit que la lumière éloigne le mal et attire le bonheur et la chance. Les croyants dessinent aussi des rangolis aux contours géométriques pour décorer les seuils. Familles et amis partagent des friandises et échangent des cadeaux entre eux et avec des nécessiteux.
À propos des timbres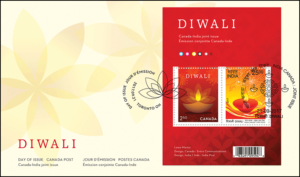 Conçus par Doreen Colonello d'Entro Communications et par India Post, les timbres sont imprimés par Lowe-Martin. Ces timbres PermanentsMC au tarif du régime intérieur mesurent 30 mm sur 35 mm. Ils sont imprimés en cinq couleurs et vernis, et ils sont offerts en carnets de 10. L'oblitération Premier Jour porte la mention « Toronto ON ».
Renseignements généraux : Timbres célébrant d'autres fêtes religieuses importantes
Les vignettes consacrées à Diwali font partie des quelques émissions de 2017 qui témoignent de la diversité religieuse du Canada 150 ans après la Confédération, comme nos timbres de Noël, dont l'un représente une image sacrée et l'autre, un thème profane. En mai dernier, notre émission de l'Aïd soulignait deux importants festivals, l'Aïd al-Fitr et l'Aïd al-Adha, en l'honneur des musulmans du Canada – qui sont plus d'un million – et de tous les musulmans du monde. Un timbre marquant la Hanoukka sera émis pour célébrer la fête religieuse observée en décembre par la communauté juive.