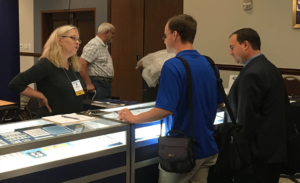 Jay Bigalke, editor of American Philatelist, the official journal of the American Philatelic Society, is leaving to return to his former employer and become Editor-in-Chief at Linn's Stamp News.
He is shown in the center of the photo on the right, buying stamps August 11 at Americover 2017 in Independence, Ohio.
Bigalke has been telecommuting to the APS, coming to headquarters in Bellefonte, Pa., one week a month while living in central Ohio with his wife and two sons.
Bigalke became AP editor in late 2014 at the age of 32. He had been senior editor for digital media at Linn's, which is also headquartered in central Ohio, in Sidney.
He is an active first day cover collector who has attended many first day ceremonies. On the left, he is shown servicing first day covers for the Circus Posters souvenir sheet at Baraboo, Wisconsin, in late 2014.
"Under Jay's leadership, the APS raised the standard of The American Philatelist from good to great," APS executive director Scott English told The Virtual Stamp Club in e-mail. "Even though he is leaving our team, Jay is an APS member and collector to the core. We look forward to working with him in his new role."