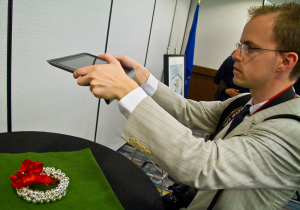 [Confirmed December 1st by APS. Press release below.]
Sources tell The Virtual Stamp Club that Jay Bigalke will be named the next editor of American Philatelist, the journal of the American Philatelic Society, and the largest-circulation stamp collection publication in North America. Bigalke, 32, is currently Senior Editor, Digital Media at Linn's Stamp News, which posted an opening for that position in its most recent edition. Bigalke is also a former VSC staff member.
That's Jay at work at October's Winter Fun/Global Wreath first day ceremony with his iPad.
APS press release December 1st:
Bigalke New American Philatelist Editor
The American Philatelic Society has hired Jay Bigalke as its new American Philatelist Editor. Bigalke will be responsible for the Society's 100-page monthly publication, working with a staff of three and an advisory board. The Society editor also is responsible for the Library's quarterly Philatelic Literature Review and plays an important role in public relations and graphic design.
Bigalke previously worked for Linn's Stamp News, published by Amos Media Company of Sidney, Ohio. There he served as Senior Editor and was responsible for covering major U.S. stamp stories, managing of its social media platforms, video production, stamp show participation, and serving as editor for multiple columnists.
APS Executive Director Ken Martin expects Bigalke to not only continue the American Philatelist's long time editorial excellence but also expects that his philatelic and postal service network, digital content experience and attendance at philatelic events will significantly benefit the Society.
Bigalke's selection has the full support of the American Philatelist Advisory Committee. Committee chair Rod Juell suggests APS members should get ready for exciting editorial leadership.
Bigalke is a 2005 graduate of the University of Wisconsin-Madison where he studied retail and journalism. His professional experience also includes working for Coin World (sister publication to Linn's). There he developed a web-based publication covering different aspects of the numismatic field. He also worked for the U.S. Postal Service as a casual city mail carrier.
Bigalke's spark for collecting stamps started in October 1991. He grew up in a small town of less than 100 people in Wisconsin where he visited the post office daily. His great-grandmother and the postmaster in the town helped encourage the interest in stamps. He became an APS member in 2001 about the time he began designing and selling cachets.
His philatelic interests include modern U.S. stamps, ceremony programs, first-day covers, and other related ephemera. Other collections include stamps of Japan and British Commonwealth stamps from 1937-1940 showing King George VI. He has personally attended 217 first-day-of-issue ceremonies in 47 states, Washington, D.C., Guam, Puerto Rico, and the U.S. Virgin Islands.
Bigalke was the inaugural recipient of the American Philatelic Society's Outstanding Young Adult Philatelist award in 2008, inducted in April 2011 to the Wisconsin Federation of Stamp Clubs Hall of Fame, and in 2013 was the Most Popular Champion of Champions exhibitor winner with his exhibit on the 2009 United States Simpsons stamp issue.
Current editor Barb Boal previously announced her retirement effective December 31 after 14 years as editor and more than 30 years of service to the American Philatelic Society. Bigalke's employment with the APS begins December 1 allowing for a short transition.
The American Philatelist Society is the nation's largest organization for stamp collectors serving collectors since 1886 with a variety of services including the monthly journal. Additional information about the APS and stamp collecting is available on their website at stamps.org, by phone call to 814-933-3803 or by mail to 100 Match Factory Place, Bellefonte, PA 16823.