Updated August 1st: The first day postmarks: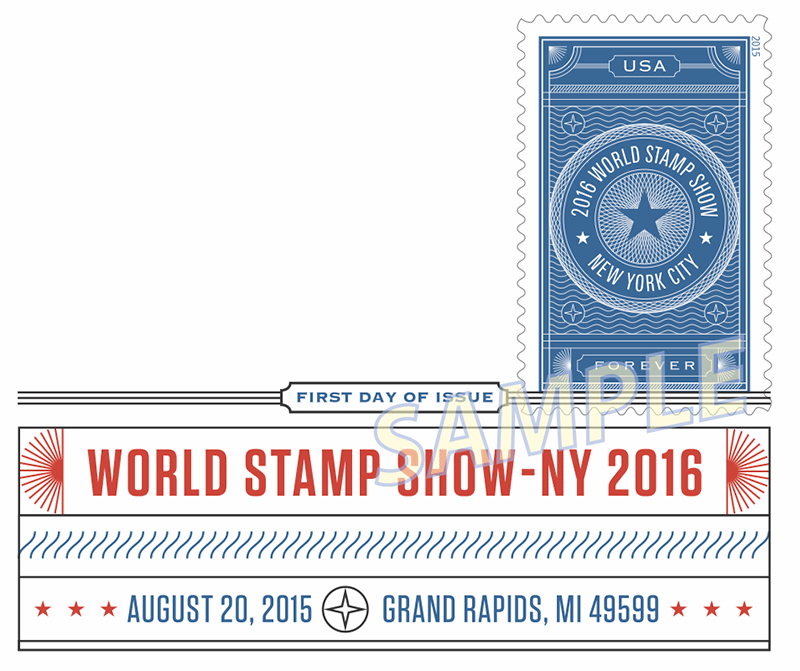 The DCP measures 2.99″x1.07″.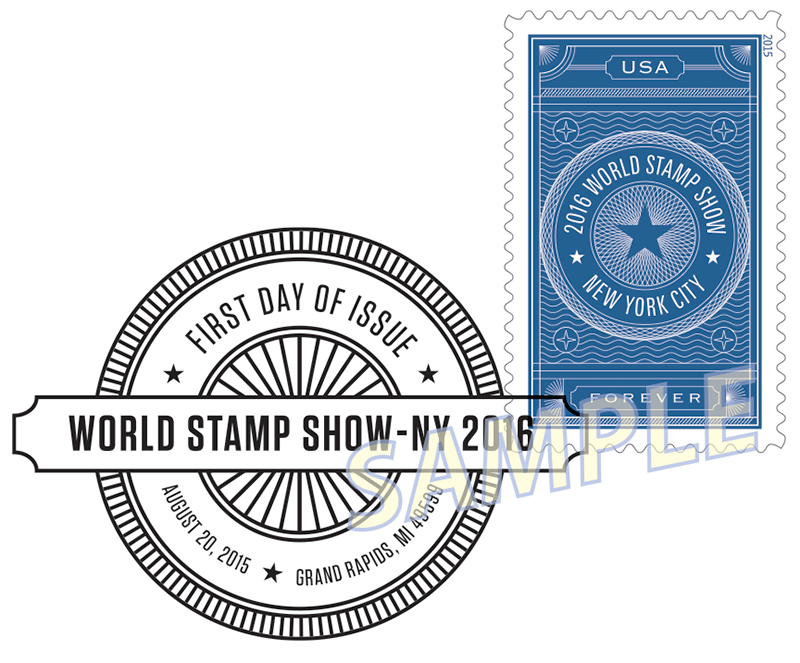 The B&W cancel measures 2.07″x1.46″.
Updated July 23rd from the Postal Bulletin: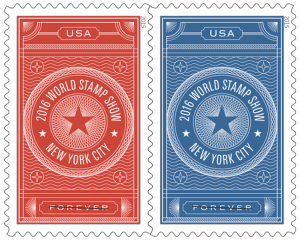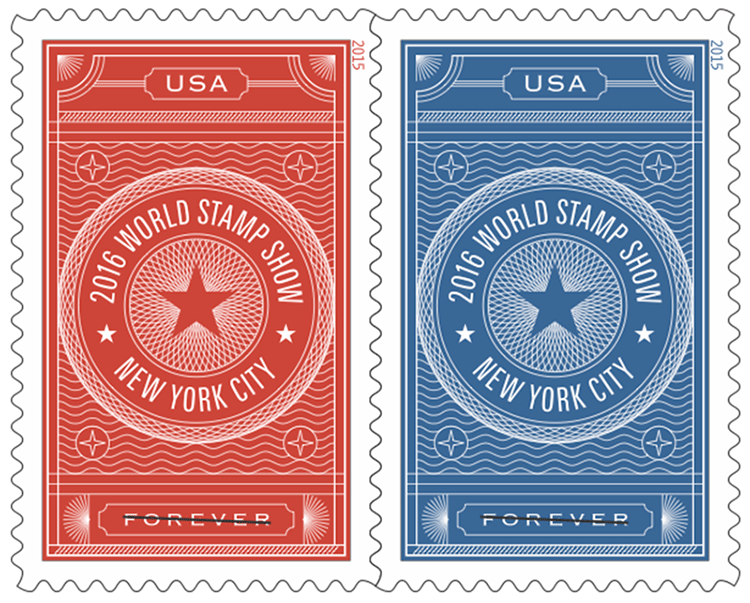 On August 20, 2015, in Grand Rapids, MI, the U.S. Postal Service® will issue the World Stamp Show–NY 2016, First Class Mail® stamp (Forever® priced at 49 cents), in two designs, in a pressure-sensitive adhesive (PSA) pane of 20 stamps (Item 589900).
The stamps will go on sale nationwide August 20, 2015.
With these elegant stamps reminiscent of classic engraved 19th-century stamps and banknotes, the U.S. Postal Service® announces the coming World Stamp Show-NY 2016 and invites philatelists and amateur stamp enthusiasts alike to attend. The show will be held May 28 to June 4, 2016, at the Jacob Javits Convention Center in New York City. World Stamp Show-NY 2016 continues a 100-year tradition of once-a-decade international philatelic exhibitions held in the United States. Twenty stamps feature intricate patterns of curved, straight, and wavy lines, and are evenly divided in color: ten blue and ten red stamps. The circle in the center of the stamp design displays a five-pointed star. Text surrounding the circle includes the year of the show, "2016," and the words "World Stamp Show" and "New York City.\u0022 The header on the pane reads: "JOIN US FOR A WONDERFUL WEEK AT WORLD STAMP SHOW-NY 2016." Verso text provides details about the show. Graphic designer Michael Dyer worked with art director Antonio Alcalá to create the stamp art.
How to Order the First-Day-of-Issue Postmark: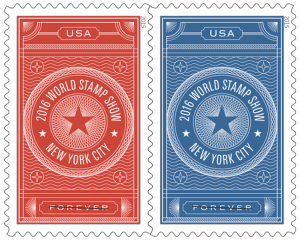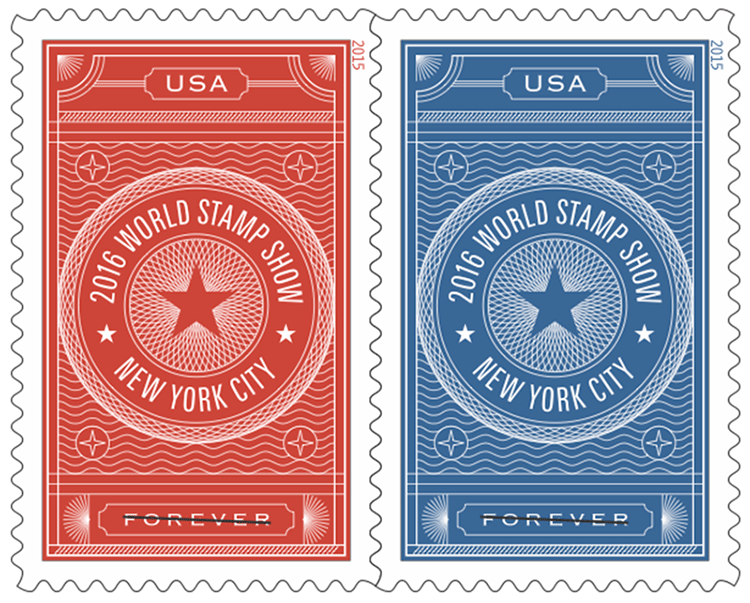 Customers have 60 days to obtain the first-day-of-issue postmark by mail. They may purchase new stamps at their local Post Office, at The Postal Store® website at http://www.usps.com/shop, or by calling 800-STAMP-24. They should affix the stamps to envelopes of their choice, address the envelopes (to themselves or others), and place them in a larger envelope addressed to:
World Stamp Show Stamps
Manager
PO Box 999818
Grand Rapids, MI 49599-9818
After applying the first-day-of-issue postmark, the Postal Service™ will return the envelopes through the mail. There is no charge for the postmark up to a quantity of 50. For more than 50, customers have to pay five cents each. All orders must be postmarked by October 19, 2015.
There are eight philatelic products for this stamp issue:
589906, Press Sheet with Die-cut, $58.80 (print quantity 1,000).
589908, Press Sheet without Die-cut, $58.80 (print quantity 1,500).
589910 Keepsake, $13.95.
589916 First-Day Cover, set of 2, $1.86.
589921 Digital Color Postmark, set of 2, $3.28.
589930 Ceremony Program (random), $6.95.
589931 Stamp Deck Card, $.95.
589932 Stamp Deck Card/Digital Color Postmark (random), $1.99.
Technical Specifications: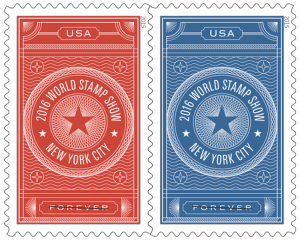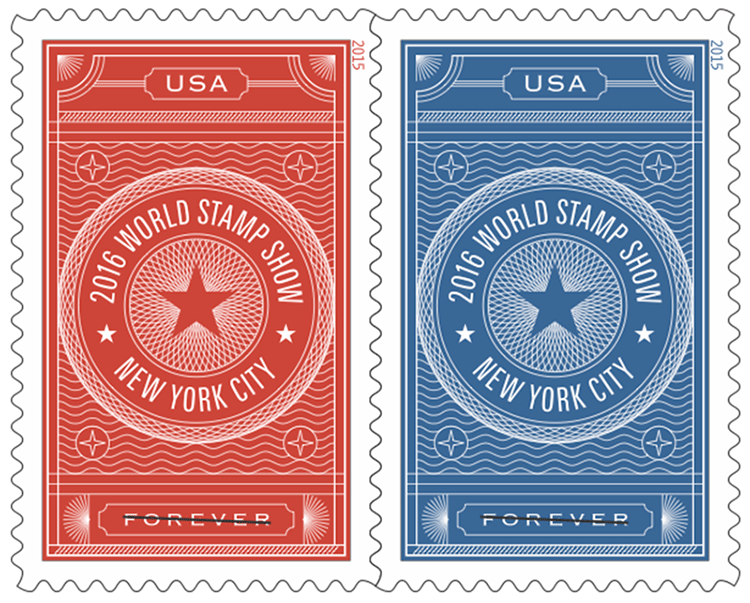 Issue: World Stamp Show–NY 2016 Stamps
Item Number: 589900
Denomination & Type of Issue: First-Class Mail Forever
Format: Pane of 20 (2 designs)
Series: N/A
Issue Date & City: Grand Rapids, MI, 49599
Designer: Michael Dyer, Brooklyn NY
Art Director: Antonio Acalá, Alexandria VA
Typographer: Michael Dyer, Brooklyn NY
Artist: Michael Dyer, Brooklyn NY
Engraver: N/A
Modeler: Joseph Sheeran
Manufacturing Process: Offset
Printer: Ashton Potter (USA) Ltd. (APU)
Printed at: Williamsville, NY
Press Type: Muller A76
Stamps per Pane: 20
Print Quantity: 12 million stamps
Paper Type: Nonphosphored Type III, Block Tag
Adhesive Type: Pressure-sensitive adhesive
Processed at: Ashton Potter (USA) Ltd. (APU)
Colors: PMS 647 C Blue, PMS 7626 C Red
Stamp Orientation: Vertical
Image Area (w x h): 0.84 x 1.42 in./21.34 x 36.07 mm
Overall Size (w x h): 0.98 x 1.56 in./24.89 x 39.62 mm
Full Pane Size (w x h): 5.92 x 7.50 in./150.37 x 190.50 mm
Press Sheet Size (w x h): 11.84 x 22.75 in./300.76 x 577.85 mm
Plate Size: 240 stamps per revolution
Plate Numbers: "P" followed by two (2) single digits
Marginal Markings:
Front: Plate number in bottom corners
Back: ©2015 USPS • USPS logo • Plate block • Two Barcodes (589900) • Promotional text • Verso-text
Low-resolution versions of the first-day postmarks: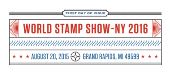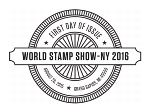 Updated April 25th: Better versions of the design, from the USPS: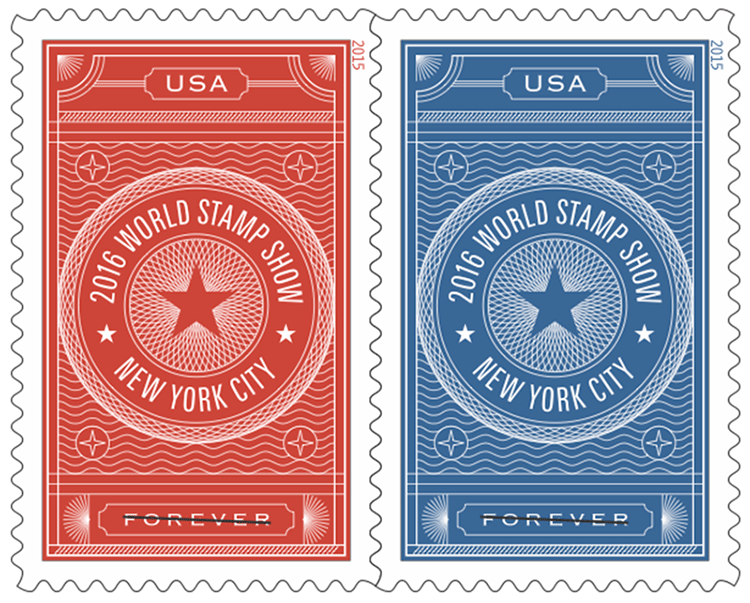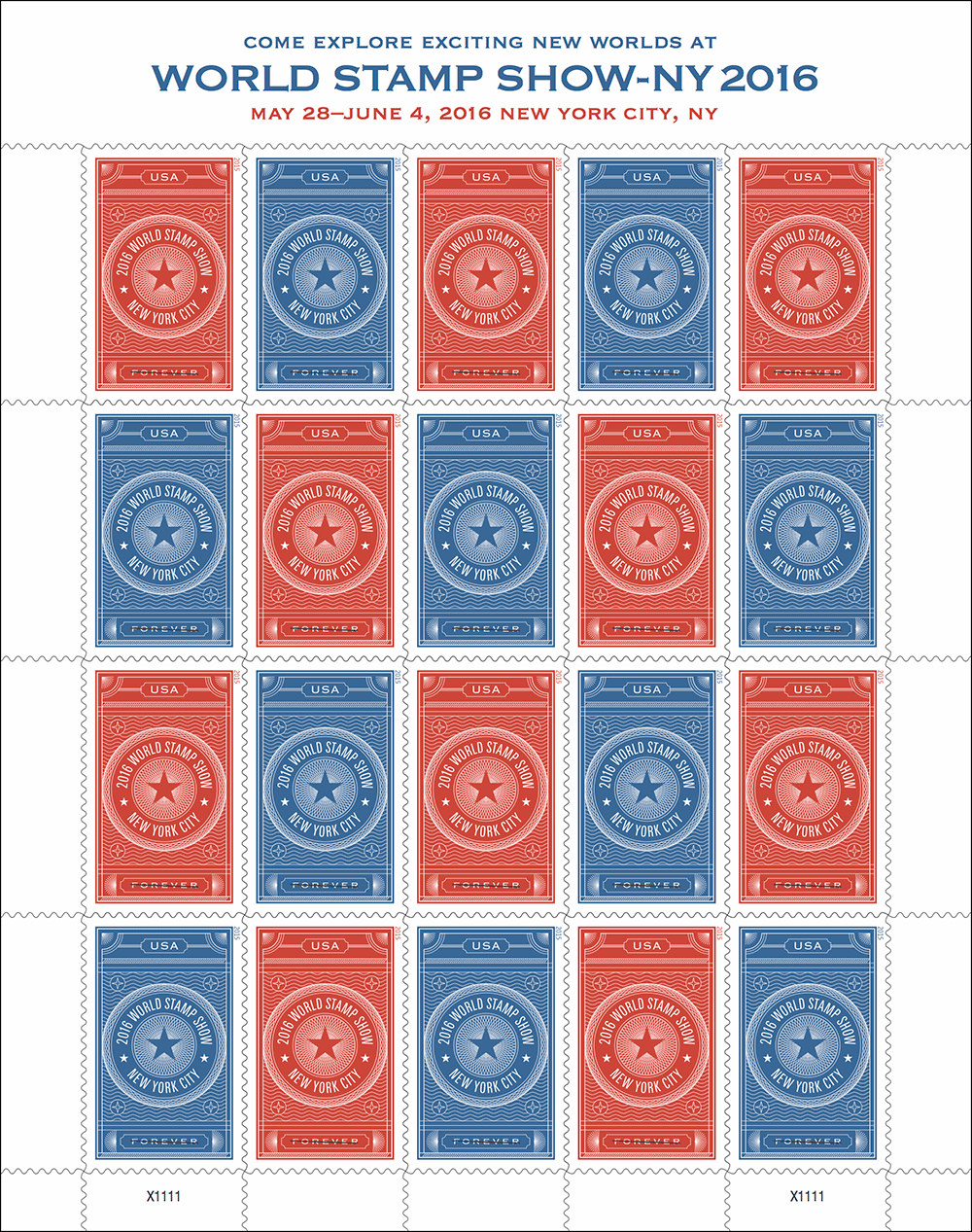 Updated April 20th: Here is the design: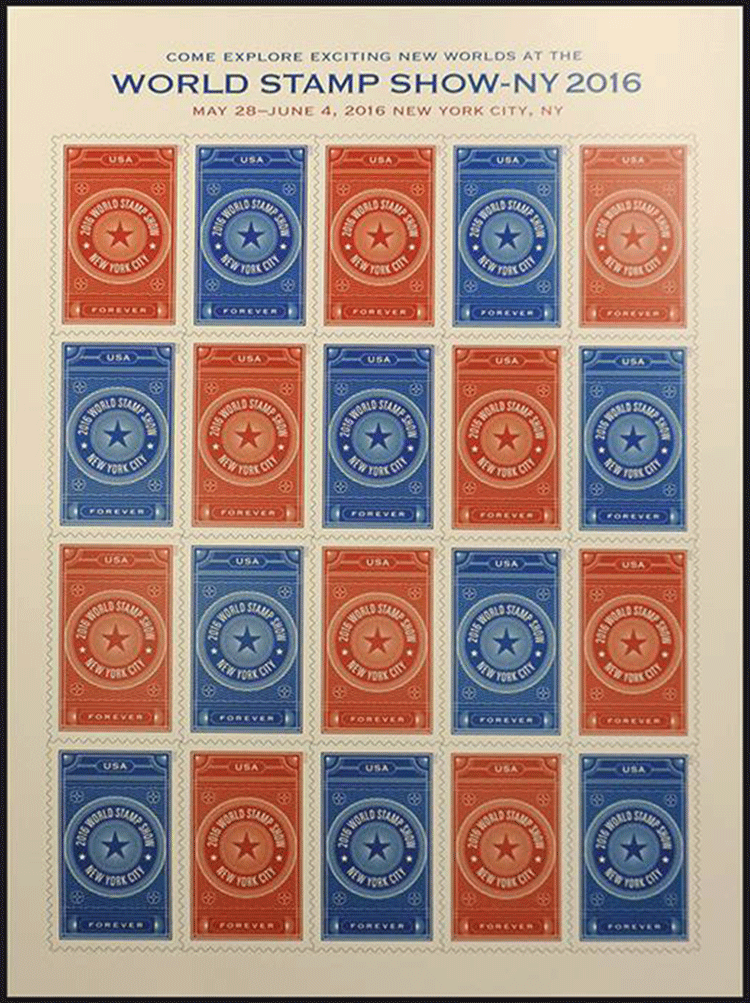 Updated April 22nd: Two photos from the unveiling, courtesy VSC member Mark Gereb: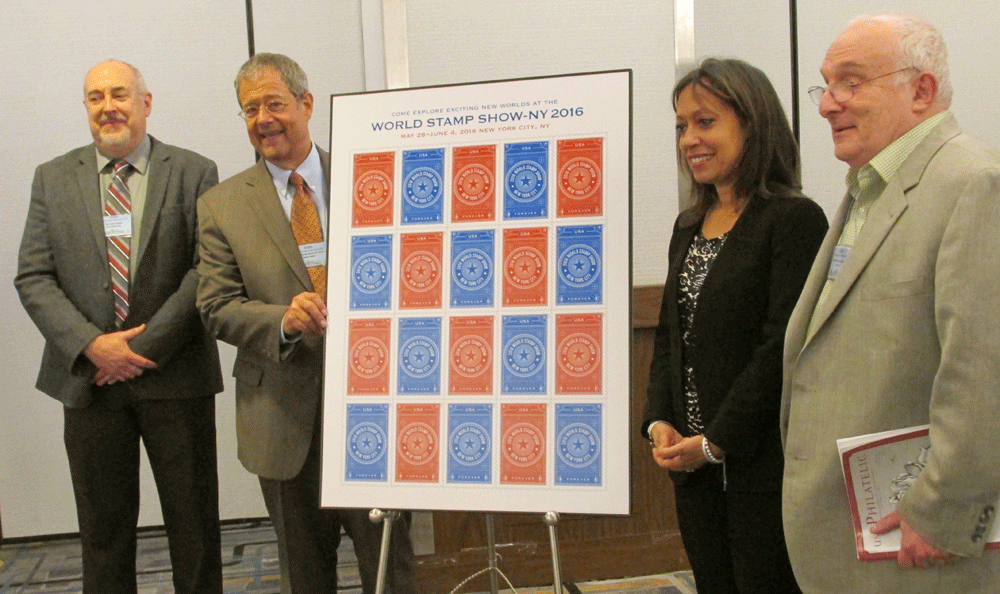 left to right, ASDA President Mark Reasoner; NY 2016 President Wade Saadi; possibly Wanda Santos, Marketing Manager, USPS NY District; and New York 2016 Vice President Steven Rod.
And another closeup of the stamps: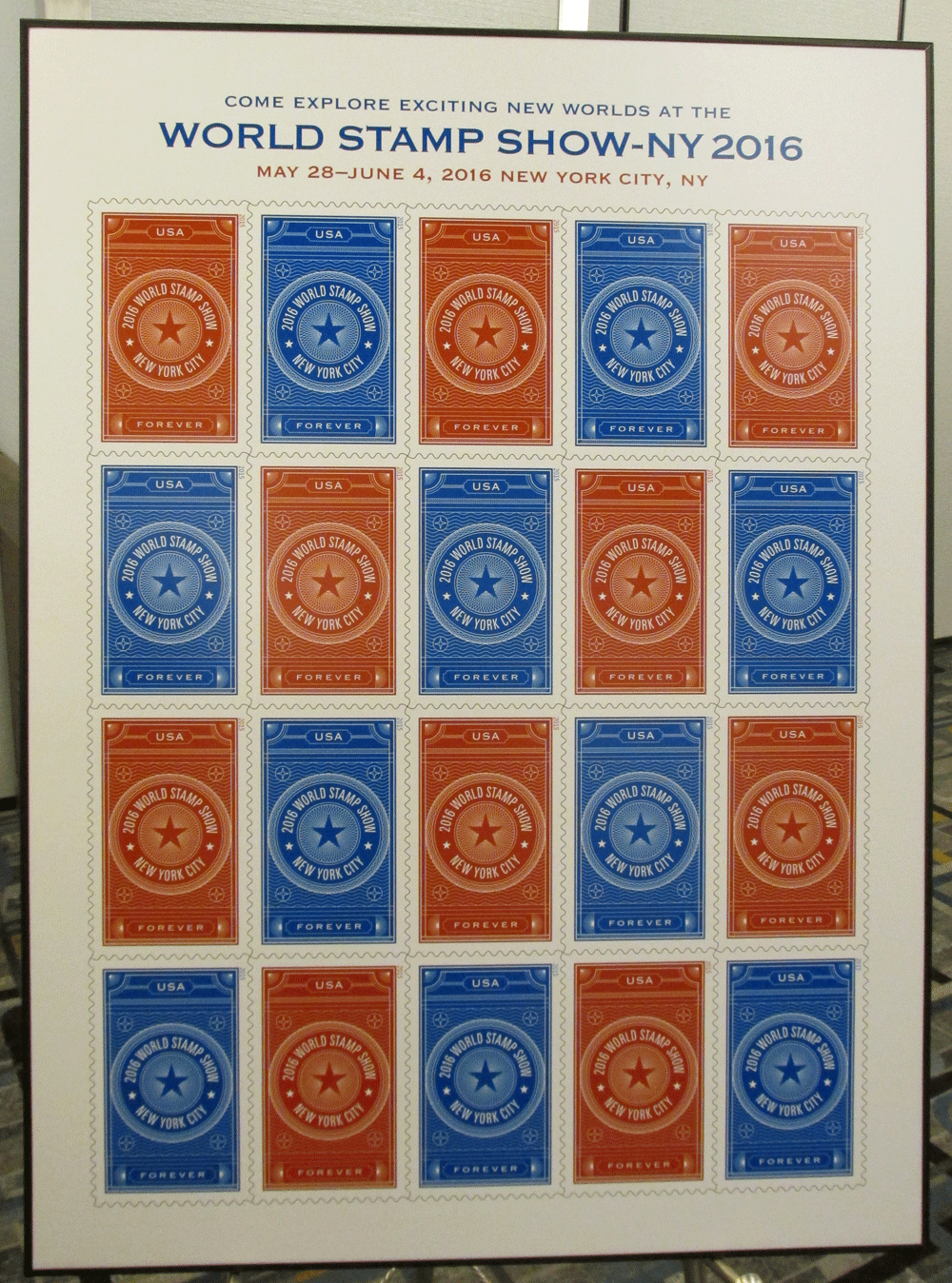 From the earlier briefing: It probably will be issued at APS StampShow in August. That would make it likely for August 20 or 21 in Grand Rapids, Mich.
The USPS has not yet begun to design this stamp, so no word on what might be shown. "We haven't even started development of that," said Tackett.
"It will be designed with the collector in mind," said Stamp Development Specialist Bill Gicker during the web conference with philatelic reporters November 4th. "We do want it to be special."