[press release]
Stamps feature robust medieval castles

The Hague – PostEurop's annual European design competition puts castles in the spotlight this year. PostNL is therefore issued on February 20 the stamp sheetlet 'Dutch Castles' featuring the medieval moated castles Doornenburg and Ammersoyen in Gelderland.
The 52 cooperating postal companies in Europe have been publishing stamps with a common theme since 1956. This has taken place via PostEurop since 1993.
Contrast between the two castles
The late medieval Dutch castles Doornenburg with its square tower (13th century) and Ammersoyen with the round tower (14th century) have been chosen for this international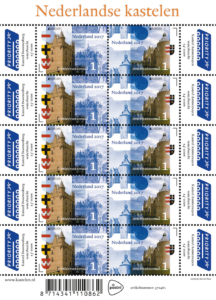 stamp sheetlet as examples of recognisable fortified dwellings of the Middle Ages. The contrast between the castles is shown by overlapping photos including a historical letter and the outline of the floor plan. Both castles have broad moats for defence against hostile attacks. Additionally, Doornenburg Castle is familiar to many Dutch people as the setting for the popular 1960s Dutch TV series "Floris".
Classic illustration
With this stamp sheetlet, The Hague designer Bart de Haas wanted to demonstrate the robust nature of castles. "Doornenburg and Ammersoyen are classic castles, just as you might have imagined them as a child: tall, with striking towers and a moat crossed by a drawbridge. They still look medieval now, even after restoration following bombings in the War. I was able to bring back more classical elements in the stamp sheetlet using images of coats of arms and old prints."
Availability
The 'Dutch Castles' stamp sheetlet comprises ten International stamps with two different images. These stamps are marked 'Internationaal 1' and are intended for mail items up to 20g with worldwide destinations. The stamps were available from 20 February at all Bruna stores as well as via collectclub.nl. The stamps are valid until further notice.