Updated March 13th: The USPS confirms these stamps will be issued July 12th in Chadds Ford, PA.
Updated November 29th, 2016: The American Philatelic Society and Art Fix Daily report these stamps will be issued July 12th at the Brandywine River Museum of Art in Chadds Ford, Pa., south of Philadelphia.
According to Art Fix Daily, the 12 stamps show details of the following paintings:
Alvaro and Christina, 1968
Big Room, 1988
The Carry, 2003
Christina's World, 1948
Frostbitten, 1962
North Light, 1984
Sailor's Valentine, 1985
Soaring, 1942-50
Spring Fed, 1967
My Studio, 1974
Wind from the Sea, 1947
Young Bull, 1960
"The exhibition Andrew Wyeth: In Retrospect, on view on view from June 24 through September 17 at the Brandywine River Museum of Art, is the first chronological retrospective of the artist's career since the 1970s," says Art Fix Daily. "The exhibition is co-organized by Seattle Art Museum and includes over 100 of his finest paintings and works on papers selected from major museums and private collections." The exhibition will be shown in Seattle in October.
From the USPS, November 22nd, 2016: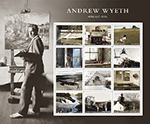 Mastering a realistic style that defied artistic trends, Andrew Wyeth (1917-2009) created haunting and enigmatic paintings based largely on people and places in his life — a body of work that continues to resist easy or comfortable interpretation. Finding endless inspiration both in his hometown of Chadds Ford, PA, and in rural Maine, he scrutinized the lives, houses and personal belongings of people around him, sometimes painting their portraits but just as often using objects and places to represent them. 2017 is the centennial of Wyeth's birth. With subtle symbolism and eerie implications, his work invites us to reinterpret his personal vision. Derry Noyes art directed and designed this pane of 12 stamps.
The USPS revised the design image for this issue on November 23rd: