[press release]
Auction of Historic Hawaiian Stamps From Renowned Gross Collection At World Stamp Show–NY, May 29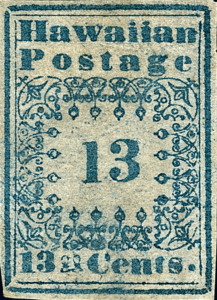 (New York, NY) — Renowned collector and Wall Street money manager William H. Gross will sell his acclaimed Hawaii stamp and cover collection during World Stamp Show – New York 2016 with his proceeds from the auction to be donated to nonprofit organizations, including The Smithsonian's National Postal Museum. The collection features many of the most iconic rarities of Hawaiian philately, including ten Hawaiian Missionary stamps.
The unreserved auction, "The William H. Gross Collection: Hawaii – Important Stamps and Postal History," will be conducted by Charles F. Shreve and Tracy L. Carey in association with Robert A. Siegel Auction Galleries (www.siegelauctions.com) at the Jacob K. Javits Convention Center in New York City and online on Sunday, May 29, 2016.
"The stamps of Hawaii are among the most exotic and popular stamps ever issued, particularly the first issues of 1851 called Hawaiian Missionaries. Over the course of the past quarter-century, working with Mr. Gross to build his various collections, we have observed that he has always been especially fond of his Hawaii. The instantly recognizable Hawaiian Missionary stamps and their fascinating history have always captivated collectors. But the extreme rarity of these classic issues makes it difficult for more than a few collectors to own them, and nearly impossible for any collector to own more than a few of them," explained Shreve, Director of Robert A. Siegel International.
"The ten Hawaiian Missionary items in this auction, including several on covers, will surely be viewed as the stars of the collection. Without question, this offering during World Stamp Show will be one of the highlights of the entire event," stated Shreve.
A renowned Wall Street money manager, Mr. Gross is the Lead Portfolio Manager responsible for managing the Janus Global Unconstrained Bond strategy, a member of the Janus Global Macro Fixed Income leadership team and a member of the Janus Capital Group Global Allocation Committee.
Highlights of the 77 lots in the upcoming auction include: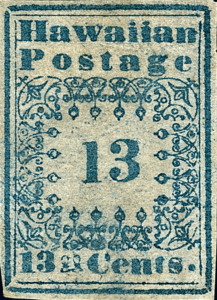 Lot #9 [shown on the right] — The finest of only seven recorded unused examples of the 1851 13-cent "Hawaiian Postage" Missionary stamp. This magnificent gem is an extraordinary example of a world-class rarity in superb condition, defying the norms of the issue. Scott catalog value: $37,000.
Lot #11 — The Eliza Johnson Cover, one of the finest and most colorful of the nine recorded 13-cent "Hawaiian Postage" Missionary covers. Pre-sale estimate: $100,000 – 150,000
Lot #21 — A petite and remarkably attractive decorative cover with the Hawaiian 5-cent and 13-cent 1853 Kamahameha III first printing, and in combination with the United States 12-cent 1851 issue which was affixed at Honolulu over the 13-cent Hawaiian stamp. Pre-sale estimate: $20,000 – 30,000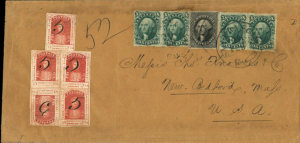 Lot #24 [shown on the left] — This is the only recorded cover with more than one of the rare 1857 "5" cents on 13-cent provisional surcharge (in this case, five examples), used in combination with United States postage. It is widely regarded as the most outstanding United States and Hawaiian mixed-franking cover outside of the Missionary issue. Pre-sale estimate: $250,000 – 350,000
Lot #25 — A spectacular United States and Hawaiian mixed-franking cover addressed to Fidelia Fiske, who was one of the first Missionaries to work among the Nestorians in Persia. This is the only 1857 5-cent Provisional surcharge cover addressed beyond the continental United States. Pre-sale estimate: $100,000 – 150,000
Lot #61 — 1865 5-cent "Hawaiian Postage" Numeral issue, used in combination with United States 10-cent 1861 Issue on a cover to Germany. A unique United States-Hawaiian mixed-franking cover, as this is the only recorded use of a Numeral issue on a cover destined beyond the borders of the United States. Pre-sale estimate: $40,000 – 50,000
Lot #67 — A superb original-gum tete-beche pair of the 1865 5-cent blue "Interisland" Numeral issue in the finest condition attainable. Scott catalogue value: $20,000.
The collection is estimated to bring $2 million or more. Mr. Gross and his wife, Sue, will generously donate the auction proceeds to The Smithsonian National Postal Museum (www.PostalMuseum.si.edu) and The Hawaii Foodbank (www.HawaiiFoodBank.org), a nonprofit agency that helps provide food to the needy through over 200 charitable organizations on Oahu.
Seven previous auctions of items from Mr. Gross' extensive U.S. and foreign collections have already raised a combined total of nearly $25 million for charities and other non-profit organizations.
"Sharp-eyed collectors with good memories will probably notice one stamp missing from this auction," said Shreve.
"The only recorded unused 2¢ Missionary, ex Ferrary, Burrus, B. D. Phillips, Ostheimer and Honolulu Advertiser, belongs to Mr. Gross, and he wishes to retain just this one stamp, reflecting his passion for world-class rarities. Who could fault him? If collectors wish to see the 2¢ Missionary stamp, they can visit the Court of Honor where it will be displayed at World Stamp Show – New York 2016 along with Mr. Gross' United States rarities," explained Shreve.
A limited edition hardbound catalog of the William H. Gross Hawaii Collection has been prepared for the sale and is available for $25 each. Auction lots also can be viewed online at www.siegelauctions.com or by appointment at the Siegel Galleries at 60 East 56th St. in New York. Additional information about this and past sales of material from the Gross Collection can be found at www.williamhgrosscollections.com.
For additional information, contact Robert A. Siegel Auction Galleries by phone at (212) 753-6421 or by email at stamps@siegelauctions.com.