by Lloyd A. de Vries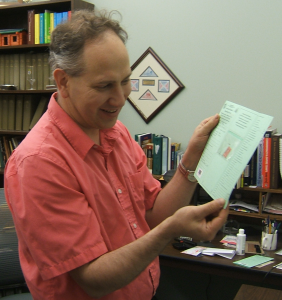 I hate to use this phrase, because it was used to describe my situation seven months ago, but Ken Martin's position as executive director of the American Philatelic Society "wasn't a good fit." It was never a good fit.
His tenure as the APS CEO was uneasy from the start. Ken wasn't what many on the Board of Directors and other organizational leaders wanted. Efforts to make him into that type of an executive director weren't successful, and probably weren't ever going to be successful.
Ken is one of the most popular people in U.S. stamp collecting. Practically everyone likes him. Many older collectors watched him grow up in philately, from president of the now-defunct Junior Philatelists of America into employment with the APS. If you have attended an APS-sponsored or -sanctioned stamp show in the last two decades, chances are you ran into him — perhaps literally! As APS Shows & Exhibitions Director, we called him the Blue Blur, walking rapidly (and sometimes running) from one part of the show to another.
Ken was the only APS executive director I ever saw on his back under exhibit frames, pulling out reluctant screws. (No one does it better.) But as an APS leader told me last summer, "I'm not sure we want to see our executive director on his back under exhibit frames."
Operations are Ken's strength, though, and it's part of why he is so popular with stamp collectors: Although he is a gold-level exhibitor and judge (Chief Judge, in fact), Ken looked and acted like most of us.
Unfortunately, it's not what the current leaders of the APS feel the organization needs in its executive director. To keep trying to make him conform to that model is like trying to make one of those stripped screws fit into a frame. No one was happy with the result.