"Pam, that ship has sailed."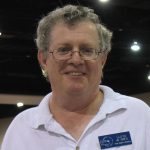 There is a postscript to the new movie "Saving Mr. Banks," and it really happened. After watching the premiere of "Mary Poppins," author P.L. Travers buttonholed Walt Disney — right there at Graumann's Chinese Theatre — and started to give him a list of changes to be made in the movie.
His reply is above.
The same can be said of the old Virtual Stamp Club message board: That ship has sailed.
Last spring, for reasons that were justifiable, DelphiForums took control of the message board away from me, and eventually awarded it to someone else, Chris "StampPuzzles" Steenerson. The name of the forum was changed from "The Virtual Stamp Club" to "The Stamp Collecting Forum."
Several months later, my professional situation had changed, and I entered into discussions with Chris and his staff about what my role on Delphi would be, if any. No decision was reached.
The former VSC staffers and I then had extensive discussions on what the future course was for The Virtual Stamp Club and us: Start a new Delphi message board, start a new message board somewhere else, or something else.
Eventually, we decided that that ship had sailed. We couldn't put the GEnie* back in the bottle.
Instead, I am now concentrating on this website, which had been neglected in favor of the message board, and make it a major source of philatelic news and information (admittedly, with a strong bias toward U.S.). I always saw the Internet as a great boon to distribution of philatelic news and information. I never saw it as an avenue for verbal muggings and character assassinations.
However, setting up a webpage can take time, and we have been looking for some months for a way to quickly disseminate "breaking news" or new information. After several months, we have decided to give this WordPress blogging system a try.
We now have a minimum of discussion, and it is more tightly controlled. The discussions stay on topic: If you start reading about stamps for science fiction authors, you won't suddenly find messages about postal stationery from Mongolia or the low intelligence of Certain Stamp Collectors.
Instead of refereeing petty arguments and personality conflicts, I'm spending more time working on stories for www.virtualstampclub.com — or doing something else entirely, even activities that are non-philatelic!
Most of the staff has moved on, too. Many told me they were burned out by years of moderating the forum, and wanted a break. As time goes on, I, too, am finding I don't miss being a moderator.
I think in its heyday, The Virtual Stamp Club Message Board was the best one anywhere on the English-speaking Internet.
The Stamp Collecting Forum, formerly known as Delphi's Stamps, Coins & Postal Forum, and then The Virtual Stamp Club, is still there: forums.delphiforums.com/stamps/messages There's no reason a hobbyist can't participate there and here. I still do.
Will I ever manage a philatelic online discussion forum again? Maybe, maybe not. But for now, that ship has sailed.
— Lloyd A. de Vries, Manager
The Virtual Stamp Club
---
* Pun intended: I got my start as a stamp collecting online discussion leader on General Electric's GEnie message board system.