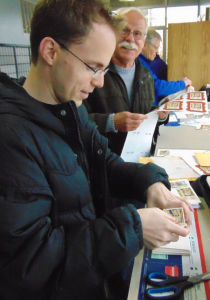 December 12th: American Philatelist editor Jay Bigalke was in Baraboo, Wisconsin, for the first day of issue, servicing FDCs. He tells The Virtual Stamp Club that the Baraboo post office was selling the press sheets there, and "I did service a couple, but not a lot!" The local newspaper, the Baraboo News Republic, ran a story on the souvenir sheet's first day, which included a photo of Jay servicing FDCs as APS Secretary Ken Grant looks on (left). There are other photos in the story.
December 4th: The press sheets have sold out and taken off-sale, and the USPS says they will not be reprinted.
November 22nd: The individual souvenir sheets in a press sheet of 12 are diecut… and can be removed from the  backing paper, as shown here. First, before an individual souvenir sheet has been removed: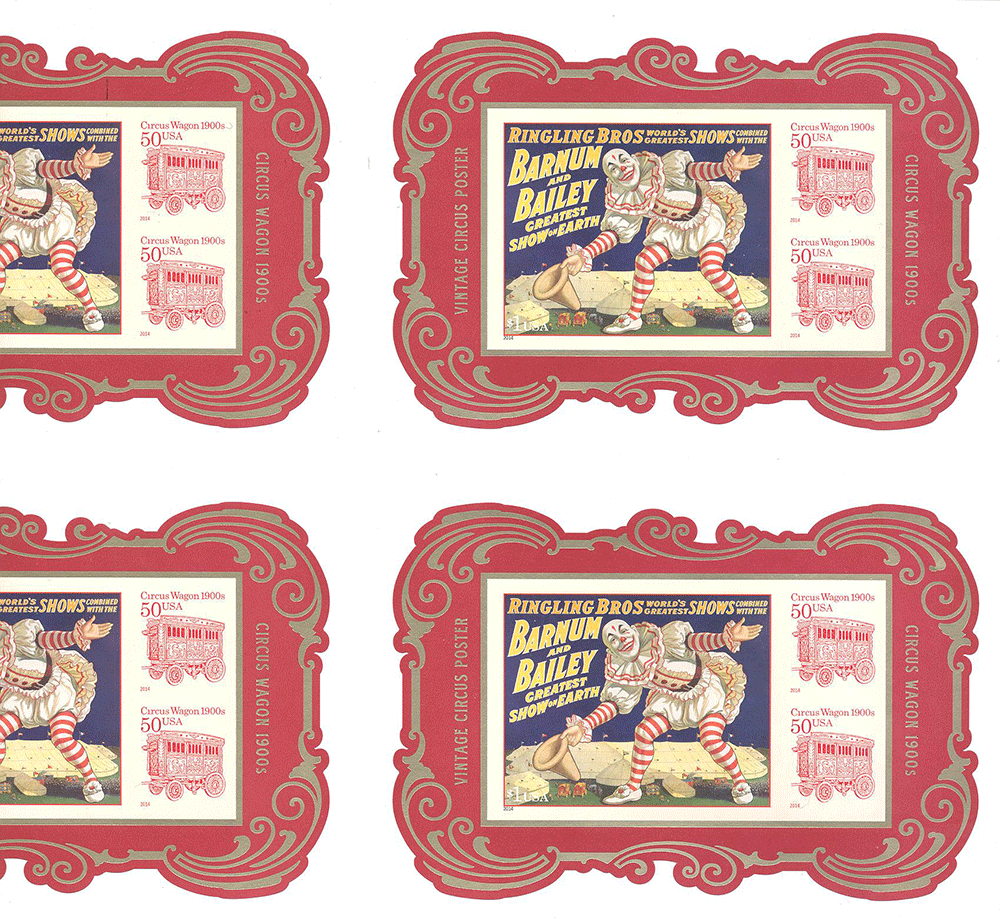 ….and after: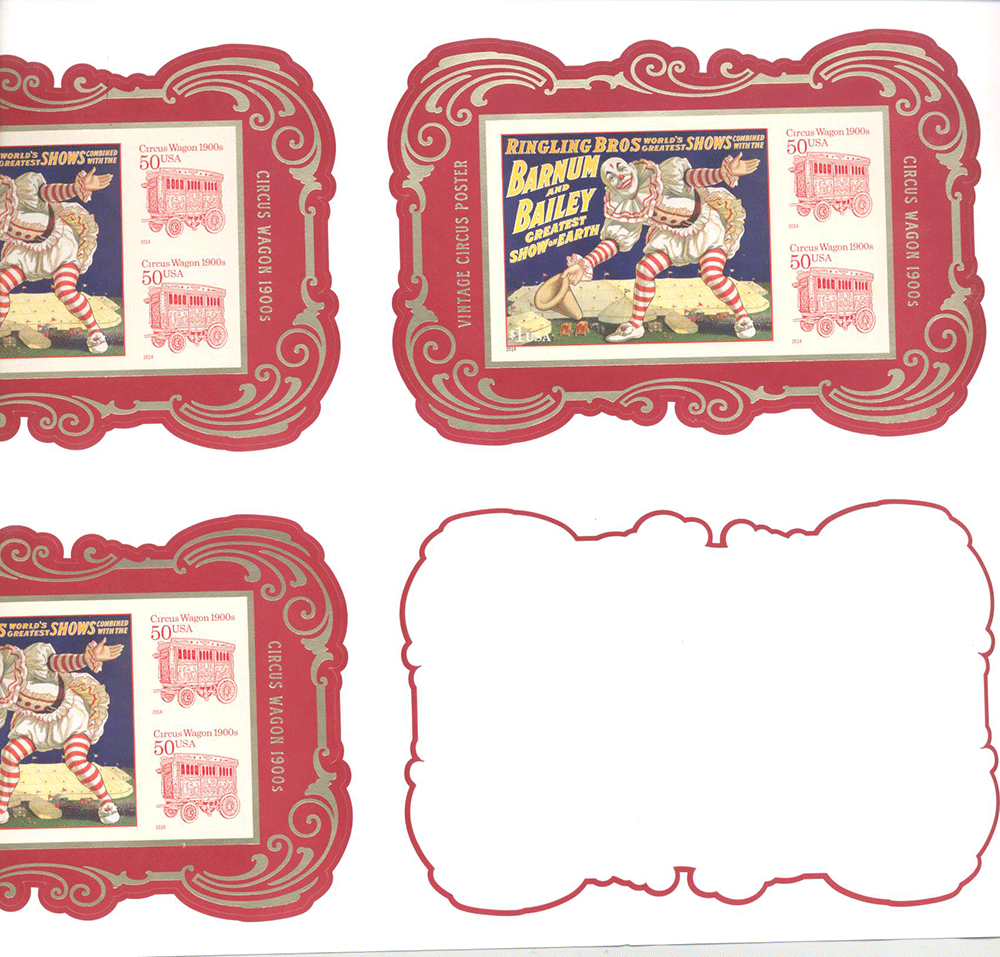 So there is a way to obtain a mint souvenir sheet without buying the Yearbook. The only problems are that you must buy 12 of them (and having to buy a minimum quantity is standard with nearly all U.S. stamps now) and if you wish to keep the backing paper with a margin around the sheet, you must carefully cut it out of the sheet yourself.
Thanks to VSC member Foster E. Miller III for helping to nail this down.
November 18th: The USPS is showing a B&W pictorial first-day postmark for this issue, on a 6″x9″ envelope. When the issue was announced in August, we were told there would be a Digital Color Postmark (DCP) for it, with no mention of the black-and-white pictorial. I have asked for clarification on both that and the envelope size that will be used for the USPS-serviced FDCs. (Envelope size is confirmed at 6″x9″.)
From the USPS: "The following are dimensions for the Circus Souvenir sheet, 4.9699″ x 3.3754″, and the Circus Souvenir press sheets are 11 X24½. Please note that the souvenir sheet has 12 individual "sheets" affixed to paper backing like all other stamps, they are not perforated in any way, they simply peel off like stickers."
Here's what the B&W postmark looks like: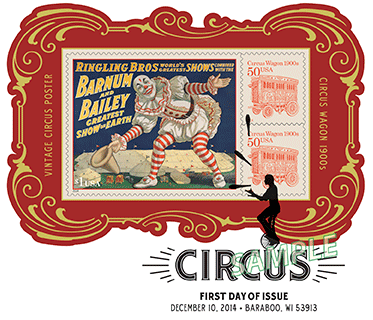 October 31st: Here's a larger, clearer image of the design: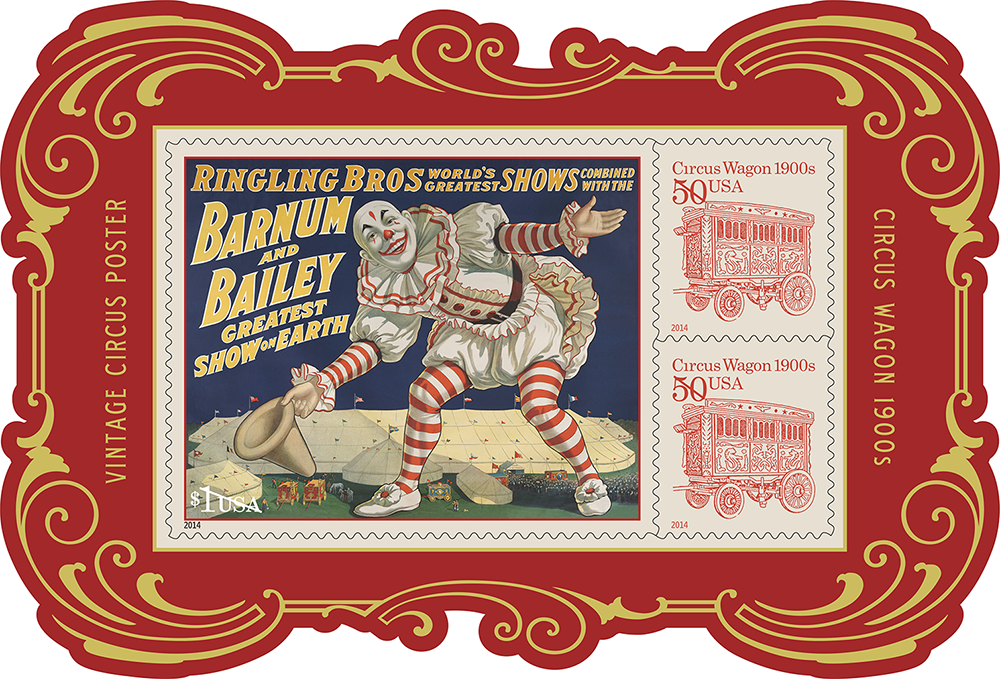 October 30th Postal Bulletin: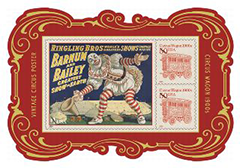 On December 10, 2014, in Baraboo, WI, the U.S. Postal Service® will issue a Circus souvenir sheet, available as single mint souvenir sheets exclusively in the 2014 Stamp Yearbook.
The U.S. Postal Service celebrates the joy of the big top with Circus, an individual mint souvenir sheet available exclusively as a bonus in the 2014 Stamp Yearbook. The issuance features a $1 stamp showcasing an iconic vintage circus poster and two identical 50-cent circus wagon 1900s stamps illustrated by Susan Sanford, which are new versions of a design originally issued in 1990. Made by the Strobridge Lithographing Company, the Ringling Bros. and Barnum & Bailey poster features a clown tipping his cap and gesturing toward the circus. The circus wagon stamps showcase an illustration of the type of decorated wagon that routinely rolled into cities across America more than a century ago. Art director Jennifer Arnold designed the Circus souvenir sheet with selvage colors of red and gold, often used in circus imagery. The shape of the selvage is reminiscent of an ornately decorated circus wagon.
How to Order the First-Day-of-Issue Postmark:
Customers have 60 days to obtain the first-day-of-issue postmark by mail. They may purchase the new 2014 Stamp Yearbook or the Uncut Press sheets at the Postal Store® website at http://www.usps.com/shop, or by calling 800-STAMP-24. They should affix the stamps or souvenir sheets to envelopes of their choice, address the envelopes (to themselves or others), and place them in a larger envelope addressed to:
Circus Souvenir Sheet
Postmaster
303 Broadway Street
Baraboo, WI 53913-6738
After applying the first-day-of-issue postmark, the Postal Service™ will return the envelopes through the mail. There is no charge for the postmark up to a quantity of 50. For more than 50, customers have to pay five cents each. All orders must be postmarked by February 8, 2015.
There are two philatelic products for this stamp issue:
588708, Circus Souvenir Sheet, uncut press sheet, $24.00 (print quantity 10,000).
588716 Circus Souvenir Sheet FDC (full pane), $4.50.
Technical Specifications:
Issue: Circus Souvenir Sheet
Item Number: 588700
Denomination & Type of Issue: 50-cent & $1.00
Format: Souvenir Sheet
Series: N/A
Issue Date & City: December 10, 2014, Baraboo, WI 53913
Designer: Sheet: Jennifer Arnold, Washington, DC
Clown: Jennifer Arnold, Washington, DC
Circus Wagon: Joe Brockert, Washington, DC
Art Director: Clown: Greg Breeding, Charlottesville, VA
Circus Wagon: Joe Brockert, Washington, DC
Typographer: Clown: Jennifer Arnold, Washington, DC
Circus Wagon: Brad Thompson
Artist: Circus Wagon: Susan Sanford, Front Royal, VA
Modeler: Donald Woo
Manufacturing Process: Intaglio, Offset, Microprint *Microprint only on Circus Clown
Printer: Banknote Corporation of America/SSP
Printed at: Browns Summit, NC
Press Type: Alprinta (offset), Phoenix (Intaglio)
Stamps per Pane: 3
Print Quantity: 900 thousand stamps
Paper Type: Phosphor Tagged, Block on Circus Clown: no phosphor on Circus Wagon
Adhesive Type: PSA
Processed at: Banknote Corporation of America, Browns Summit SC
Colors: Cyan, Magenta, Yellow, Black (Offset), PMS 179 Red (Intaglio)
Stamp Orientation: Horizontal, Vertical
Image Area (w x h): Clown 2.27 x 1.81 in./57.62 x 45.97 mm
Circus Wagon 0.73 x 0.84 in./18.54 x 21.34 mm
Overall Size (w x h): Clown 2.42 x 1.96 in./61.51 x 49.78 mm
Circus Wagon 0.87 x 0.98 in./22.10 x 24.89 mm
Full Pane Size (w x h): 4.97 x 3.38 in./126.24 x 85.74 mm
Press Sheets Size (w x h): 11.00 x 24.5 in./ 279.40 x 622.30 mm
Plate Size: 36 stamps per revolution
Plate Numbers: N/A
Marginal Markings: © 2014 USPS • USPS logo • Plate position diagram • UPC Code
October 10th update: The first day covers will read December 10, 2014, and Baraboo, WI 53913. There will not be an event (not surpringly).
It will only be available with the 2014 Stamp Yearbook. Borrowing idea from Australia Post. Had some art remaining from the Circus Posters series. Will feature two Circus Wagon Transportation Series stamps, which were "05" but will be denominated as 50¢.
Journalists say it's going to be panned by philatelists. I said that all but cuts out FDC production.
It will have a first day of issue, with Digital Color Postmark.
Preorders begin September 1st. USPS-produced FDCs will be priced as usual – face + usual amount.