Just announced by the USPS in the Postal Bulletin released the same day as the stamp!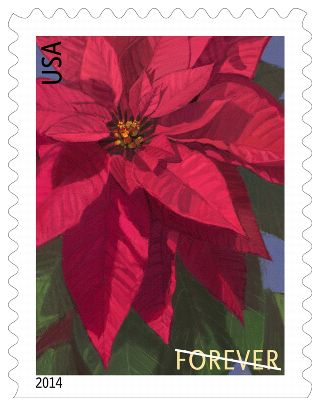 On August 21, 2014, in Hartford, CT, the U.S. Postal Service® will reissue the Poinsettia (Forever® priced at 49 cents) First-Class Mail® stamp, in one design, in a pressure-sensitive adhesive (PSA) booklet of 20 stamps (Item 688600).
The stamp will go on sale nationwide August 21, 2014.
The Poinsettia stamp features a bright, cheerful rendering of America's favorite holiday flower. Introduced in 2013, the stamp is being reissued in 2014. The stamp art depicts the rich red and vibrant green leaves surrounding the flower — the cluster of small, rather modest cup-shaped structures in the center. The red "petals" that we think of as the flower are actually modified leaves called bracts. The art reference for this stamp was a potted poinsettia. Designed by art director Ethel Kessler, the Poinsettia stamp features the work of William Low.
How to Order the First-Day-of-Issue Postmark:
Customers have 60 days to obtain the first-day-of-issue postmark by mail. They may purchase new stamps at their local Post Office, at The Postal Store® website, or by calling 800-STAMP-24. They should affix the stamps to envelopes of their choice, address the envelopes (to themselves or others), and place them in a larger envelope addressed to:
Poinsettia 2014 Reprint
Hartford Post Office
MOWU
141 Weston Street
Hartford, CT 06101-9998
After applying the first-day-of-issue postmark, the Postal Service™ will return the envelopes through the mail. There is no charge for the postmark up to a quantity of 50. For more than 50, customers have to pay five cents each. All orders must be postmarked by October 21, 2014.
There is one philatelic product for this stamp issue:
688617, First-Day Cover, $0.93.
 Technical Specifications:
Issue: Poinsettia Stamp
Item Number: 688600
Denomination & Type of Issue: First-Class Mail Forever
Format: Double-Sided Booklet of 20 (1 design)
Series: Holiday Celebrations
Issue Date & City: August 21, 2014, Hartford, CT 06101
Art Director: Ethel Kessler, Bethesda, MD
Designer: Ethel Kessler, Bethesda, MD
Typographer: Ethel Kessler, Bethesda, MD
Artist: William Low, Huntington, NY
Modeler: Donald Woo
Manufacturing Process: Offset/Microprint "USPS"
Engraver: N/A
Printer: Banknote Corporation of America/SSP
Printed at: Browns Summit, NC
Press Type: Alprinta, 74
Stamps per Booklet: 20
Print Quantity: 160 million stamps
Paper Type: Phosphor Tagged, Overall
Adhesive Type: Pressure-sensitive adhesive
Processed at: Banknote Corporation of America, Browns Summit, NC
Stamp Orientation: Vertical
Image Area (w x h): 0.77 x 1.05 in./19.55 x 26.67 mm
Stamp Size (w x h): 0.91 x 1.19 in./23.11 x 30.22 mm
Full Pane Size (w x h): 5.74 x 2.38 in./145.80 x 60.45 mm
Colors: Cyan, Magenta, Yellow, Black
Plate Size: 800 stamps per revolution
Plate Numbers: "S" followed by four (4) single digits
Marginal Markings: • Plate numbers in peel strip area • © 2014 • USPS in peel strip area