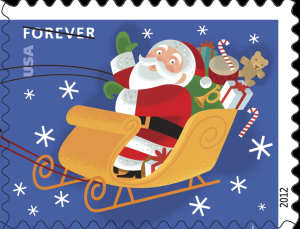 Individual customers and representatives of organizations wanting to adopt a letter must come to a participating Operation Santa Post Office in person. Both individual customers and organizational representatives must fill out the proper PS Forms 6012 (organization), 6012-A (organization record of letter), or 6012-I (individual) and show identification before viewing any letters.
For organizations wanting to adopt a letter, please send a representative with correspondence on letterhead from your company/organization authorizing the representative to view the letters on behalf of your company/organization. Your representative must present his or her employee ID and a valid state driver's license or state-issued ID card.
For individuals wanting to adopt a letter, please bring a valid state driver's license or state-issued ID card.
After completing the forms, you may then read and choose a letter(s). To protect the anonymity of the letter writers, all personal information will be blacked out in the letters you view — no last names, addresses or contact information of any kind will be visible.
Bring your selections to a postal clerk so the clerk can notate which letter(s) you will adopt.
Here is the fun part — you get to be Santa's helper by fulfilling the wishes of the letter writer.
Once you have fulfilled the wish, you simply bring your wrapped gift(s) back to the same Operation Santa location to mail.
Individuals and organizations will be responsible for paying the postage to mail the gifts to the recipient.
Once you pay the postage, the postal clerks will match your box with the letter writer by using an internal numbering system.
The return address on the box will read "Operation Santa, North Pole."