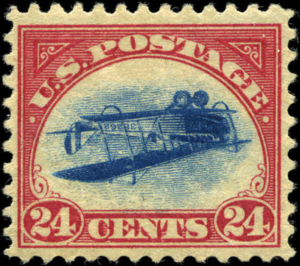 The Inverted Jenny stamp stolen in 1955 and returned to its owner during World Stamp Show-New York 2016 a year ago sold May 11 for $295,000 — $250,000 plus an 18% buyer's premium.
Position 76 was part of the "McCoy Block" of four stamps stolen during the American Philatelic Society convention exhibition in Richmond in 1955. Two of the stamps were recovered in the early 1980s. One is still missing.
The block of four was owned by Ethel Stewart McCoy and on loan to the APS when it was stolen. Shortly before her death in 1980, she donated ownership rights to the stamps to the American Philatelic Research Library, which shares facilities with the APS.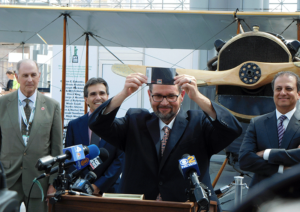 The boards of the two organizations decided last fall to sell the stamp recovered in 2016. The auction was conducted by the Robert A. Siegel firm. Bids were received by telephone, Internet and live bidding. The winning bid came in over the phone.
Bidding started opened at $120,000 and closed about 90 seconds later.
The 2018 Scott Standard Postage Stamp Catalogue values an undamaged, very fine copy of the stamp, C3A, at $450,000. This one, however, was repeforated on two sides (top and left), in an attempted to hide its identity. The presale estimate for Pos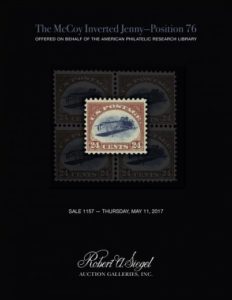 ition 76 was $150,000-$200,000, well below the final price. No doubt its notoriety added to the value.
The Siegel firm produced a 48-page catalogue for this one item's sale, which can be downloaded here or ordered as a printed book. Written by auctioneer Scott Trepel and Ken Lawrence, provides a history of the original 1918 discovery of the 100 error stamps, the 1955 theft of the McCoy block, and the return of three of the four stamps.
The APRL still owns Position 65, and has been displaying it at shows for years since its recovery in 1982.